2023 Men's Frozen Four Preview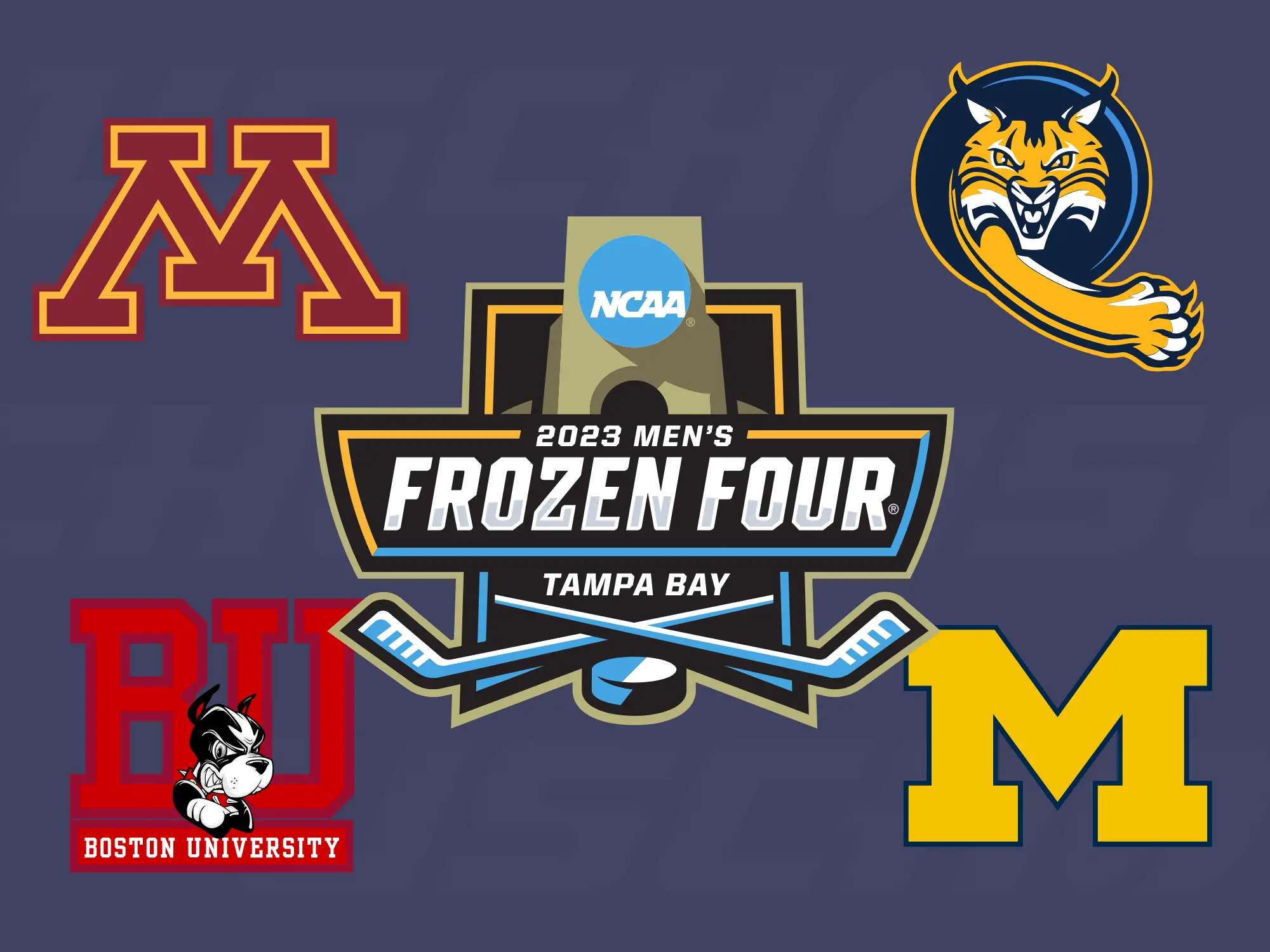 With the Regional Tournaments Champions now named, the National Collegiate Athletic Association (NCAA) can now prepare for the Famous Frozen Four Tournament, which is set to take place this year in sunny Tampa Bay, Florida, starting on April 6th. The four teams that will be battling it out down on the Suncoast are the Minnesota Golden Gophers, who will be taking on the Boston University Terriers at 5 pm E.S.T., followed by the University of Michigan Wolverines, who will be facing off against the Quinnipiac University Bobcats at 8:30 pm E.S.T. that same night.
Why should you be watching it? Well, if you're a fan of practically any NHL franchise, then it's a sure bet your team has at least one promising prospect in this fight. So, with that being said, let's break down each team's roster and strengths that have not only helped them to get to this point but may result in the culmination of them beating out 59 other schools for the right to be named National Champions.
Minnesota
The Golden Gophers, who have 14 players on their roster that have already been drafted by one NHL club or another, had possibly the easiest route of the four teams previously mentioned to get to this point. Minnesota was named the victors of the Fargo Regional Tournament played in the Scheels Arena in North Dakota, which meant that they had to beat out the Canisius College Golden Griffins and the St. Cloud State University Huskies. Neither of these teams' rosters contains a player's name whom you might remember being called on previous NHL draft day coverages. But that doesn't mean that the Gophers don't belong in Tampa. In fact, with names like Logan Cooley (the 3rd overall by the Coyotes in '22), who has scored 57 points in just 37 games played; Jimmy Snuggerud (who was taken in the 1st round of the '22 draft by the Blues), who has scored 50 points in 38 games played this year. Matthew Knies (who was taken by the Leafs in the 2nd round of the '21 draft) scored a team-leading 21 goals on the season; there's no doubt their offense can certainly stand up to anyones in this tournament. The only question is, can their defense survive the onslaught of others in this tournament?
Boston University
Then there's the Terriers, who managed to advance out of the Manchester Regionals, which were played up in New Hampshire. This historic hockey powerhouse should be viewed as an actual threat in this tournament because not only did they beat out the impressive Western Michigan Broncos by a score of 5-1, they then took down Cornell, a team that just shutout last year's NCAA National Champions, (Denver) by a score of 2-0 before losing to the Terriers. How did Boston manage such a feat? Well, they have the depth for sure, with 12 NHL prospects filling out their roster, but perhaps none shined more brightly this season than their record-breaking freshman defenseman Lane Hutson. Lane, who the Montreal Canadiens took with their second-round pick this past off-season, came to the Terriers this year with much acclaim; only no one could fathom how much of a force this diminutive defenseman would prove to be. Bursting onto the scene this year Hutson (with the help of his teammates) was able to surpass Norris Trophy winner Adam Fox's numbers for a defenseman in his first year of competition in the NCAA by more than eight points right now with games still in hand. That's why with point totals like that, I think it's safe to say BU wouldn't be where they are today if it was not for this young man. Look for the team to run the offense through him as they try to take down the boys from Minnesota, EH?
Michigan
Next up is the heavily favored University of Michigan, who made it back to the Frozen Four after losing to the reigning champions, the University of Denver, last season. To do so, they had to defeat all others coming once again out of the Allentown Regionals, which was played out of the PPL Center in Pennsylvania. This year that meant taking down both Colgate and the local favorite, the Penn State Nitty Lions. The Wolverines were able to do so by relying heavily on the 12 players on their roster that NHL clubs have previously drafted, as well as newcomers Adam Fantilli- a freshman who led all collegiate players in points this season with (64) and who is potentially going to be one of the top three prospects taken this summer. Then not to be out down was former Brooks Bandit standout star TJ Hughes who scored 66 goals and 127 points last year in the Alberta Junior Hockey League before coming to Ann Arbor this season. With such depth, including three first-round picks already on their roster, there's no doubt a betting man would be wise to put his money on Big Blue to win it all. The only question is whether all those stars can set aside their selfish quest for point totals for the team's betterment.
Quinnipiac
While the other teams in this tournament depend on big-name recruits who are here today and signed to an NHL contract the next, Quinnipiac relies on their legendary head coach Rand Pecknold's defensively responsible systems to win games. And why not? They have played a big part in him winning close to 600 NCAA games. With roughly only 6,000 students total annually attending this quaint Connecticut place of higher learning compared to that of, say, Michigan's student body of over 32,000. Quinnipiac does not simply have the luxury of throwing millions of former alums or boosters bucks at players they wish to recruit. Instead, Coach Pecknold sets out every year to find unknown unselfish players he feels will be committed to playing the game the right way and will not leave in a year's time. In doing so, he has built a true team who have become giant killers over the last two to three seasons playing together. To prove my point, the Bobcats had to best both Merrimack College and THE Ohio State in the Bridgeport Regionals to get the chance to play in the Frozen Four this year. And perhaps no one player on this roster is more responsible for their success than their elite goaltender Yaniv Perets. He is a 23-year-old undrafted free agent who not only led the nation in wins this year with 32, shutouts with ten, but in goals against as well, with a 1.46 average to his credit this season. While not as flashy as other teams on this list, Quinnipiac has become just fine with winning games 1-0 or 2-1 behind the phenomenal play of their goaltender. The only question for them is can Perets continue to dominate the opposition in this tournament like the ones he did previously, despite this one having multiple future NHL All-Stars peppering him with shots for the entire 60 minutes of play?
Ultimately, anyone of these four teams has played well enough this year to deserve the honor of being named National Champions. So, as we now wait with bated breath for this tournament to commence, we are left with nothing but the thought of whether it will be Minnesota's high-powered offense, BU's historic record-breaking defenseman, Michigan's plethora of top-end talent, or Quinnipiac's elite goaltending that will ensure they come out on the other end victorious?
I'm a lifelong Flyers fan who has been playing the sport of Ice Hockey we all know and love competitively for over 30 years now. I grew up playing in-between the pipes where I was able to take in the whole game and analysis just what the team needed to do to help us win. Over the years I always enjoyed reading and gaining as much knowledge as possible about this great sport, but always thought it lacked something. A players prospective!