Austen Swankler: An Undrafted Free Agent the Flyers Should Keep an Eye On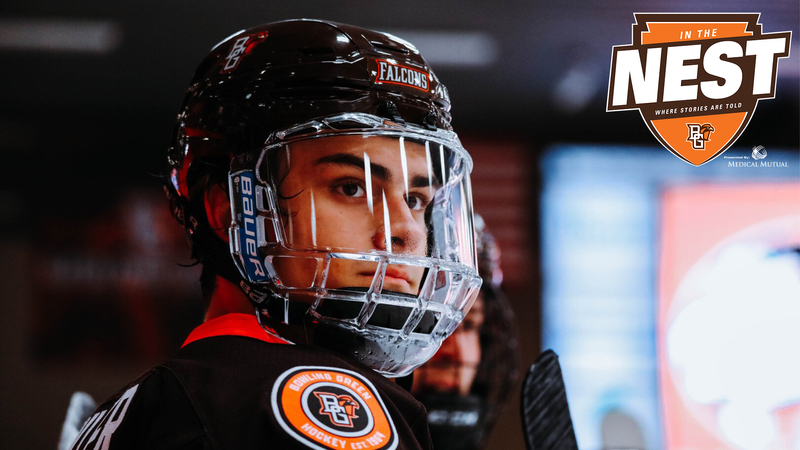 Photo Credit: Bowling Green State University Athletics, 02/06/2023
We all know and have finally accepted that the Philadelphia Flyers are in the midst of a rebuild. And as hard as that pill was to swallow initially, I think the vast majority of us (the fans) have even come to find a sense of peace and solidary in the fact that the franchise we all know and love has wisely appointed Danny Briere to be the man to see us out of these dark times.
Now, that being said, this rebuild may not take as long as you may think, and here's why. In a short amount of time, Briere has been able to come in and help drastically change the landscape of this team via his choice to seek out and dispose of volatile players and their inflated cap hits from last year's roster, him compiling a solid first draft haul, and his recent choice of additions of key veteran free agents, and retirees (John LeClair, and Patrick Sharp) for that matter that have been brought into instill a renewed focus on player development.
Sadly, this writer feels that there is still one more thing that Danny could do to ensure all his hard work this off season wasn't for nothing.
That one stone Briere has left unturned is the eventual signing of an NCAA undrafted free agent. Now, here me out: while signing one of these players was once viewed as a long shot by most GMs, the NCAA is vastly becoming a league again where quality talent is being cultivated daily. So much so that some would even consider it one of the world's most competitive leagues right now, with so many recent high-end draft picks choosing to play in the collegiate ranks before turning Pro. Be that the case, with prospects that were formerly passed on now knowing that there are so many NHL teams with their scouts in the rafters to oversee their own drafted talents' progressions, there has been a recent influx of gifted, overlooked players flocking to their nearest University's for chance at redemption.
Now, I'm not saying that if Briere chooses to do this, he will be able to find a future Hall of Famer like teams did when they inked former NCAA undrafted free agents Ed Belfour, Curtis Joseph, Adam Oates, Joe Mullen, and Martin St. Louis. Still, he could find a solid addition to the depth chart, much like most current perennial playoff contenders are forced to try and do every year to counteract them not having a preferred draft position.
One of these such players who I feel could have a real shot at turning pro after this upcoming season would be Bowling Green State University's 22-year-old center, Austen Swankler. This Pennsylvania-born prospect, who was a Hobey Baker Award Nominee this past season, is coming off a year in which he scored 19 goals and 25 assists for 44 points in only 35 games played! And now that I have your attention, let me tell you there is much to like about this 1.25 point per game player.
The Breakdown
After going undrafted after having only moderate success in the USHL and having his OHL career cut short by the Coronavirus, Austen was somehow granted his NCAA eligibility back. Once reacquired, he decided to take his talents to Bowling Green, Ohio for the 2021-2022 season to play for the Falcons. Here, Swankler grew to his current height of 6'0 and 185 pounds and would eventually learn to be a 200ft player.
https://twitter.com/i/status/1624537878998007808
After missing a complete season thanks to a worldwide pandemic, Austen seemingly struggled in his first season, with the Falcons only scoring 26 points in 36 games. But after gaining a complete year back on his skates, Swankler gathered all the accolades (mentioned above and more) that a player of his offensive caliber truly deserves. But surprisingly, after having such a great season and even attending the reigning Stanley Cup Champions (Las Vegas Golden Knights) Development Camp this summer, Austen surprised the masses by choosing not to turn pro but instead deciding to stay true to the promise he made to his mother about staying to finish up his degree at BGSU.
That's why when you factor in Austen's innate scoring ability, his mesmerizing maneuvering of the puck in tight to his body, and the continued work he has put into improving upon his skating ability over the years, I wouldn't be surprised to see him score 25 goals and 50 points this season.
Will Swankler be able to achieve the kind of point production I suggested he would? We will just have to wait and see, but regardless of whether he does or not, I predict he will finish this upcoming season as one of the best undrafted free agents available. And therefore, he should be kept a close eye on by Flyers management if they wish to add another experienced offensive talent to their ever-growing group of prospering prospects.
I'm a lifelong Flyers fan who has been playing the sport of Ice Hockey we all know and love competitively for over 30 years now. I grew up playing in-between the pipes where I was able to take in the whole game and analysis just what the team needed to do to help us win. Over the years I always enjoyed reading and gaining as much knowledge as possible about this great sport, but always thought it lacked something. A players prospective!