Back up Options for the Flyers in case; they can't land Bedard or Fantilli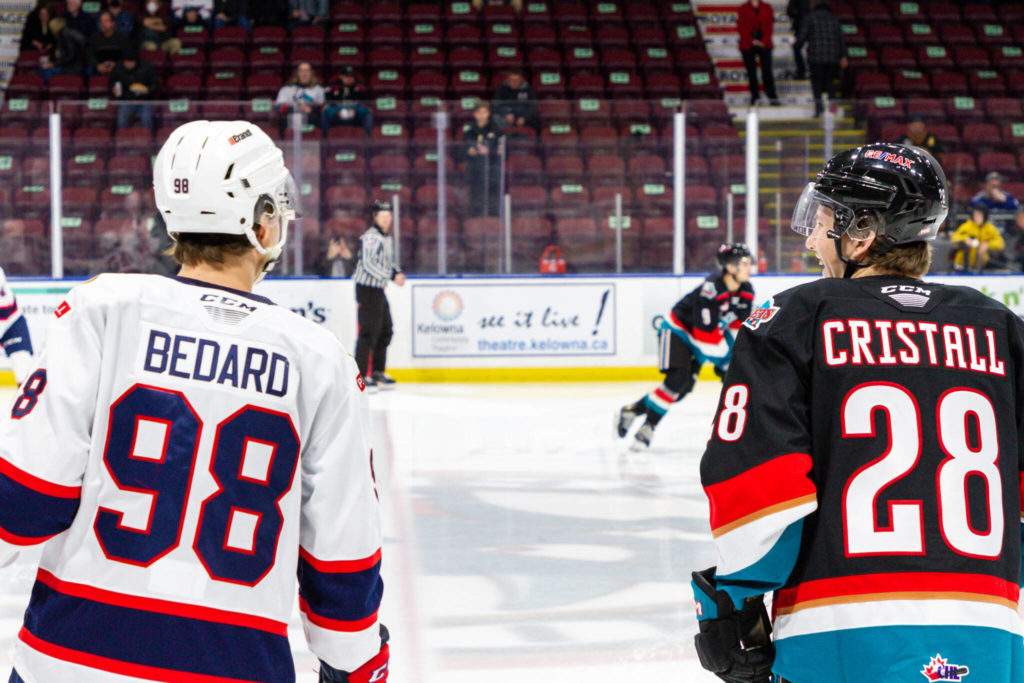 Photo Credit: @Kelowna_Rockets/Twitter
With the Philadelphia Flyers in the midst of their third consecutive losing season, it would appear as though the orange and black will be drafting once again from within the Draft Lottery. However, this may not be such a bad thing, considering this year's draft class is stacked with high-end talent.
Now the real prizes of this draft are, of course, Connor Bedard of the Western Hockey Leagues (WHL), Regina Pats, and Adam Fantilli of the Michigan Wolverines of the NCAA. Both of these players will no doubt make a significant impact on their respected clubs the moment they step on the ice in their new teams' sweaters, but what if the Flyers aren't one of those lucky teams who get to call out one of these two players' names come draft day?
Well, I'm here to tell you there are other prospects in this draft class who I think will develop into top-line talent as well, but for Philadelphia to make the most out of their pick, they will have to ensure they do more than just take a "good player." They will need to find a new face of their franchise, someone who not only will be a real threat to score every time they touch the ice but who every fan in the tri-state area will be willing to go out and spend a couple of hundred dollars on a jersey with their name on it as well.
Brayden Yager
Now, that may be a tall order to ask of the Flyers GM (whoever that may be, come draft day), but it's a task they should indeed try to ascertain. For example, one player who could grow to fit that need over time from this draft class is Brayden Yager of the WHL's Moosejaw Warriors. Brayden has one of the most incredible shots in this draft class. He is what they call a finisher, a pure sniper whom every one of his teammates out on the ice looks to in key situations. Last season in the WHL, Brayden scored an impressive 34 goals and 25 assists for 59 points in 63 games played in his inaugural campaign, winning him the honor of being named the CHL's Rookie of the Year, but somehow, he was still overshadowed by his teammate Jagger Firkus who the Seattle Kraken took in the 2nd round of last years draft. This year though, he and Firkus are being viewed as equals as Yager has managed to light the lamp 16 times and assisted on 18 others totaling 34 points in 28 games played thus far. Folks, that averages out to 1.21 points per game.
Calum Ritchie
My next suggestion comes from a position of need for the Flyers, which is down the middle of the ice. Calum Ritchie is a 6'2, 187-pound center who currently plays for the Ontario Hockey Leagues (OHL) Oshawa Generals. Simply put, Ritchie possesses all the intangibles it takes to be great. Sure, his clean shot and rapid release are nice, but what really makes him stand out from the crowd, in this writer's opinion, is his on-ice vision which allows Calum to skate through the opposition while making a no-look pass to an awaiting teammate at the mouth of the goal with ease. So far this season, Ritchie has been able to score eight goals and 13 assists for 21 points in 24 games played. I got to tell you, if the Flyers were to end up with this kid, I would not be mad because not only could Calum be trusted to produce offensively, but he would also be sure to make everyone else who plays with him better as well.
Andrew Cristall
If I had to pick one impact player out of this draft that I think the Flyers would benefit most from drafting after Bedard and Fantilli were both off the board, it would have to be Andrew Cristall. This explosive winger who plays for the Kelowna Rockets of the WHL has had me memorized all season long. Why, you may be asking? Well, Andrew plays the game with so much charisma that you just can't wait to see what he does next. Whether he's celebrating after scoring an impossible goal, passing the puck right to the tape of an awaiting teammates stick for an assist, or stick handling through the other team's defense like a warm knife through butter, Cristall manages to appear as though he is performing these acts with little to no effort at all. This season Andrew has been able to score at a rate of 1.87 points per game, posting 18 goals and 27 assists for 45 points in just 24 games played! With those numbers only being bested by Connor Bedard himself this season in the WHL.
While other draft experts in the coming weeks and months may begin to suggest other prospects that the Flyers should take, based on that player being viewed as the next best available talent according to where the team ends up selecting. Remember, these are my suggestions based on who I think would help to address the Flyers most immediate needs moving forward. Which of these players would you like to see playing on South Broad Street in the near future?
I'm a lifelong Flyers fan who has been playing the sport of Ice Hockey we all know and love competitively for over 30 years now. I grew up playing in-between the pipes where I was able to take in the whole game and analysis just what the team needed to do to help us win. Over the years I always enjoyed reading and gaining as much knowledge as possible about this great sport, but always thought it lacked something. A players prospective!