Evaluating Dealing Danny's First Draft Haul as the Flyers GM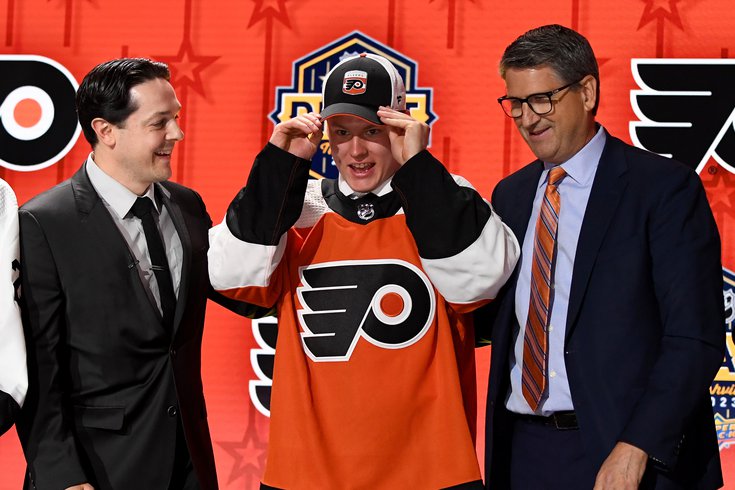 Leading up to this draft, the Flyers faithful had their hope in this franchise restored as Dealing Danny Briere had already managed to acquire an additional first-round selection for his team when he dealt defenseman Ivan Provorov away to Columbus in a three-team trade which also involved the LA Kings. A couple of days later, Danny was able to unload part of Kevin Hayes's inflated contract in a trade that sent him packing to the St. Louis Blues.
So, even before he made his first pick as the Flyers' new GM, he had already started changing the landscape here on Broad Street.
Now for the draft. On day one, Danny waited his turn as there proved not to be many trades in the opening round. So, with each passing selection, Briere's mouth was watering. When it finally came time for the Flyers to head to the podium, one of their rumored favorites, right-hand shot defenseman David Reinbacher had already been taken fifth overall by the Montreal Canadiens. But the forecasted favorite Ryan Leonard from the United States National Development Program was still on the board, as well, as the highly touted Russian offensive dynamo Matvei Michkov. Some projected this player to be the best player to come out of Russia since maybe Alexander Ovechkin or Evgeni Malkin, which is a lot to live up to for sure.
Round 1 (Seventh overall) Matvei Michkov Wing KHL
Philly's choice, as we all know now, was Michkov. But I am not as sold as much as some others on this prospect. As you can imagine with, Russia actively being at war with not only the Ukraine but themselves as well (as some of their soldiers recently went rogue and launched a full-on civil war to try and overthrow their President: Vladimir Putin). Getting any additional scouts into Russia to grade this supposed generational talent has been challenging. To further play into the mystery of Matvei Michkov was that he did not even attend this year's NHL Combine. So, teams did not formally get to interview him or see him run through the paces physically as they did with so many other of this year's top prospects.
But what left me really questioning whether the Flyers should not have just gone with someone else at seven is the mystery surrounding his 51-year-old father's sudden death, which is still left unsolved. This came about allegedly after Matvei and his family decided that he should pursue his dream of playing in the NHL. At the same time, his dad Andrei was said to be trying any way possible to get his son's current obligation of playing in the KHL for the next three years rescinded so that Matvei could play in North America A.S.A.P. Then, shortly after leaving the house one night with the promise of returning shortly, Matvei received a strange call that he could not make out what they were saying because the caller seemed out of range. Michkov wanted to tell his father about it, but his dad never came back home.
Come to find out, he was found later face down in a lake outside Sochi, the city of the team that Michkov is currently contractually shackled to.
https://www.hockeyfeed.com/nhl-news/rumour-matvei-michkov-s-father-s-death-is-linked-to-his-son-s-nhl-career
So, you see, I'm not denying that Michkov is a very talented player, but I think I would have tended to side with the six other teams ahead of the Flyers that chose not to get involved with this Russian prospect.
Round 1 (22nd Overall) Oliver Bonk Def. London Knights OHL
With this newly acquired pick that the Flyers received from trading away defenseman Ivan Provorov it was pretty much a foregone conclusion that with the team selecting a forward with their first pick, their second first-round selection would be a defenseman. The blueliner that they chose was from Keith Jones' longtime friend Dale Hunter's team, the London Knights. His name is Oliver Bonk, and he is an 18-year right-hand shot defender who stands at 6'2 and weighs 172 pounds. While Bonk was able to post ten goals and 40 points in the OHL this season, his actual worth is his ability to shut down the opposition. Whether he is forcing them to the outside or causing them to create turnovers, you can rest assured that Oliver is of the mindset of defending at all costs first, then, and only then, if the opportunity presents itself, he'll join the rush. A trait that I'm sure his dad, the former number three overall pick of the Ottawa Senators Radek Bonk, instilled in him from an early age.
Now is this the defenseman I would have taken at this point in the draft? NO! I would have taken the more aggressive and punishing Etienne Morin of the Moncton Wildcats of the QMJHL, that later went to the Calgary Flames. But that doesn't mean that I think Bonk was a bad choice. He has yet to show his full potential and should continue to develop new parts to his game over the next couple of seasons.
Round 2 (51st Overall) Carson Bjarnason G Brandon Wheat Kings WHL
This one was a surprise, for sure. The Flyers acquired this pick by trading a sixth-rounder this year and a 2024 second-round pick to the Blackhawks to select the 4th goalie taken this season. That netminder was Carson Bjarnason of the WHL's Brandon Wheat Kings. Carson is a 6'3 190, pound guardian of the blue paint that tends to keep tight angles on the puck and covers the bottom of the net very well. My only knock on him is that once he is down in the butterfly, he keeps his hands tight to his body and very low to try and add to the coverage of the bottom of the net. In the future, I would like to see Carson keep his hands a little higher, like I teach my younger goaltenders to do when dropping down to make a play. The reason for this is so that they don't give up to much of the upper part of the net, which is a place where the more gifted players of the WHL, like Connor Bedard and company, were able to score on Bjarnason this season.
This is a big reason why his numbers suffered more than others. Carson, (who is a huge Carter Hart fan) played in 47 regular season games this year, where he posted a 3.08 goals against average (G.A.A.) with just a .900 save percentage (SV%). Out of those 47 games played, he only managed to win 21 of them, which equates to him only having a 44% win percentage.
Bjarnason shows a lot of promise, but I would have liked to see the team wait a bit to draft a goalie and get a guy like the Seattle Thunderbirds Scott Ratzlaff or the virtually unknown Calvin Vachon.
Round 3 (87th Overall) Egor Zavragin G Russian Jr's
Unhappy with the current depth chart in net, Briere and President of Hockey Ops Keith Jones decided to go back-to-back goalies. Now, honestly, I don't know much about Zavragin, seeing that he played in Russia and the scouting from outside the country was pretty limited this season. But here are his numbers while playing in the MHL (Russia's version of Major Juniors). Egor posted a respectable 2.49 G.A.A. and a .920 SV%, in which he won 11 of the 21 games he played this season.
Round 3 (95 Overall) Denver Barkey Center London Knights OHL
Well, the Flyers' second third-round pick screams Danny Briere, as you can see a lot of similarities in both center Denver Barkey and his game. Barkey is a diminutive center who currently stands well under 6'0. He persevered over his shortcomings by utilizing a motor that just won't quit. Also, Barkey has a nice touch and fast release that has seen him net almost a point per game average this year, where he scored 22 goals and 37 assists for 59 points in 61 games. It seems like Barkey will be heading back to London this upcoming season, where he appears almost destined to turn into one of the Knight's top point producers.
Round 4 (103 Overall) Cole Knuble Center Fargo Force USHL
Well, here is a familiar name. Cole Knuble (yup, you guessed it) is the son of the former dominant Flyers power forward Mike Knuble, who spent parts of five seasons with the Flyers. Unlike his father, though, Cole is a center, a pretty good one, I might add. He plays just as gritty as his dad ever did. He even wears the same number as his dad did. In fact, if I didn't know any better, I would think Mike found the Fountain of Youth some wear and just changed his name to throw us all off. Cole played in 57 regular season games this season, where he netted 30 goals and 36 assists for 66 points. On top of that, Knuble maintained a +31 average on the year. Cole is set to attend and play for Notre Dame this fall and should thrive throughout the rigorous NCAA season.
Round 4 (120 Overall) Alex Ciernik Wing Swedish Jr Leagues.
Ok, stay with me here; with their second pick in the fourth round, Philadelphia selected winger Alex Ciernik. Cirenik is a German-born, Slovakian prospect that currently plays in Sweden. I know, right. Alex is another guy under 6'0 tall with quick feet who tends to be in the right place at the right time. He has a fast release and loves to bury rebounds. This season Ciernik played in multiple leagues in Sweden, showing more and more success as the year went on. And let's not forget the fact that he was able to light the lamp twice in the World Junior Championships U20 Tournament in only five games played. Don't expect Alex to join or be signed by the big club any time soon, but rather do keep an eye on his progression over the next year or two because it just may surprise you.
Round 5 (135 Overall) Carter Sotheran Def. Portland Winterhawks WHL
This one, to me, is a bit of a head-scratcher. I get they wanted to add to their defensive depth by taking another right-hand shot defender here, but why did they not take Cameron Allen off the Guelph Storm? He is a right-hand shot blueliner who went the next pick to the Washington Capitals. Probably mainly because Cameron was named the OHL's Rookie of the Year the season before. Allen was considered a first-round pick this year before his team had a down year. But I honestly don't think it was his fault. The Storm struggled to find good goaltending this season as they saw five netminders try to take over the pipes, all of which failed to secure the crease as their own.
Anyway, back to Sotheran, I guess. As I previously stated, Carter is a right-hand shot defender who stands at 6'3 and 203 pounds. He plays smaller than he is because he always is crouched into a shooting position. He only scored four goals this year but showed the ability to produce more. While I see not much to get overly excited about his game right now, he is a plus defender and can skate well enough to stay with the breakout when his team is leaving their own zone. This kid has the chance to be more than his round five draft selection would leave you to believe, but Carter will have to be willing to work hard to hone his skill set to the point he can turn professional.
Round 6 (172 Overall) Ryan MacPherson Center GOJHL
Entering the later rounds, the Flyers brass thought they would take a chance on a center from the GOJHL, a not so well known Ontario Junior Hockey League. The player they took a chance on was center Ryan MacPherson, a biological twin who played with his look-alike on the Leamington Flyers this year. Ryan scored 25 goals and 36 assists for 61 points in only 49 games played. I assume that his ability to play like Noah Cates drove the Flyers to his game as MacPherson won the Best Defensive Forward Award for his league this season. Ryan will play with his brother next year, but this time for the Penticton Vees of the BCHL. Then he is set to join the University of New Hampshire Wildcats the season after that. MacPherson is a few years out, at least from possibly turning pro, but he plays the game the right way, which could lead to him surpassing others on the Flyers' depth charts in the coming years.
Round 7 (199 Overall) Matteo Mann Def. Chicoutimi Saguenéens QMJHL
With his last pick in his first draft, Danny choice to get some size and toughness. He did so by selecting the 6'6 229, pound right-hand shot defenseman Matteo Mann from the Chicoutimi Saguenees of the QMJHL. With Mann being 6'6, he will need to work on skating because he currently looks like a basketball player who decided to lace up a pair of skates for the first time. As he is only 18, Mann is probably still getting used to his newfound size and lankiness. What stands out to me about his game is Mann's ability to completely take his man out of the play if and when he can get his hands on them. Matteo utilizes his size to clear the porch by overpowering the opposition in front of his net. He also has shown the willingness to sacrifice his body by throwing it in front of an incoming puck to block it by any means necessary. Thus, proving that Matteo is willing to do anything to help his team win night in and night out. And with that mindset, he will be a fan favorite here sooner rather than later.
When you look at this list of newly drafted Flyers players, you can see that it is chalked full of guys who may not even have hit their ceiling yet. They all have room to grow and possess a great work ethic that should help them to achieve their goals. While all of these picks may not be my favorite, they are a bunch of guys who have the chance to be something more than their respected draft positions would usually allow. And who knows, with former Flyer greats like John LeClair and Patrick Sharp now overseeing Player Development, the sky is the limit.
I'm a lifelong Flyers fan who has been playing the sport of Ice Hockey we all know and love competitively for over 30 years now. I grew up playing in-between the pipes where I was able to take in the whole game and analysis just what the team needed to do to help us win. Over the years I always enjoyed reading and gaining as much knowledge as possible about this great sport, but always thought it lacked something. A players prospective!