Fletcher's Follies that will Haunt the Flyers long after he is Gone.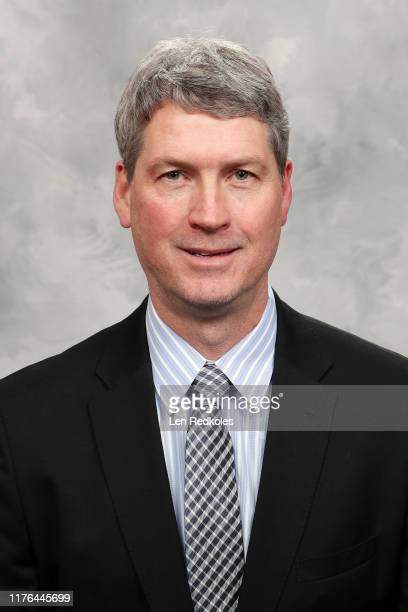 Despite the team winning some games this season because of the one wise decision Chuck Fletcher has had to date in hiring John Tortorella as the team's new head coach, most fans would agree that the current team's General Manager has done an unsatisfactory job up to this point. Given that, this same group of fans would probably be right to assume that Chuck Fletcher is most likely on a very short leash, considering that the team has been grooming former Flyer Daniel Briere to be his successor for some time now. But what most people haven't taken the time to comprehend yet is just how long Fletcher's follies will continue to haunt the Flyers long after he is gone.
Here are some examples of what I'm talking about.
The Kevin Hayes Signing
These long-term effects started early in Fletcher's tenure, with him trading for and eventually signing the then soon-to-be unrestricted free agent center Kevin Hayes formerly of the Winnipeg Jets. There's no doubt that Tortorella has Hayes playing better right now and that the team needs all the depth at center they can get, given their current injuries, but Fletcher may have gone a little overboard here. Why Chuck signed Hayes (a player who, to this date, has never even been able to eclipse the 50-point plateau) to a seven-year deal worth $50 million is beyond me. Because of that gross overpayment, the Flyers are locked into paying Kevin an annual average value or A.A.V. of $7,142,857 for the next FOUR years. For comparison, that's the exact salary the Winnipeg Jets are currently paying their NHL All-Star Kyle Connor, who had 47 goals and 46 assists for 93 points last season.
The Rasmus Ristolainen Trade
Ah, yes, how could we forget Chuck coughing up the Flyers' 2021 first-round pick to acquire defenseman Rasmus Ristolainen from the Buffalo Sabers? I get the want to do so because the team needed to get more physical on the back end, but did he really need to give up the 14th overall selection that year to acquire a defenseman who, to date, is a -176 for his career? Then, as if that wasn't bad enough, Chuck re-signed the 28-year-old blue liner to a FIVE-year deal worth $25.5 million this offseason. This is coming after a season where Ristolainen (who has played ten seasons in the NHL) put up the least amount of points since his rookie season, where he only played in 34 games. This particular head-scratcher has the Flyers stuck paying Ristolainen $5.1 million until the end of the 2026-2027 season. Don't get me wrong, I love Risto's physical play, but there's a reason why he's currently in Torts doghouse. I mean, come on, Chuck, you're telling me that Rasmus deserves to get paid more than Tony DeAngelo, who has managed to come over this season, and in a concise amount of time, has managed to already solidify the hole left behind by Ryan Ellis on the top pairing?
Ryan Ellis
Speaking of Ryan Ellis, who could forget Chuck making that infamous three-team trade that sent defenseman Philippe Myers, and the often injured Nolan Patrick packing, only to get back an already injury-prone 30-year-old defenseman in Ryan Ellis? A player, mind you, who at the time had six years left of the eight-year $50 million deal he signed with the Nashville Predators. On top of that, Chuck went through all this only to have Ellis play in a whooping four games for the Flyers before receiving a possible career-ending injury. Who would have thought this would happen, right? Well, anybody, who would have taken the time to look at Ryan's medical chart before agreeing to a trade for him, that's who. Before Ellis even stepped one foot off the plane at Philadelphia International Airport, he was already considered damaged goods. My degree is not even in the medical field, but I could see that this guy only managed to play in all 82 games once in his ten-year career before being traded to Philly. Didn't this deal seem too good to be true at some point, Chuck? Or did you really think that you suckered the Preds into giving up a top-pairing defenseman for a non-physical 6'6 defenseman (Myers) and a former second-overall pick with an extended history of concussions? Because of this trade, the Flyers cannot spend $6.25 million of their allotted cap space for the next HALF DECADE. You can't blame Ellis, though; would you retire if someone was going to be paying you $6.25 million for doing nothing for the next FIVE years?
Giroux Trade
Then you had the failed exodus of the Flyers longest-tenured veteran Claude Giroux last season. With both parties agreeing it was time to part ways, one would think that with Giroux being the prize of last year's trade deadline, Fletcher could have gotten back a monumental haul from a team in need, but no, that was not the case. Instead of Chuck being able to sway Claude (who held a full no-trade clause) to agree to be traded to the eventual Stanley Cup Champions, the Colorado Avalanche or the Boston Bruins, who were both chomping at the bit to acquire his services for their postseason runs. Fletcher had to settle for a much less lucrative deal from the Florida Panthers, which contained an underachieving Owen Tippett, a conditional first-round pick in 2024, and a third-round selection in 2023. Now, I like Tippett and the eventual early-round choices, but this trade did not bring us back the kind of kickstart we needed to commence a rebuild. Such as acquiring a future first-pairing defensive prospect like Justin Barron for Giroux that Colorado was rumored to be offering up. Instead, this team is left with no real star player and no hope for the future.
Overpayment to Coots
Next up on the laundry list of Chuck's awful decisions that will continue to haunt the team long after he has been given his pink slip is his unethical re-signing of the team's 29-year-old center Sean Couturier. Chuck agreed to pay Sean a massive eight-year contract worth $62 million. First off, why Fletcher decided to give a ten-year veteran an eight-year deal that will see to it that the Flyers will be paying him an excessive amount of money until the end of the 2030 season when Coots will be the ripe old age of 37 is beyond me. But what may be worse still is that Chuck gave Sean (a player who has only been able to play in a combined 74 games over the last two seasons and no games yet this season) a full no-movement clause for six out of the eight years of this contract. Now, I get the Flyers currently have no face of the franchise, but that doesn't mean Fletcher needed to pay that much for a defensive center who is already five years removed from his career high in points of just 76. Don't think this signing was that bad? Let me remind you before Chuck made this decision to resign Couturier, who he called "A premier player who was deserving of a premier contract," the Flyers were set to have a considerable amount of cap space opening up with Claude's $8.275 million coming off the books after that season.
Underserving Contract Gifted to Sanheim
Now, we all know Chuck is a creature of habit. So once again, right before the start of this season, with some money now burning a hole in his pocket, Chuck thought, why not hurry up and overpay another player who had a contract that was not set to expire until the end of this season. That player was none other than 26-year-old Flyers defenseman Travis Sanheim. I have no clue why he felt so compelled to do this because Sanheim (who is thought to be an offensive defenseman and was already set to be paid $4.675 million for this year) put up a messily 31 points last season. In Chuck's mind, I guess that translated to him needing to give Travis $50 million over the next eight years, which, if you do the math that, works out to $6.25 million a season. A $1.575 million raise for a player who is scared to throw a body check and, this season, has only managed to amass 1 point in 11 games. Folks that means starting next year, Chuck has signed Sanheim until 2031, and if that wasn't bad enough, he gave him a full no-movement clause until 2026 and then a 12-team no-trade clause until 2030. I'm sorry, but why is Chuck handing out no-movement clauses like crazy? I thought these clauses were supposed to be set aside and only used when inking the team's elite talent. You know, the type of player in the past that a GM would be immediately fired for if he got rid of them. Man, I guess there goes any hope of signing a key free agent this off-season when impending free agent James van Riemsdyk's $7 million cap hit comes off the books.
No draft pick made by Chuck has yet to make the NHL everyday roster.
All of Chuck's decisions discussed up to this point in this article will leave irrefutable damage to this franchise for the foreseeable future as far as the cap is concerned, but let's now analyze how his drafting has set the team up as far as young talent goes. Upon his arrival in early December of 2018, Fletcher looked set, being as though he had been gifted with such great young talent as Ivan Provorov, Travis Konecny, Carter Hart, Nolan Patrick, Morgan Frost, Isaac Ratcliffe, Joel Farabee, and Jay O'Brien all being taken by his predecessor Ron Hextall over the last few drafts. To date, about half of those players have turned out to be key contributors to the club. One of which is Jay O'Brien (who has been a points-per-game player in the NCAA for a number of years now). Chuck has still yet to sign him. Be that as it may, let's look at how Fletcher's draft hauls stack up to Hexy's. Sure, some impressive players have been selected under Chuck's watch with names like Cam York, Bobby Brink, Ronnie Attard, Tyson Foerster, Emil Andre, Zayde Wisdom, Elliot Desnoyers, Connor McClennon, Samu Tuomaala, Cutter Gauthier, Devin Kaplan, and Alex Bump. Still, the real question is, have any of them made a name for themselves playing in the NHL yet? The answer is NO! Through four draft classes, Chuck has not been able to hit on one player who has been able to step into the NHL everyday lineup, including his fifth overall pick from this summer, Cutter Gauthier. To me, folks, that is sad. The best Chuck has been able to do so far is Cam York, who has played in 33 NHL meaningless games after the team has already caulked the season up as a loss. Still, even he currently finds himself once again playing in the AHL after a less-than-impressive preseason outing.
I don't know, guys; call me crazy if you must, but as good as Tortorella has this team playing right now, I don't think we've seen the worst from the wheeling's and dealings of Chuck Fletcher's past. Chuck's absent-minded decisions have left the team with little to no cap space for the next ten years. Then when you add to that his choice of slow-developing draft picks, you'll see the Flyers forced (as they have been the past couple of seasons) to finalize their roster with other team's waiver wire players for years to come. Get used to mediocrity, my friends.
I'm a lifelong Flyers fan who has been playing the sport of Ice Hockey we all know and love competitively for over 30 years now. I grew up playing in-between the pipes where I was able to take in the whole game and analysis just what the team needed to do to help us win. Over the years I always enjoyed reading and gaining as much knowledge as possible about this great sport, but always thought it lacked something. A players prospective!