Flyer Fans, What a Difference a Couple Weeks Make.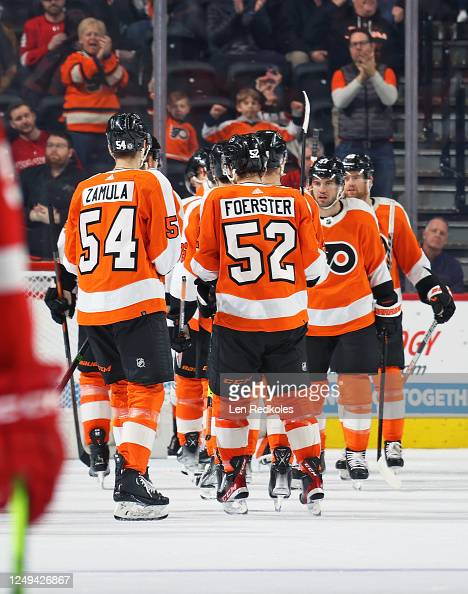 After the Philadelphia Flyers failed to make any significant moves at the March 3rd trade deadline, fans were left with little hope regarding their team's future. But what a difference a couple of weeks make!
Enough was enough! After dropping the ball yet again come deadline day, Chuck Fletcher openly admitted that his analytics team had developed an app that determined whether a trade proposal was fair or not for him. It was at that point that ownership decided they could no longer make up excuses for his incompetence and fired him on March 10th. His successor, former Flyer Danny Briere, was then named the team's Interim General Manager. The self-proclaimed Flyers Governor Dave Scott was rumored to make this move before checking with the old guard of Bob Clarke, Paul Holmgren, and Bill Barber, that serve as his advisors. Although it was the right move at the time, it may have been the cause of his ultimate demise as he, too, was working on borrowed time and believed to be given the luxury of retiring, which Scott just so happened to announce just a few short days ago. Scott's replacement will be Dan Hilferty, a fellow businessman who joined Comcast Spectacor last month as its CEO (a position Dave Scott used to hold as well).
Since then, the state of the team has changed under Danny Briere, and the Flyers have begun to bring up their youth from the Phantoms like so many of us have been screaming for them to do for some time now. These call up's were highlighted by guys like the Flyers 2020 1st round pick Tyson Foerster who was able to join the team for eight games where he was able to score seven points before being sent back down to the AHL for a playoff push. Egor Zamula looked to fit right in as well on the Flyers blueline before heading back down to gain some much-needed playoff experience as well. This recent youth movement provided the fans and head coach John Tortorella with some much-needed hope and excitement for their future.
But that's not all the newly appointed GM has done. Briere has come out and said that he is committed to a rebuild and, will look to bring a little different style of player to the Flyers in the future. In doing so, he is confident he can bring this once-historic franchise into the 21st century. One way he has already done that is to sign one of their top defensive prospects, 21-year-old Emil Andre of Sweden, to an entry-level contract. This a move that I think all of us can agree needed to happen as this team has lacked any sort of European style for some time now. Since coming over from the SHL (Sweden's top professional league) this season, Emil has impressed in his first two contests in North America, scoring two assists in two games played with the Phantoms. Despite his diminutive size of only 5'9, Andre has shown he has no intention of backing down from the physical side of things and thus should be utilized as a potential asset in the offensive zone as well, seeing he is an absolute sniper from the point.
Now, listen, in no way am I saying these not so suddle changes will see this team rebound next year into being cup contenders. It will take time. But, with the firing of Chuck Fletcher, and the "retirement" announcement of Dave Scott, I believe it is the start of things moving in the right direction for this franchise that will lead to this team's future success. And, who knows, with any hope, maybe the new big boss Dan Hilferty is merely grinding his axe before making some cuts of his own (I.E., those old senile advisors of his that haven't stepped on the ice for nearly 40 years.) A fan can hope, right?
I'm a lifelong Flyers fan who has been playing the sport of Ice Hockey we all know and love competitively for over 30 years now. I grew up playing in-between the pipes where I was able to take in the whole game and analysis just what the team needed to do to help us win. Over the years I always enjoyed reading and gaining as much knowledge as possible about this great sport, but always thought it lacked something. A players prospective!