Flyers Camp Battles that are Set to Ensue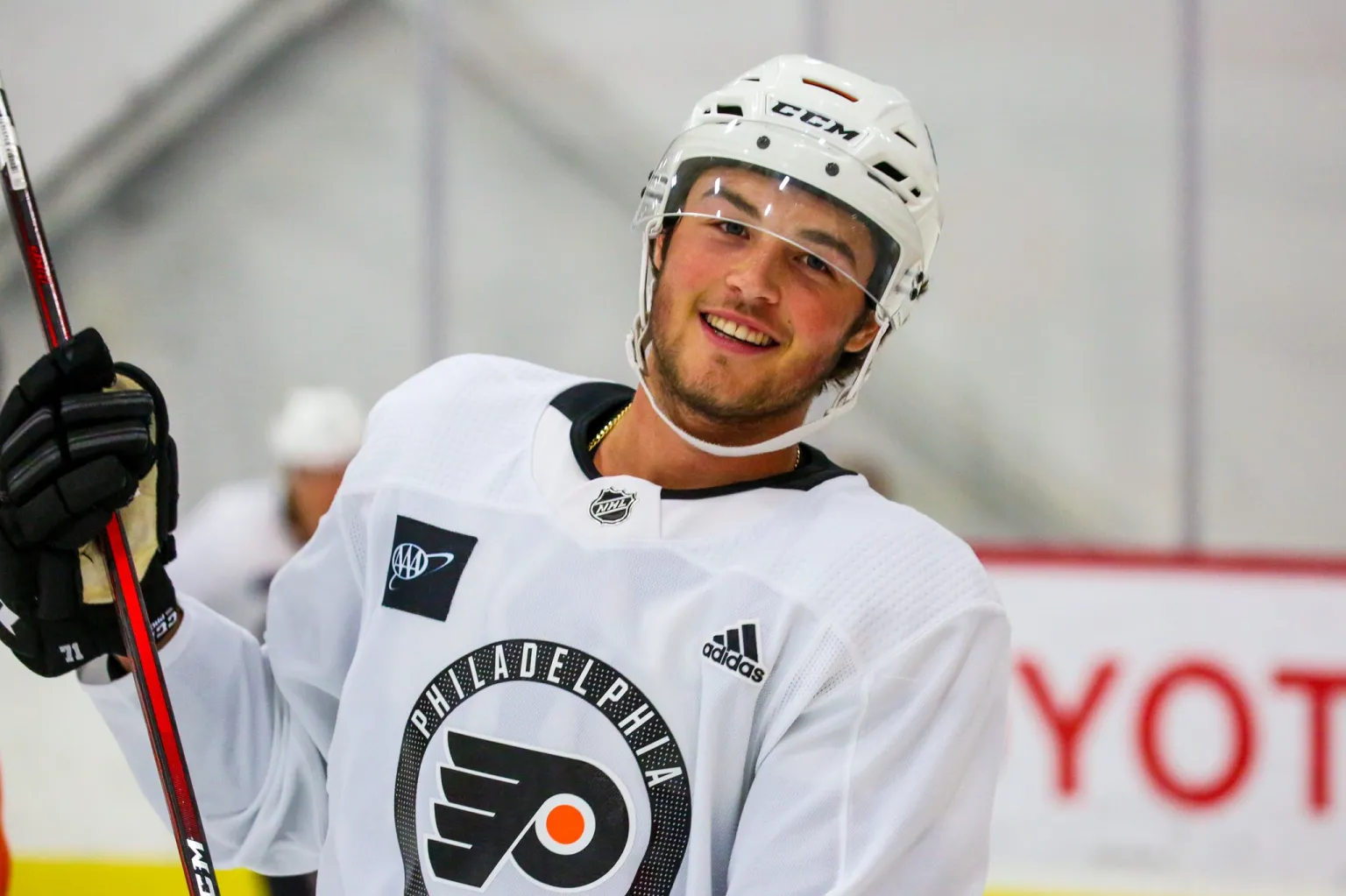 Photo Credit: Flyers PR Staff
With the reality of summer now slowing coming to an end, we must now look to the positives to fight back the onslaught of our impending Seasonal Affective Disorder. To do so, I can think of two things in particular that should help with just that. One is that your kids will be returning to school soon and, therefore, will be forced to stop raiding your pantry. And two being that a new NHL season will soon commence.
But as we all know, before it can, the Flyers must first hold a camp to see who will make the team this season. That said, this year will surely be interesting, given that there will not be as many familiar faces around. Seeing that the teams' new general manager Danny Briere let James van Riemsdyk walk and sent both defenseman Ivan Provorov and center Kevin Hayes packing this summer.
The good thing about this new administration, though, is unlike its predecessor, they have not gone out and signed a bunch of underachieving, over-the-hill players who are well past their prime to one-year deals. Instead, this new regime has left a few spots open to allow some of their budding prospects the chance to potentially make the Orange and Blacks opening night roster.
OFFENSE
In saying that, one particular battle I feel you should watch out for once the team laces them up is wing position—Manly between 25-year-old Wade Allison and 21-year-old Tyson Foerster. Now, nobody is questioning Wade's heart or the enormous effort he expels every time he touches the ice. This being especially true after he had the stones to fight and win a bout against the Rangers' 6'8 prospect Matthew Rempe last preseason. But sadly, when you play the game with this reckless abandon approach, it often leads to injuries. Something Allison knows all too well, given the immense amount of time he has had to spend on the Injured Reserve (IR) during both his colligate and professional careers. So, I believe it is his inability to stay in the Flyers lineup that just may lead to his ultimate demise. While Wade still shows promise, the fact that he is a 25-year-old, former second-round pick in the last year of his contract who still has yet to solidify his role on the team is a bit unsettling.
Especially since the Flyers have a 21-year-old winger in Tyson Foerster, who Philadelphia took in the first round of the 2020 draft that is already appearing to be ready to challenge him for the spot; if you compare the two, Allison played in 60 games for the Flyers last season where he was able to amass just 15 points during that time—a 0.25 point per game average. On the other hand, Foerster led all Phantoms in points last year, scoring 20 goals and 48 points in 66 games played. This kind of point production not only led to him being picked to be a member of the AHL All-Star festivities last season but garnered him the opportunity to play up with the big club in eight games towards the end of the season, where he was able to net an incredible three goals and four assists for seven points in only eight games played with the Flyers last season. So, I ask which would you prefer? A player who scores 0.25 percent of the time like Allison, or a kid whose shot allowed him to make the most of his chances last season, maintaining a 0.875 point per game pace while playing up with the Flyers?
DEFENSE
On the blue line, there have been some changes as well. As veterans, Justin Braun (who just retired) and Tony DeAngelo (who finished with a team-worst -27 average last season) are no longer with the club.
Their veteran replacements brought in this off-season were Sean Walker, who the Flyers acquired in the trade with the Los Angeles Kings, and Marc Staal, who the team signed after he helped the Florida Panthers get to the Stanley Cup Finals last season. Now, while both of these guys were brought in to try and bring in some experience and solidify the defense, the team's youth will still have the opportunity to fight for a spot on the roster as their seventh defenseman or, better yet, come to earn Tortorella's trust enough to be the first guy that gets the call up when an injury occurs.
This spot used to belong to the Flyers' undrafted defenseman Egor Zamula, but since joining the team a couple of years ago, his procession has seemed to stall. Resulting in other defensemen like Ronnie Attard, Emil Andrae, and Adam Ginning surpassing him on the depth chart, and here's why.
Ronnie is a 24-year-old right-hand shot defender that uses every bit of his 6'3, 207-pound frame to stand the opposition up at the blue line. Attard has done so well since leaving Western Michigan to sign with Philadelphia that he made the AHL All-Star Game last season. His stats while playing for the Phantoms last year were as follows in 68 games played; he scored 12 goals and 20 assists for 32 points. More importantly, he managed to do so while maintaining a +10 average.
For his efforts, Ronnie was given the opportunity to play two games with the Flyers last season, where he did not total any points but looked solid during those outings.
Look for Ronnie to get a real shot with the Flyers at some point this season, as he remains one of the most solid defenders in the team's system.
Emil Andrae is The other name I mentioned above that could very well find himself playing on South Broad Street at some point this year. Emil was the Flyers' 2020 second-round pick, and although this now 21-year-old may be diminutive in stature, standing at only 5'9 and 181 pounds, he has certainly proven that he does not let that stop him from competing. After already playing in parts of three seasons in the SHL (Sweden's Top Professional League), Andrae got his first taste of North American hockey as he was able to join the Phantoms after he finished the season playing for the HV71. In that short stint with the Flyers, Emil was able to impress, scoring six points in just ten regular season games. And now that he knows what to expect, the sky is the limit next season for this young defender.
Adam Ginning is the last defenseman we will talk about that will battle in camp for a shot at making the Flyers' opening night roster. Adam was the Flyers' 2018 second-round pick, and he is a bit of a dark horse in this battle because although he is not as flashy as the others mentioned, he would be this old goaltender's pick of who to have play in front of him. And here's why. Ginning is the most experienced out of the bunch. He is 23 years old and has already played in parts of six seasons in the SHL before joining the Phantoms last year. Plus, what this defender lacks in point production, he makes up for with size and strength. Standing at 6'4 and 205 pounds, Adam is known to play with a lot of authority. He uses that size to excel in board battles and while clearing out the front of the net. Ginning is probably the most physical out of the bunch and, in my mind, has all the intangibles to become a dependable shutdown defender at the next level. Hence his +24 average last season in the AHL.
GOALTENDING
If I had to pick one position battle above all others currently up for grabs for the Flyers, it would have to be in the net. Since 1999, when Ron Hextall retired, Philadelphia has struggled to find a long-term replacement, let alone a franchise-type goaltender. To prove this, let me point out that the Flyers have started an incredible 32 goalies since then. And not one of those, including Carter Hart, has been able to solidify the position. Lucky for us, Briere is now at the helm and looks as though he hopes to change that.
Since Briere was named the team's new general manager Hart and his lackluster career win percentage of .417% has been on the trade block. But perhaps the only thing that has kept him here this long is the impending results from the Hockey Canada Sexual Assault investigations, where a woman accused eight players from the 2018 Canadian World Junior Team (which Hart played for) of committing unwanted acts. Since then, Hart and others on that team have come out and sworn they had nothing to do with it. But you can't blame prospecting teams for not wanting to agree to a possible trade until his name has been completely cleared of any wrongdoing.
With that being said, Dealing Danny has not let that stop him from trading for, drafting, and re-signing other netminders who could potentially take on the starting role one day soon.
One of those players is Cal Petersen, who Briere just acquired from the LA Kings in the trade for Provorov. Petersen will prove to be an option for the Flyers next season because not only does he have actual experience at 28 years old and more than 100 NHL games already under his belt. But he was once thought to be the heir to Jonathan Quick's throne in LA. Ergo, the pricey five million dollar price tag he brought with him that spans over the next two seasons. Unfortunately for Petersen, the Kings, despite being a playoff team last season, saw their reign from the early teens (when they were able to collect two Stanley Cup wins) come to an end recently as only three players are left from those cup teams on the current roster.
Now, if you have done any research at all on Petersen, you probably are not that impressed, seeing that Cal spent time playing in both the NHL and AHL last year. Even less so if you looked at his career goals-against-average (G.A.A.), save percentage (SV%), and win percentage that are almost identical to that of Hart's.
But before you chalk him up to the Flyers needing to take on a bad contract to get the deal done. I would urge you to look at what he was able to do at the World Championships for Team USA last season. Where in three games played, Cal was able to go undefeated, maintaining a 0.72 G.A.A. and a .956 SV%, with one of those wins even resulting in him recording a shutout. This tournament performance alone proves that he at least can hold down the fort for a while as Flyers' goalie prospects Alexei Kolosov, Carson Bjarnason, and Yegor Zavragin continue to develop.
The other guy that will be involved in this upcoming camps competition from within the blue paint is Sam Errson. Sam is a 23-year-old netminder that the Flyers drafted with their fifth-round pick back in 2018. Before coming over to play in North America in 2021, he was a starter for the Brynas IF of the SHL. But you may know him best from the 12 games he played this year up with the Flyers, where he posted a winning record of 6-3.
That short stint was impressive enough, I guess, because it earned him a new two-year contract extension totaling $2.9 million. With that being said, we all know you don't re-sign a guy for $1.45 million a year if you don't intend for him to play.
And, if $10.35 million wasn't enough to have wrapped up into three goalies set to battle it out in camp, enter back in 26-year-old Russian netminder Ivan Fedotov who is on the Flyers books for another $925,000 for this year (making the running total $11.275 million). The IIHF just sided with the Flyers as it was determined that Ivan did, in fact, still have a valid NHL contract with the team when he chose to sign with the KHL's CSKA Hockey Club recently. According to this report, Fedotov will be given two weeks to decide to either come to Philadelphia and play or obtain an official release from the Flyers to play in the KHL next season. If one of these actions doesn't occur, Fedotov will have sanctions imposed on him that will NOT allow him to play in any official National or International games for a span of four months. This suspension (if necessary) would start on Sept. 1st (the CSKA's first regular season game) and run through December 31st.
What does this possible addition mean for the Flyers? Well, this 6'8 goalie was superb during the 2021-2022 season when he last played so much so that he was able to win the accolade of being named the KHL Best Goalie that year after leading his team to the KHL's Gagarin Cup Championship.
Yes, indeed, if you plan to attend Philadelphia's upcoming camp for the 2023-2024 season at the Flyers Skate Zone in Vorhees, NJ, it will surely not disappoint. With new management in place and Head Coach John Tortorella said to now have a seat at the decision-making table, the positional battles that I laid out above will undoubtedly be the deciding factor on whether some of these remaining veterans stick around or are replaced by promising prospects that will try to outperform them in the coming weeks.
I'm a lifelong Flyers fan who has been playing the sport of Ice Hockey we all know and love competitively for over 30 years now. I grew up playing in-between the pipes where I was able to take in the whole game and analysis just what the team needed to do to help us win. Over the years I always enjoyed reading and gaining as much knowledge as possible about this great sport, but always thought it lacked something. A players prospective!