Flyers Goalie Coaches: May it now be an Issue about Respect?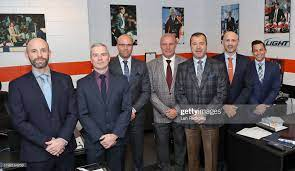 In the not-so-distant past, when people like you and I were growing up playing this game, we were always taught to trust our coaches because they obviously would not be where they are today if they did not know what they were talking about, right? Well, I'm afraid that saying may not still hold the same validity in this new information age where a person's whole life story (or better yet) stats from his playing career can be found on something like a cellular device in a matter of seconds.
Therefore, coaches like Kim Dillabaugh, who oversees the Flyers' Goaltenders, along with Brady Robinson, who was given the title of Developmental Goalie Coach (by former Flyers GM Ron Hextall), may have lost a certain level of respect from the Flyers guardians of the blue paint since their introduction to the team some seven years ago now.
Why might this be, you may be asking? Well, to fully understand the totality of this, we will have to break it all down. However, an excellent place to start would be the issue of this duo's combined inability to yet develop one of the most decorated/promising young goaltenders to come out of the draft in the last 15 years in Carter Hart. During the previous two seasons, he combined for an embarrassing record of 22 wins, 35 losses, and 12 OTL, equating to a fireable 0.327-win percentage. The reason for his lack of success most likely stems from the fact that Hart averaged a combined 3.41 goals against average (G.A.A.) and a 0.891 save percentage (SV%) over that same time span.
So, at this point, one would not be wrong in thinking that Dillabaugh has possibly lost the respect of Hart, if not others within the team's organization. Although, this isn't because Kim does not know what he's doing. Before joining the Flyers, he won two Western Hockey League (WHL) Championships, two Memorial Cups, and two Stanley Cups working in the same capacity with other teams. Nevertheless, Philadelphia and their netminders may need to move on from this pair of so-called goaltending experts and replace them with someone that Hart and company can relate to more. Sure, adding a legendary goalie coach like Mitch Korn, Francois or Benoit Allaire, or even Ian Clark would be great, but they all are currently employed by other teams and are not at all who I'm suggesting as a replacement. That's why when it comes to this younger, "more aware" generation of goaltenders today, I would recommend a mentor of sorts; someone who has skated a mile in their pads and was at one point in the not-so-distant past viewed as elite at their craft.
For instance, the L.A. Kings have the two-time Stanley Cup champ and Conn Smythe Trophy recipient Bill Ranford currently working with their netminders. Bill has over 15 NHL seasons of experience to his credit. San Jose has the 14-year NHL veteran Evgeni Nabokov at their helm. Vegas now has NHL journeyman Sean Burke who played in 18 NHL seasons, helping their goaltenders. Then there's Florida, who has the newly inducted Hall of Famer Roberto Luongo working in a management role to field any questions the Panthers goaltenders might have.
Meanwhile, over in Philadelphia, Kim Dillabaugh has to try and do his job while still having reoccurring nightmares of that bright red light and goal horn that he saw and heard so frequently back when he was playing in juniors where he plateaued in the Western Hockey League. Where throughout four seasons there, he averaged an abysmal 4.47 goals against average, which he paired with a less than desirable 0.880 save percentage. It hardly compares, right?
Then there's Brady Robinson, the Flyers Development Goalie Coach, who might be even more to blame than coach Dillabaugh, seeing that he spends most of his time working with the team's underperforming American Hockey League and East Coast Hockey League affiliates. Robinson, who has also been with the team for the past seven seasons, is additionally in charge of checking in with the team's other already drafted prospect goaltenders currently playing in leagues worldwide. Not to mention the fact that he is responsible for scouting and making suggestions on young draft-eligible goaltenders who he thinks the team should select. That means over the last seven years, Brady might have played a significant part in the Flyers drafting and developing (or lack thereof) all of the following underachieving goaltenders: '21 3rd round pick Alexei Kolosov, '19 6th round pick Roddy Ross, '18 5th round pick Samuel Ersson, '17 3rd round pick Kirill Ustimenko, and '16 2nd round pick Carter Hart. This might explain why the largest summit Robinson ever reached during his career was juniors playing in the British Columbia Hockey League. Where over two seasons and only 26 games played for a team known as the Trail Smoke Eaters, Brady's numbers averaged out to a humiliating 4.52 goals against average with a horrid 0.872 save percentage to boot.
Now, I know that they say, "Not all players can coach," which to prove that you would need to look no farther than Wayne Gretzky's career 0.435 head coaching win percentage to back up that statement. And for the most part, the declaration of "Those that can't play, coach" is true, but in both Dillabaugh and Robinson's case, they have shown during their time in Philly that they can neither play nor coach! Therefore, out of respect for the team's goaltenders and the team's dwindling fanbase, it seems like the Flyers brass should have already given these two washed-up pucks stoppers their pink slips. Just like they did for most of the other teams' coaches, equipment managers, and training staff this offseason. If they did so, Hart and the Flyers, other struggling bunch of goal post talkers, might have had a better chance to right themselves this upcoming season working under the direction of someone they both know and respect who once played on the same ice surfaces as they do.
A few former players who aren't that far removed from the game that might fit this role would be the recently retired 40-year-old Henrik Lundqvist, who played his entire 15-year career in what is now known as the Metropolitan Division for one of the Flyers archrivals, the New York Rangers. Or the outspoken 48-year-old, former Boston Bruins netminder Tim Thomas who was the first goaltender since Bernie Parent to win the trifecta of a Stanley Cup, the Vezina, and the Conn Smythe trophy in the same season. Would either of these well-off players have taken the job if offered to them? I don't know, but it certainly wouldn't have hurt to ask at this point!
I'm a lifelong Flyers fan who has been playing the sport of Ice Hockey we all know and love competitively for over 30 years now. I grew up playing in-between the pipes where I was able to take in the whole game and analysis just what the team needed to do to help us win. Over the years I always enjoyed reading and gaining as much knowledge as possible about this great sport, but always thought it lacked something. A players prospective!