Flyers have Addressed Many Issues This Off Season, but one they have yet to touch is the Left Wing Position.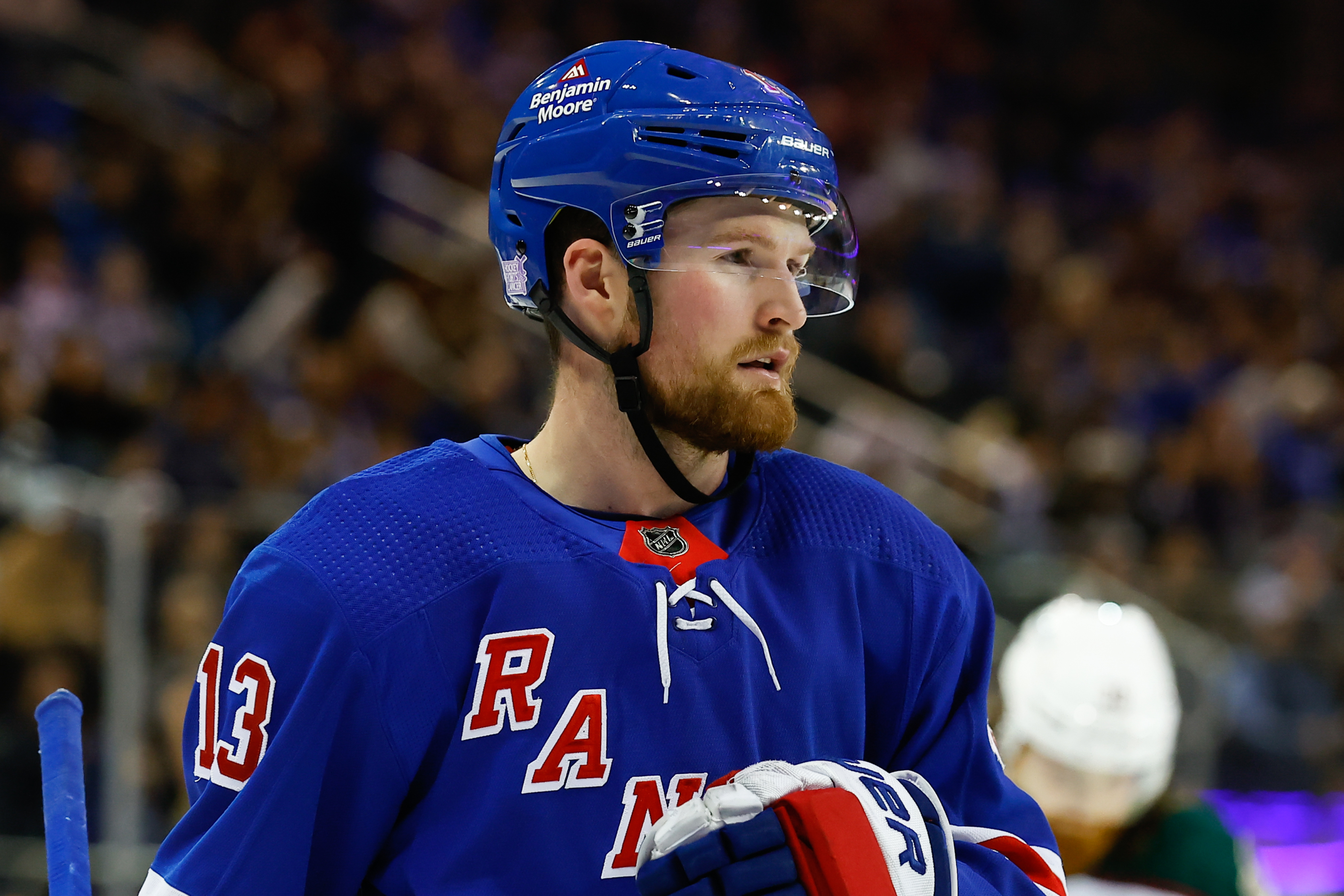 With the additions this off-season of defenseman Marc Staal, right wing Garnet Hathaway, and center Ryan Poehling, Danny Briere, the Flyers' newly appointed general manager, has certainly managed to bring in an established veteran presence who will be able to help guide this team's youthful core. But there's just one thing; management has yet to address their lack of depth at left wing. To date, the team currently only has three natural left-wingers signed. Only two are proven NHL talents, Joel Farabee and Nicolas Deslauriers. The other is prospect Elliott Desnoyers. Their unsigned left-wing talent is as follows prospect Cutter Gauthier, who refused to sign with the team when offered an entry-level deal earlier this off-season and recently turned down the invite to development camp. Another is Alex Bump, who is having a good camp but is still a year or two away, and lastly, Alex Cernik, the Flyers' 2023 4th-round pick.
The right side is a different monster, though. The Flyers have tons of depth lining up on that side of the faceoff circle, with names like Travis Konecny, Owen Tippett, Garnet Hathaway, Wade Allison, and Cam Atkinson all being natural right-wingers who are already on the Flyers roster. On top of that, the team has multiple right-wingers in the waiting like this summer's first-round pick Matvei Michkov, early-round draftees like '20 1st round pick Tyson Foerster, '21 2nd round pick Samu Tuomaala, '19 2nd round pick Bobby Brink, '22 3rd round pick Devin Kaplan, and late round gem Alexis Gendron who managed to score 55 goals this season in the Quebec Major Junior Hockey League.
To combat this lopsided depth chart, the Flyers invited the 23-year-old NCAA undrafted left-wing prospect Matt Brown to Development Camp. Brown, who stands at just 5'9, played in 39 games for the Boston Terriers this past season, scoring 16 goals and 31 assists for a total of 47 points. These totals equated to him scoring at a 1.20 points-per-game pace. To go along with that impressive stat, he also maintained a +15 average on the season. But unless he outshines the other Flyers previously drafted prospects that the franchise has coveted and scouted for months/years before selecting them, he will not be able to garner a contract by the end of this week.
So, who does that leave the team within which to fill those vacant roster spots created by James van Riemsdyk's recent departure? Center Scott Laughton has been known to play left wing over the recent years but shouldn't be counted on to stay there all season long as Sean Couturier should now be labeled as injury prone as he missed all of last season and only played in a combined 74 games throughout the last three seasons after sustaining numerous injuries that required him to have to endure two separate back surgeries.
For those of you who have never played the game, it might be easy to say the team should just force one of their young and upcoming right-wingers to slide over and play their off-wing. But I would disagree. That may work in the minor leagues where a promising prospect can react fast enough to get the best of a career AHL'er. But it won't work in the NHL, where everyone is the world's fastest, strongest, and most talented players. By doing this, the team is putting said prospect at a severe disadvantage. Let me give you some examples. Every time that off-wing tries to break out of the defensive zone, that prospect is forced to either receive the puck on their backhand or turn their backs entirely to the opposition's defense to accept a pass on their forehand. This proves to be very dangerous as they then become an unsuspecting target when they turn around, and the opposing defense is there to try and administer a filling rattling open ice hit to regain the puck for their team. Ouch!!! To compare the severity of that kind of impact (think of a slot receiver in football when they stretch out to catch a ball over their head only to come back down and have a middle linebacker like Ray Lewis or Brain Urlacher coming at them in full stride while foaming at the mouth).
Those same drawbacks happen once they cross into the offensive zone, seeing that a player who is forced to play his off-wing will feel immediately handcuffed by any pass heading in their direction because they will always be on their backhand. And in that split second it takes to try to stop and bring it to their forehand for a better shot, sometimes is all the time a goaltender needs to dish out a little left-hand larceny.
So, with all the big-name unrestricted free agents now inked to new deals, how might Briere manage to bring in some much-needed help on the left side? Well, he could call his old Sabers teammate Chris Drury who is now the New York Rangers General Manager, and ask him what it might take to acquire their former number one overall pick Alexis Lafrenière. I mean, it is plausible. The Rangers have already gone out this off-season and signed veterans like Blake Wheeler, Tyler Pitlick, Riley Nash, Connor Mackey, and goaltender Jonathan Quick to fill vacancies in their lineup. But because of this recent shopping spree, Drury has left himself with very little cap space left to re-sign his own restricted free agents. So much so that he has been rumored to be listening to offers for Lafrenière even though he hopes to be able to keep him. But Drury also has restricted free agent (RFA) defenseman K'Andre Miller to sign, who has been an integral part of the Rangers' defense over the last couple of seasons and is rightly due a substantial pay raise. This makes Alexis (the other RFA) possibly the odd man out, seeing that he has been rumored not to be willing to sign a team-friendly bridge deal.
And who could blame him? Alexis is a natural left winger with a ton of skill that is still just 21 years of age. He already has three NHL seasons of experience under his belt, but to date, he has yet to reach his full potential because he has been buried on the depth chart by other Ranger superstar left wings like Chris Kreider and Artemi Panarin. But that doesn't mean that Lafrenière has failed to produce. In the '21-22 season, Alexis set a career-high in goals with 19, and this past season he set a career-high in points with 39.
These totals might not seem entirely up to par with what you would expect from a former number-one overall pick. Still, I believe if the Flyers could somehow acquire him from New York, his production might take off like Owen Tippett's did when he was given a chance to finally play consistent top-six minutes upon arriving in Philadelphia.
The question now becomes, what exactly might Briere have to give his old teammate to obtain him? Might it take a 1st round pick? The Flyers have two of them next year. One of which previously belonged to the Florida Panthers, who, as we all know, made it to the Stanley Cup Finals this year, so if they are anything close to the team, they were last year; it will be like giving up an early second. My guess is that with the Rangers being short on funds and having to get cap compliant. They might be willing to settle for a lower-tier NHL roster player and someone like Samu Tuomaala or Bobby Brink, who also were taken early in their respective drafts and show a lot of promise.
Whether Briere chooses to orchestrate a sign-and-trade deal or settles for retaining his rights, given that he is due to get more cap space with the DeAngelo trade supposedly being finalized in the next few days, I think the cost would be worth it. For adding Alexis to the youth movement here on Broad Street that already includes Foerster, Gauthier, and now Michkov, the Flyers struggles are sure to become a thing of the past once they find themselves all playing on the same sheet of ice.
I'm a lifelong Flyers fan who has been playing the sport of Ice Hockey we all know and love competitively for over 30 years now. I grew up playing in-between the pipes where I was able to take in the whole game and analysis just what the team needed to do to help us win. Over the years I always enjoyed reading and gaining as much knowledge as possible about this great sport, but always thought it lacked something. A players prospective!