Flyers Players that should be considered the Foundation for their Future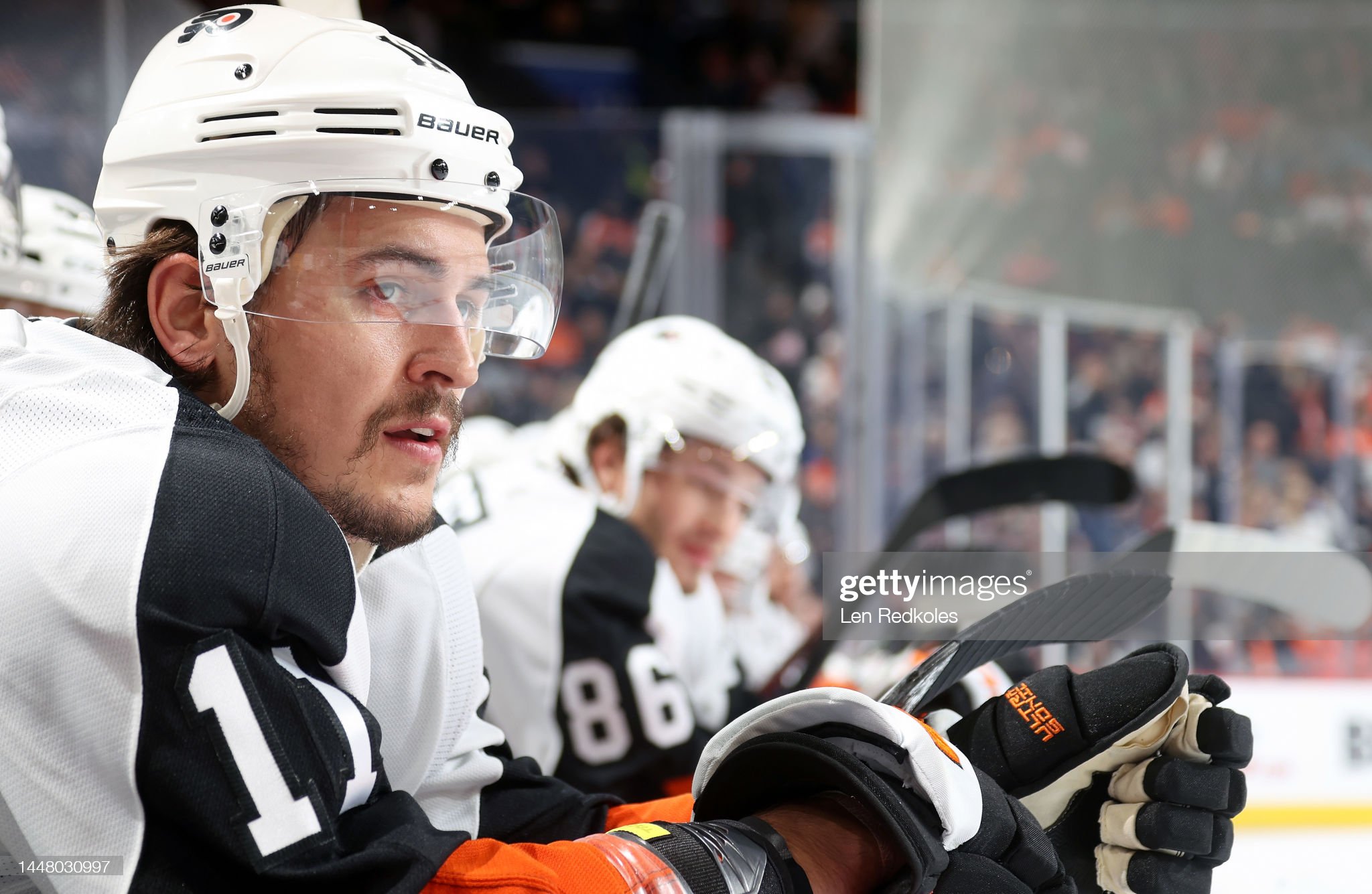 Today, the Philadelphia Flyers find themselves seventh in the Metropolitan Division, only managing to total 14 wins in 38 games played. Three of those wins, mind you, have come in the last three games after rookie goaltender Samuel Ersson took control of the crease after starter Carter Hart had been placed into concussion protocol. With that being said, the team is well on its way to their third straight losing season and, therefore, should start to embark on a full fledge rebuild. Yes, I know the team is on a three-game winning streak, but let's be honest two of the teams they defeated during their current winning streak were the Anaheim Ducks, who currently sit in last place in the Pacific Division with just 24 points on the season. The other team being the San Jose Sharks, who find themselves right above the Ducks in seventh place in the Pacific with 31 points, both being worse off than the Flyers. Now in case you suffer from short-term memory loss like this writer has pretended to suffer from when it comes to the Flyers the past three seasons. Let us not forget the outcome of the teams' games right before Christmas break when the Flyers were forced to face actual playoff contenders like the Hurricanes, Maple Leafs, Rangers, and Avalanche, which all resulted in losses for Philadelphia. When you factor in those L's, it only further substantiates my claim of why this team should now look to whom they should consider as the foundation of their future and part ways with anyone they deem not on that concise list.
Travis Konecny
For example, one person that should be considered a part of that new foundation for this franchise moving forward is the still-youthful 25-year-old winger Travis Konecny. The Flyers 2015 1st-round pick, who this season while playing under the tutelage of head coach John Tortorella has not only been able to revitalize his career but compete at such a breakneck pace that he is projected to have a career year. Konecny (who is signed for two more years after this season at just $5.5 million) is currently playing at a 1.15 points-per-game pace, scoring 19 goals and 18 assists for 37 points in just 32 games played, which if you do the math that has him projected to score 45 goals and 43 assists for 88 points this season. A feat that would mean that he would not only meet but surpass his previous career highs of 24 goals and 61 points by scoring an additional 21 lamplighters and 27 apples on the score sheet!
With Travis still being relatively young and thriving in his coach's new system, the Flyers should not view him as a tradeable asset if other teams come calling in the next few months, but rather, they should reward him for elevating his play. How might they do that, you might be asking? Well, I'm no general manager, but if I were in charge, I would liquidize as many of Chuck's bad contracts and players that aren't viewed to be in the team's future plans as possible leading up to the trade deadline so that I could acquire the Vancouver Canucks 27-year-old captain Bo Horvat who is in the last year of his contract that only pays him a very reasonable $5.5 million a season. Now hear me out. I know the Flyers are in no possession to be buyers, but if they are looking for a move that can help the current roster both now and in the future, here's their guy. To start, Bo is Travis's second cousin, so you know there would be instant chemistry there if he was to be acquired. Not to mention upon his arrival they would have the makings of two-thirds of a respectable NHL first line, seeing that Bo is a 6'0, 216-pound center-ice man who has scored 28 goals and 14 assists for 42 points so far this season. I would rate a trade of this magnitude of extreme need and importance for the Flyers, with Sean Couturier being out with multiple extended injuries the last couple of seasons and Kevin Hayes currently finding himself in Tort's doghouse.
Now before you jump to conclusions NO, I am not saying that I think that Philadelphia should trade away their coveted 1st round pick to make this happen. I honestly don't think it will take that much to get a deal done. Every team in the NHL knows Bo is unhappy and probably won't re-sign there, and therefore should balk on a deal if Vancouver tries to ask for too much. So in order for both the Cauncks and the Flyers to ensure they get the most out of this trade I would want it to a be a sign and trade scenario where only then should the Flyers be willing to offer up a couple of their more promising prospects, such as the diminutive 5'9 defenseman Emil Andrae and their other, former second round pick Samu Tuomaala with the Flyers then throwing in say a 3rd or 4th round pick this year seeing that the team has multiples of each. This would be possible because, as I stated before, Horvat is an unrestricted free agent after this season and the reports coming out of Vancouver are that the Canucks low ball offers when attempting to re-sign Horvat have all but seen to it that Bo will have his suitcases all packed and ready to go before even heading to the rink for the Cauncks' last game of the season. Once the two teams agree to a trade, the Flyers should then work on signing Horvat to no more than a five-year deal that would have him be a free agent again at 32 years of age. Only then would I agree to a deal.
Owen Tippett
Another player who should be viewed as a part of their future foundation is their recently acquired sharp-shooting winger, Owen Tippett. Tippett (who we all know was acquired in the trade with the Panthers last season that sent Claude Giroux packing) has been on a tear this year. Scoring 12 goals and eight assists for 20 points in just 33 games played, Owen is well on his way to setting new personal best in every statistical category. In fact, if his play continues at this rate, he is projected to score 28 goals and 19 assists for 47 points this season. Not too bad for a 23-year-old who is only making $1.5 million through the end of next year, eh?
What could this team do to ensure Tippetts' production continues on an upward trend? Easy, lock him into a top-six role and make sure whoever is on the line with him can place the puck on the tape of his stick; if they manage to do that, Owen will do the rest. Don't believe me? Think about it; look at what he has been able to do with the Hodge podge group of players that this year's Flyers roster has been made up of. Then imagine what he could do playing on a consistent line with players who aren't named Morgan Frost or Noah Cates. I like Cates and all, but I don't think you'll find Frost or Cates currently on anybody's Fantasy Hockey Team, do you?
Cam York
The last player on the Flyers' current roster that I think the team should solidify as part of their foundation moving forward is defenseman Cam York. While I know he is still just 21 years of age, York has previously exhibited the ability to win at many different levels. It didn't matter if it was junior hockey, where he led team U.S.A. to a gold medal at the World Junior Championships back in 2021, or in the NCAA, where he was able to develop into a dominant force on the Wolverines' blue line. York has been able to make whatever team he is playing on better. Take, for instance, the Flyers; since he joined the team some 11 games ago, he has scored one goal and six assists for seven points. But his point production and ability to become an asset on the power play in such a short amount of time isn't even the best part. He already possesses a team-best +6 average, which is more than any of the other overpaid defenders on the team can say. With Provorov being a -10, DeAngelo a -9, Risto. a -5 and Sanheim being -3; someone tell me why this kid is still playing third-pairing minutes?
What the team can do to ensure they continue to facilitate York's development would be to utilize him correctly and evaluate who they can get rid of ahead of him on the depth chart to enable him to get the kind of ice time he deserves. For example, Cam is a left-hand shot defender who, previously to this year, has not been able to excel his game on the world's largest stage. Because last season, he was forced to play on his unnatural side due to injuries that occurred to other Flyer defenders; this being a task that (in this writer's opinion) should have been delegated to one of the team's more experienced veterans that were still in the lineup. I mean, with Ryan Ellis going down, wouldn't it have made more sense to slide Ivan (who at the time was already playing in his sixth NHL season) over to the right side rather than force a 20-year-old prospect to do it? And, as far as the depth chart issue goes, the team has Provorov, who is a career -21 player signed for $6.75 million until the end of 2025, and Sanheim, who is a career -22 player who they just inked until the end of the 2031 season for $6.25 million a year. So, in saying that, I guess my question is, who is staying and who is going? With $13 million already wrapped up into two left-hand shot defenders, does management really expect York to play third line minutes for the next two to three seasons? Or do they try and move Ivan's inflated contract in a trade, even if it means retaining some of his salary to free up cap space and allow York to slide into a more prominent spot in the lineup? I don't know about you, but I know which choice I would make if I had a say in things.
If management were to take my advice and start the demolition process of this team with these easy steps in mind, they would not only be solidifying the foundation for their future, but they would be making sure to safeguard the development of star prospects like Cutter Gauthier, Elliot Desnoyers, Bobby Brink, and Alexis Gendron in ensuring that when they make the jump to the NHL that they will have someone on their level, they can play alongside.
I'm a lifelong Flyers fan who has been playing the sport of Ice Hockey we all know and love competitively for over 30 years now. I grew up playing in-between the pipes where I was able to take in the whole game and analysis just what the team needed to do to help us win. Over the years I always enjoyed reading and gaining as much knowledge as possible about this great sport, but always thought it lacked something. A players prospective!