Flyers' Tortorella is doing A LOT with very Little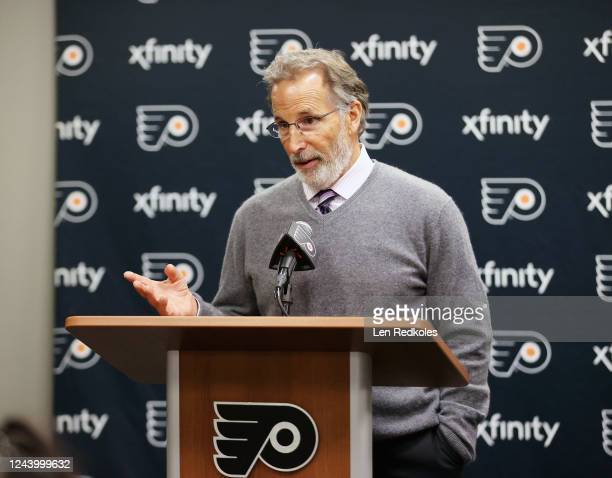 Who would have thought that after two games into the season, the Philadelphia Flyers would be undefeated and sitting on top of the Metropolitan Division? Possibly only the team's new Head Coach John Tortorella that's who.
With most of this team's players having to endure a training camp as they have never experienced before, this new-look Flyers squad may just be a blast from their franchise's past. Since day one of training camp (where there wasn't a single puck in sight), Torts has been able to tear down this group of jaded/lackadaisical players who flat-out lost the will to win over the past few seasons; and somehow, in only a few short weeks was able to restore the drive and self-confidence in each one of his players that got them to this level in the first place.
How did he do it, you may be asking? Through hard work and a little elbow grease, that's how. Taking it back to the basics, Tortorella has managed to do just what he has been preaching about since ownership brought him to Philadelphia. By making sure, this team would be harder to play against. Gone are the days when the Flyers would go down by a goal and simply give up. No longer will not finishing a check be acceptable. Not clearing the opposition out from in front of the net is no longer an option. Go ahead and not get in the face of an opponent after they lay a dirty hit on one of your teammates; that is, if you want to find yourself playing your next game in Lehigh Valley. This group has become something it has not been in years- a TEAM! A group of individuals that come together to achieve a common goal. Now, Tortorella's tactics may not be innovative, but they are effective! And in this writers' mind, John's brash way of telling the players (and media alike) the cold hard truth is refreshing. In summation, he holds people accountable, which is something you must appreciate.
The fans were right to expect more, with inflation making it a struggle for the average person to be even able to afford the cost of admission to a game (let alone a cold brew and something to eat while there); they demonstrated a mass exodus last season when the team appeared as though they were no longer even putting forth an effort. Follow that by a lackluster off-season by management, and the general consensus was that WE (the fan base) would be in for a long season. But under this new regime behind the bench, I believe fans will find a way to make it work to be able to attend these games even though they know that it may take this team a few years before they can return to perennial playoff contenders they once were.
Through these two games, you can see that this team is determined to play a full 60 minutes of hockey every night. Because- despite a lengthy list of injuries, no real star in sight, and no captain yet to be named- this team (for the first time in years) is playing with HEART! With Philadelphia currently playing the game the right way, you can now see this team utilizing a forecheck. For the first time in a long time, the Flyers are standing up the opposition at the blue line by laying an open-ice check instead of just lazily trying to poke-check them as the other team skates right on by (like in years past). They are also playing a better defensive game where they are actually helping out their still young netminder Carter Hart by clearing the porch so he can see the shot coming in, as opposed to their prior method of joining the other team in screening Hart like they did so last year.
This new coach has accomplished all this by calling out his teams' so-called leaders upon his arrival and thus has gotten results such as a reemergence of the offensive-minded Travis Konecny we used to know, who scored 24 goals for three consecutive seasons. Also spotted this season is that gritty 6'5 216 pound center we thought we were getting in Kevin Hayes when management signed him to that massive contract a few seasons ago. Or how about James van Riemsdyk who is out there skating like he does NOT have cement blocks for skates for the first time in his career?
Now, I do live in reality and realize that the outcome of games may go a little differently for the Flyers over the next week or so when they have to face off against genuine playoff contenders like the Tampa Bay Lightning, the Florida Panthers, and the Carolina Hurricanes. Still, I believe the majority of the fan base will be okay with a couple of losses as long as their team continues to put forth the kind of effort that Tortorella has seemed to reinstill in them. You know that Flyers brand of hockey that fans had come to know and expect from the team's predecessors- those who worked so tirelessly in the past to earn the leagues respect for anyone wearing the Orange and Black.
I'm a lifelong Flyers fan who has been playing the sport of Ice Hockey we all know and love competitively for over 30 years now. I grew up playing in-between the pipes where I was able to take in the whole game and analysis just what the team needed to do to help us win. Over the years I always enjoyed reading and gaining as much knowledge as possible about this great sport, but always thought it lacked something. A players prospective!