It's Nice to see Kevin Hayes Finally Living up to his Contract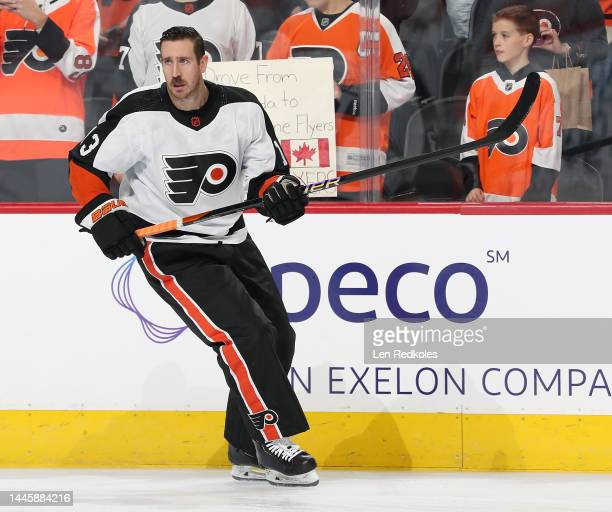 With the Flyers franchise currently in shambles and its general manager Chuck Fletcher appearing to suffer from delusional ideations when speaking to the media a few days ago about how he thought the team still had the chance to make the playoffs this year. It should come as no surprise when I tell you it's been hard to find something positive to write about this team again this season.
Now, although a lot of their misfortunes have been brought on by their previously mentioned general manager, whose actions may, in fact, be the cause for his imminent demise, there has been one bright spot this season, and that is the play of center Kevin Hayes.
With Chuck desperate to make his first big acquisition upon being appointed to his current role with the team late in 2018, he thought it would be wise to bring in someone who could help integrate his new head coach (Alain Vigneault's) systems. Ergo, the decision to make a trade with Winnipeg for the then 6'5, 220-pound impending free agent Kevin Hayes, who had played for Vigneault during their time with the New York Rangers.
Once acquired, in true Fletcher fashion, Chuck decided to pay Hayes, not for the player he was currently, but rather for the player he hoped he would be. What I mean by that is Fletcher had the bright idea to hand out an inflated seven-year $50 million contract, which carries a $7,142,857 cap hit until 2026 (with no movement clauses built-in), to a player who, to this day, has never even managed to score 50 points in a single season despite him playing the last decade in the NHL.
Since coming to Philly, Kevin has found himself on the injury list more often than not, managing to play in just 172 games over the course of the last three seasons. Where over that same time span Hayes only succeeded in scoring 41 points in the '19- '20 season and 31 points in each of the last two seasons, which, if you do the math, comes out to him scoring at a rate of only 0.59 points per game. When you have those kinds of stats coming from one of your highest-paid players, it isn't exactly conducive to your team winning games. For comparison, the Avalanche's Captain Gabriel Landeskog (who made only $7 million last season) scored darn near double Hayes' regular season point totals from last year despite him suffering a knee injury that caused him to miss the last 23 games of the Av's regular season and required surgery to repair. However, Landeskog was able to battle back from the injury earlier than expected to not only play in the postseason but to lead his team to a Stanley Cup victory scoring 11 goals and 11 assists for 22 points in 20 games played.
This season thankfully has been a different story for Kevin, who the Flyers are stuck paying for the next three years. Hayes has managed to keep his name off of the Injury Report list (knock on wood) and be productive at the same time. However, I would contribute much of that newfound success to his now head coach John Tortorella, reinforcing that he expects a lot out of Hayes this season. To prove this, Torts even went to the extreme of sitting him the entire third period of a game the Flyers were losing against the San Jose Sharks earlier in the year simply because he was not happy with his play. Tortorella's tough love must be working, though, because as of right now, Hayes is scoring at a point-per-game pace, which, if he continues on this path, would make this season easily the best of his career.
Now, we all know a lot can change over the course of a long NHL season, but with the way things have turned out for the Flyers over the past couple of years, Hayes scoring eight goals and 16 assists for 24 points in 24 games played so far this season should be viewed as nothing short of a Christmas miracle, and who knows it is also Flu season, so maybe we will get lucky, and his play will turn out to be contagious so he can pass it along to some of his teammates!
I'm a lifelong Flyers fan who has been playing the sport of Ice Hockey we all know and love competitively for over 30 years now. I grew up playing in-between the pipes where I was able to take in the whole game and analysis just what the team needed to do to help us win. Over the years I always enjoyed reading and gaining as much knowledge as possible about this great sport, but always thought it lacked something. A players prospective!