Making a Case for Why Briere Should be the Flyers' Next President of Hockey OPS, not the GM.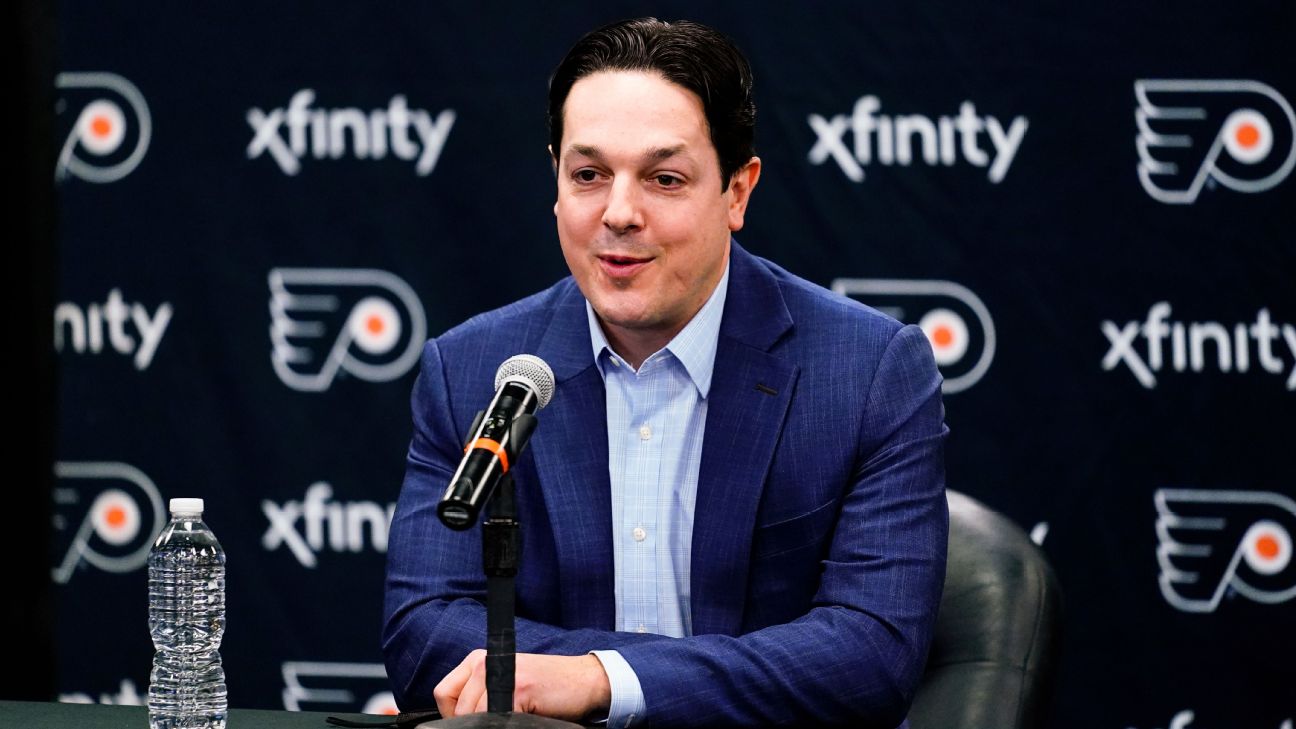 As you read this, the Philadelphia Flyers are searching for their next President of Hockey Operations. And they are rumored to be looking to change the position's job duties a bit to make the aforementioned position more of an equal to the General Manager so that they can work more hand in hand with one another. While this is unconventional, the goal is to get the President to be more of a liaison between the GM and upper management. While at the same time, have them focus more on public relations than in the past and assist more with player contract negotiations.
Now, I know former Flyer Daniel Briere has been being groomed for some time to be the next general manager by the team's President & CEO of Spectacor Sports and Entertainment/The Flyers Alternate Governor Valerie Camillo. Still, with these new rumored job expectations for the President of Hockey Ops, it would appear as though Briere might be more qualified for that job instead of the one he interimly holds.
Why Briere would be better served as the President
Think about it. Briere has long been beloved by this area's fans and would be perfect to continue to work to better public relations within the community. As previously stated, Danny also has a long-standing relationship with the teams second in command (Valerie Camillo). Therefore, he would have no problem walking into her office to discuss his and the forthcoming general managers' latest ideas on how they plan to rebuild this broken franchise. And, as far as the newly proposed contractual negotiations aspect of the job goes, Briere has that covered too. Through a mere suggestion made a few years back by Camillo, Danny took it upon himself to attend the prestigious Wharton School of Finance at the University of Pennsylvania, where he just so happened to take multiple classes in the art of negotiations.
Why, I don't think Briere is the right man for his current job.
Other than Danny being gifted the opportunity by Valerie and her other Comcast cronies to act as though he were a real general manager, by way of them appointing him to run the ECHL's Maine Mariners (A Comcast owned team) and them making up his former job of Special Assistant to the GM for him. Briere has had minimal experience to this point. And what's even scarier is now that the team has finally fired Chuck Fletcher (who apprenticed Briere), upper management honestly thinks Danny is ready to reconstruct this team from the ground up. I'm sorry, I'm just not 100% sold on the idea.
Stay with me here. We all know when a general manager gets fired from running any major sports franchise, that generally means they have managed to become either inadequate or ineffective in a particular aspect of their job. Most that have come to find themselves on the unemployment line have been let go from their duties for either spending all of the team's available cap space on free agents that never managed to live up to the gm's expectations and/or contract that was given. Or they failed to capitalize during the draft leaving their franchise with no hope for the future.
Luckily for most teams trying to appoint a new general manager despite their predecessors' previous mistakes, they at least have one of the following building blocks remaining they can rely on to begin the reconstruction of their new club.
Some may already have stars (or faces of the franchise) in place that they can use to build around. Example: the Edmonton Oilers who already had All-Stars like Connor McDavid and Leon Draisaitl in the lineup when the current General Manager, Ken Holland, came on board in 2019.
Other teams may have a wealth of draft compensation awaiting the succeeding GM as the previous administration may have been stuck in a rebuild mode for some time and therefore had a stockpile of picks at the ready. An excellent example of that is the Nashville Predators, who have a league-high 13 selections in this summer's draft. These picks will serve as a gift from David Poile (the Predators' current GM, who is retiring after this season) and is destined to turn things over to former Predators long-time Head Coach/turned GM Barry Trotz, who will move into Poile's office come July 1st.
Or if a team needing a new general manager doesn't have either of those intangible assets, they should at least have plenty of cap space. Like the Chicago Blackhawks do next season. A concept that was started by Stan Bowman, the Blackhawks' former GM, who managed to bring a Stanley Cup-winning procession down main street on three separate occasions during his reign. A few years back, Stan saw the dynasty he built was getting a little long in the tooth and tried to start to tear it all down before he was let go to make way for their current general manager Kyle Davidson to conclude the demolition. Now, just a couple of seasons into his tenure, Davidson has over $41 million in cap space to spend this off-season!
But sadly, Philadelphia does not have any of these assets to hand over to Danny Briere to assist him in trying to make the Flyers a true contender again. There is no face of the franchise on their current roster. There's no one worthy of using their likeness to place on a banner outside the arena or plastering up on billboards all around town. The team does not have a stockpile of picks to provide Danny with since Chuck previously dealt them all away to acquire subpar defensemen like Rasmus Ristolainen and Tony DeAngelo. And the Flyers most certainly do not have an abundance of cap space for Briere to spend this summer since Fletcher felt the need to give away multi-year deals and no trade clauses to anyone who requested them. Kevin Hayes (who Chuck brought in) is still signed for three more seasons at over 7.1 million and has a modified no-movement clause. What about the often-injured Sean Couturier? Fletcher did not hesitate to give him a full no-movement clause when he made him the team's highest-paid player, a deal that will pay him $62 million over eight years. And why not give one out to a mediocre defenseman at best in Travis Sanheim, who Chuck signed to an eight-year $50 million deal? Or a 32-year brawler in Nic Deslauriers, who was given a modified no-movement clause and a contract that financially nearly doubled his previous one. Unfortunately, those are just the tip of the iceberg. Yup, thanks to Fletcher, Danny will be forced to try and get rid of dead money contracts like Ryan Ellis (who only played in four games ever for the Flyers) just to try and gain enough capital to sign back his own restricted free agents this summer. Do I even need to explain how hard that will be since Ryan was damaged goods when Chuck traded for him? It's got to be a piece of cake to get rid of a 32-year-old defenseman who is rumored never to be able to play again and is due $6.25 million for the next four seasons, right?
Let's face it the Flyers have so many things working against them right now that even the most experienced General Manager/Ast. GM would be wise to hang up on Philadelphia's ownership if they called and asked them how they felt about flying in to talk about taking the job. So why on earth are they setting up Danny and his career (a person who is so inexperienced) to be a martyr?
The Solution:
Stop interviewing random people for President of Hockey OPS that do not know the first thing about Philadelphia or its fans. Promote Danny Briere to President and let him do what he does best. Then hire a more qualified person like Eric Tulsky (the Carolina Hurricanes' current assistant general manager) to be the Flyers' next GM. He is a native of Philadelphia who holds degrees from both Harvard and UC Berkeley in the realm of Chemistry and Physics. When he grew tired of working in the Nanotechnology field, he decided to try his hand at hockey analytics. Where what started out as a hobby shortly turned into a new career. In doing so, Eric came up with new stats that looked at parts of the game few ever even thought about. These innovative methods of breaking down the game led to him finding gold in the form of players other teams previously scrapped. Because of this, the Hurricanes have never felt a need to overpay their players. Instead, they just let the guys who are requesting more money than they care to pay walk, or they end up trading them. Like when they traded goaltender Alex Nedeljkovic after he was due a raise from being named a Calder Trophy Finalist. Nedeljkovic finished the regular season with a record of 15-5-3, a goals-against-average of just 1.90, and a save percentage of .932.
Tulsky knew that the team did not wish to pay him what he wanted, so he traded him to Detroit and then just went out and signed Fredrik Anderson and Antti Raanta as his replacements. Or how about when Eric and the Canes GM Don Waddell let a guy like Dougie Hamilton chase big money in free agency? To bring in a replacement in Tony DeAngelo (for a million bucks) who, after just one solid season in Raleigh, they were able to trade him to the Flyers for a fourth-round pick in 2022, a third in 2023, and a second in the 2024 draft. So that Tulsky could then make a trade for an aging defenseman in Brett Burns, who was able to revitalize his career down in Carolina this year.
This is why I think Tulsky would be an ideal fit to fill the Flyers' current opening at general manager that Danny Briere is interimly holding down. Eric has been coveted by prospecting teams before and seems to be once again, as rumors are that the Pittsburgh Penguins are now trying to lure him away to fill their vacancy at General Manager. Tulsky would be a wise choice to bring back to Broad Street because he knows how to get the most out of very little. Working on a tight budget in Carolina, Eric has learned to be crafty while other teams are battling it out in free agency to sign one or two big-name guys. Tulsky and his team are busy signing multiple Type B free agents that excel in certain aspects of the game that their club is currently lacking in. And to prove that Tulsky is always thinking ahead and shows no signs of slowing down any time soon, he just inked the National Championship-winning goaltender Yaniv Perets from Quinnipiac University (an undrafted free agent who the Flyers had in their development camp earlier this season but let walk without a contract because they thought Felix Sandstrom and Troy Grosenick would suffice, to battle it out for the backup position this year for the Flyers). Tulsky made this move because both his goalies, Fredrik Anderson and Antti Raanta, have two-year contracts that are up at the season's end, and they will likely be asking for more to stay, considering their success the past two seasons. So, it looks like it will be the next man up yet again in goal as Yaniv Perets and the Canes' other star netminding prospect Pyotr Kochetkov (who Eric helped draft back in 2019) will likely get their shot in net next year.
You see, the Flyers have always/still lack this kind of forward thinking. Philadelphia has once again managed to dig themselves into a giant hole listening to out-of-touch advisors that haven't even suited up for the team in over 40 years. They need an intelligent mind who is well-versed in the art of getting by with frugal means. One that builds teams differently than how yet another ex. Flyer player might. So, I say give Briere the job of President of Hockey OPS. Let him go out and be the face of this team's management, so he can be the one to shake hands and kiss babies at all the teams' games and charitable functions. Let him be the guy in front of the camera answering questions from the media about the team. Then sign Eric Tulsky as the team's GM and let him do what he does best: sit in his office on his laptop crunching numbers and making deals! It's that easy.
I'm a lifelong Flyers fan who has been playing the sport of Ice Hockey we all know and love competitively for over 30 years now. I grew up playing in-between the pipes where I was able to take in the whole game and analysis just what the team needed to do to help us win. Over the years I always enjoyed reading and gaining as much knowledge as possible about this great sport, but always thought it lacked something. A players prospective!