NHL Teams should look to add depth by signing any of these NCAA Undrafted Free Agents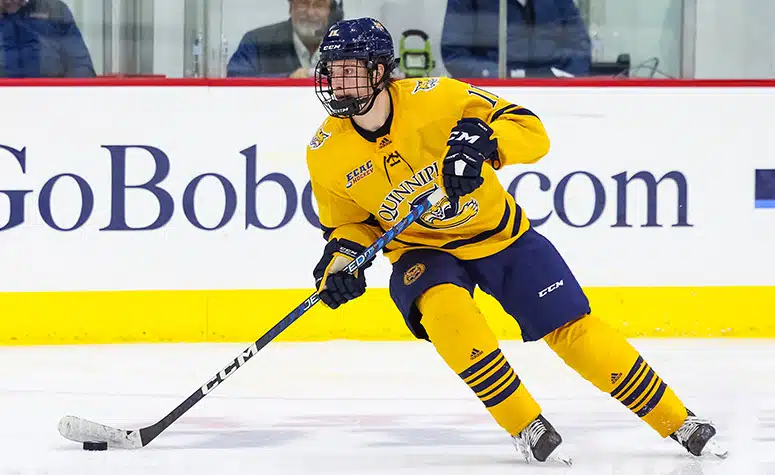 (Rob Rasmussen/Quinnipiac Athletics)
As the National Collegiate Athletic Association's (NCAA) season begins to draw to a close, NHL teams should look to add depth to their organization by signing some of these promising scholars. How can they do that? Well, the NCAA is a place where undrafted free agents tend to go sometimes as nothing more than Walk On's to prove themselves after not being drafted. Once on campus, these late bloomers are given an opportunity to attend classes and gain an education by day; by night, they are given the shot to show the NHL clubs that passed them by that they made a mistake. They do so by going head-to-head against some of the top prospects in the game today. Some of those players this season included Arizona's 2022 3rd overall pick Logan Cooley who plays for Minnesota; the Devils' 2021 4th overall pick Luke Hughes of Michigan; and the Flyers' 2022 5th overall selection Cutter Gauthier who plays for Boston College. By being afforded this chance to prove themselves on sometimes a nationally televised stage, these prospects that have been once overlooked get a second attempt at making their dream of becoming a professional athlete come true.
That said, here is a list of players I think have proven themselves deserving of such a chance this season.
Jason Polin- Western Michigan
To start this list, I could think of no one better than the NCAA's leading goal scorer, 23-year-old Jason Polin of Western Michigan University. Standing at 6'0 and 198 pounds, this senior was named captain of the Broncos this year, to which he has worn that C with pride. As all true leaders do, Jason took his game to the next level; this season by just about matching his combined goal and point totals from his previous three seasons. In 38 games played this year, Polin has scored a league-leading 29 goals and 17 assists for 46 points (1.21 points per game) while maintaining a +27 average. Now, why should prospecting NHL teams sign this 23-year-old who is still playing in the collegiate ranks you may be asking? With his strong play and incredibly hard shot, Polin has shown that he can be entrusted to be a finisher of sorts. And what team doesn't need a player who can put the puck in the back of the net?
Hunter McKown- Colorado College
Next up on our list is a true late bloomer named Hunter McKown, who currently plays for Colorado College. McKown is a 20-year-old forward who left the United States National Development team a few years back with much left to be desired. Once in Colorado Springs, though, that all seemed to change. No longer buried by the sure talent that suited up for the Red, White, and Blue on any given night, McKown was finally able to grow his game as a Tiger—scoring 21 goals and seven assists for 28 points this season. Thank goodness Hunter did, as he has managed to be not only Colorado's leading goal and point-getter this year (by a long shot) but has played well enough to be tied for 7th in goals in the entire NCAA. So, what's so special about McKown that teams should be willing to sign him to a contract at the end of the season? Besides Hunter's NHL size at 6'1, 205 pounds, he has exhibited that he is a true power play specialist scoring 12 of his 19 goals this season on the PP. While most of the others came by way of the shoot-out, another formidable tool that struggling NHL clubs should be looking to add to win a couple of extra games next season.
Collin Graf- Quinnipiac
Continuing with our current streak of impressive forwards, we add to it the 6'0 181 pound versatile playmaker Collin Graf of Quinnipiac University. After a sub-par season playing for Union College last year, Graf thought it was time for a change of scenery. So off to Connecticut, he went. But I bet he did not know just how good of a decision that would prove to be, as he is now playing in just his sophomore season for the Bobcats; Graf has been heating up as of late. Scoring six goals and 12 assists for 18 points in just his last ten games. With that latest stretch of games, Collin finds his point totals only trailing that of this summer's potential top-three pick Adam Fantilli of Michigan. Graf's deceptive ability to get in behind his opposition defense and impressive shot have been the critical factors to him averaging near a point and a half a game this year! Putting it all together 20 goals, an NCAA-leading 35 assists, a sum of 55 points on the season, and him being able to do all that while maintaining a +28 average you can start to see why NHL clubs would be wise to sign this young responsible player sooner rather than later.
Ryan McAllister- Western Michigan
While this next player may be a newcomer to the NCAA, this freshman forward has been on this writer's radar for years. Ryan McAllister, the former Brooks Bandit alum who torched the Alberta Junior Hockey League (AJHL) for 57 goals and 82 assists for 139 points last season; came to Western Michigan already with a championship mentality, seeing that he had just finished a year in which he won the AJHL's Inter Pipeline Cup and won the Ernie Love Trophy (for leading the league in points). He was named both the league's regular season MVP and the playoff MVP, then went on to win Canada's National Junior Championship, the Centennial Cup, along with being named that tournament's MVP. So, it came as no surprise to this writer when McAllister was able to get off to a blazing hot start this year by leading all of college hockey in points for most of the season; before teams began to see him as a genuine threat and keep multiple men in his vicinity at all times. Now, I was lucky enough to have Ryan join me on my podcast "Prospect Watch" earlier in the year (which you can view below), and I have to tell you somebody better sign this 21-year-old before he spends the next 10-15 years playing in their division in the NHL and making them regret it. Because even if he commits to playing for WMU again next year, best believe his totals of 13 goals and 35 assists for 48 points will only multiply.
Jake Livingstone- Minnesota State
Moving to defense, we focus on Jake Livingstone of Minnesota State University. Jake is a 6'3 205, pound defender who has had NHL clubs drooling for years now, and for good reason. Through a combined 110 career games played for the Mankato, Livingstone has shown that he can both bring the offense by scoring a total of 80 points as well as proving he is, in fact, defensible responsible by maintaining a career +54 average. So as these videos will further prove my point Livingstone, I believe will be able to offer any professional team that signs him the best of both worlds.
Yaniv Perets- Quinnipiac
Regarding goaltending, other writers and scouts maybe head over heels for a guy like Maine's 6'4, 205-pound goalie Victor Ostman. But this guardian of the blue paint turned writer is here to tell you there's more to goaltending than size alone. Ostman is in his third season playing in the NCAA, and his combined goals-against-average during that time is a very uninspiring 3.03, and still worse is the fact that he has only managed to win 33% of the games he's played in. Yaniv Perets of Quinnipiac, on the other hand, has led all starting goaltenders the past two seasons in goals against with a 1.17 G.A.A. average last year and a 1.52 G.A.A. this year. On top of that, over the last two seasons, while playing for the Bobcats, Perets has won an astonishing 76% of the games he's played in! Still not impressed? Well, maybe you will be after I tell you 20 of his 52 NCAA victories have come by way of a shutout! After attending the Philadelphia Flyers Development Camp earlier in the year, I was able to catch up with Yaniv, and he did not disappoint. If signed, this 23-year-old goaltender could immediately step into the NHL this season and not only win games but take over a team's net for the next 10-15 seasons, making them a true contender.
While some NHL organizations may be too distracted with them being in the midst of their latest perennial playoff runs, struggling teams who just sold off all of their assets at the trade deadline to try to start a rebuild would be wise to get a kick start their overhaul by signing one of these ready to go undrafted free agents who could potentially step into their NHL lineup the day after their collegiate season is over. Thus, negating the need to wait two or three years before someone's game, they are drafting this summer matures.
I'm a lifelong Flyers fan who has been playing the sport of Ice Hockey we all know and love competitively for over 30 years now. I grew up playing in-between the pipes where I was able to take in the whole game and analysis just what the team needed to do to help us win. Over the years I always enjoyed reading and gaining as much knowledge as possible about this great sport, but always thought it lacked something. A players prospective!