Contenders continue to add pieces for their Playoff Push as the Flyers sit Idle.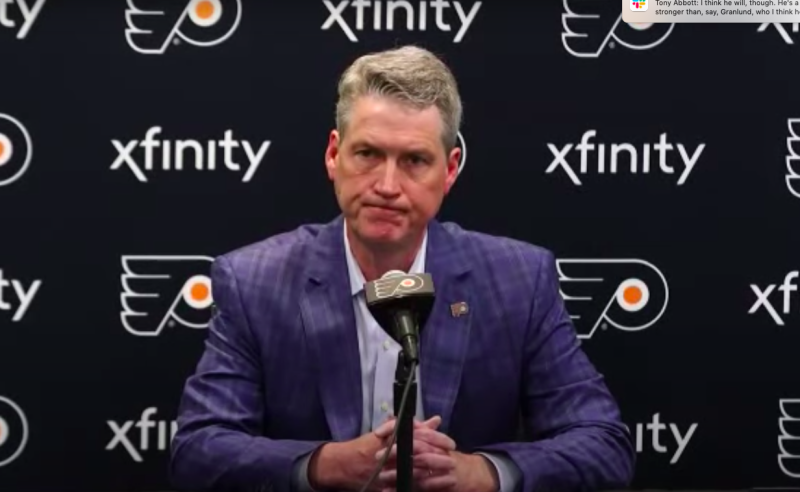 The NHL Trade Deadline is Friday, March 3rd, 2023, at 3:00 pm. And yet again, it would appear as though the Flyers general manager Chuck Fletcher seems content waiting around for the action to come to him rather than doing his due diligence by picking up the phone and trying to SELL his less-than-desirable impending unrestricted free agents to a contending team.
While Chuck has been sitting on his hands pondering if his team should be buyers or sellers these past few days. Multiple playoff hopefuls have been paying other seller dwellers a premium to make deal after deal to acquire players that they feel will help them make a run at the Stanley Cup. Leaving the Flyers with fewer and fewer teams that will be willing to still make a deal with them come Friday.
Other floundering teams haven't seemed to have a problem with this kind of indecisiveness because they understand that the early bird gets the worm. The Chicago Blackhawks realized their dynasty, in which Patrick Kane and Jonathan Toews were a big part of bringing the franchise three Stanley Cups together, is ending. Thus, they have been busy making deals to get an early start on a full rebuild. The Blackhawks already have garnered themselves a 2nd rd. pick this year, a conditional 1st in 2025, and a 2nd & 4th round pick in 2026. This is coming even before Patrick Kane's imminent move to the New York Rangers.
How about Nashville? After announcing that he would be retiring at the season's end, Predators GM David Poile was able to restock the cupboards after receiving quite the haul from the Lightning in exchange for their gritty forward Tanner Jeannot. Poile talked Tampa Bay into giving up defensive prospect Cal Foote, a top ten protected 1st in 2025, 2024 2nd, and their 2023 3rd, 4th, and 5th round picks for Tanner. As well, as a 2nd in '24 from Winnipeg for Nino Niederreiter
The Blues, who seemed to fall from grace after last season's success, obtained two first-round picks in 2023, a 2nd in 2024, a 3rd in '23, and a 4th in 2024 for Vladimir Tarasenko (NYR) and Ryan O'Reilly (Tor.)
All these teams mentioned above will be better for years to come for what they have already been able to accomplish. Meanwhile, the Flyers only move thus far has been to ship out a failed prospect in Isaac Ratcliffe to the Nashville Predators for future considerations. Hardly compares, right?
As for the dwindling number of teams willing to make a trade when the Flyers finally see fit to do so, all I can say is that list has only diminished that much more over the course of my writing this article. The Carolina Hurricanes, who sit atop the Metro Division, just acquired Jesse Puljujarvi from the Edmonton Oilers. Toronto added defenseman Jake McCabe from Chicago and paid dearly for center Ryan O'Reilly from the Blues. As previously mentioned, the Lightning got their guy in Tanner Jeannot from the Predators. The Devils pulled off a heck of a trade for Timo Meier, previously of the Sharks. Colorado added defensive depth from Chicago in the form of Jack Johnson. The Golden Knights picked up Ivan Barbashev from the Blues. The Stars got Evgenii Dadonov from the Canadiens. The Jets picked up Nino Niederreiter from the Preds. Boston pulled off a couple of deals that saw them add Shane Bowers from the Avalanche and Dmitry Orlov and Garnet Hathaway from the Caps. The Rangers have already seen Vladimir Tarasenko play for them, who they got in a deal with St. Louis, and the Islanders picked up captain Bo Horvat from the Canucks.
Meanwhile, back in Philadelphia, while all these trades were taking place, Uncle Chuck debated whether he should get rid of a guy like Nick Seeler, a 29-year-old third-pairing defenseman. To which I would want to ask him why this was even a question. Although, Nick has proven to be rather serviceable with his physical play and ability to lineup on both the right and the left side. If a team was interested in him, then by all means, move him for a future asset. The Flyers have defensemen who can easily take his spot in Ronnie Attard who made the AHL All-Star Team, and Egor Zamula, who has been chomping at the bit to receive an extended look at the NHL level. The Flyers have Ethan Sampson and Emil Andrae ready to take their place on the Phantoms' blue line next year.
All I have to say is that this organization had better acquire some future assets by ridding themselves of expiring and/or bad contracts in the next few days. If they don't, the Flyers fanbase will be ready to give up on the team for the year and tune into something more exciting, like Phillies Spring Training Games or the Sixers fighting to make the Playoffs.
I'm a lifelong Flyers fan who has been playing the sport of Ice Hockey we all know and love competitively for over 30 years now. I grew up playing in-between the pipes where I was able to take in the whole game and analysis just what the team needed to do to help us win. Over the years I always enjoyed reading and gaining as much knowledge as possible about this great sport, but always thought it lacked something. A players prospective!