Sam Dickinson is one name that should already be up on the Flyers 2024 Draft Boards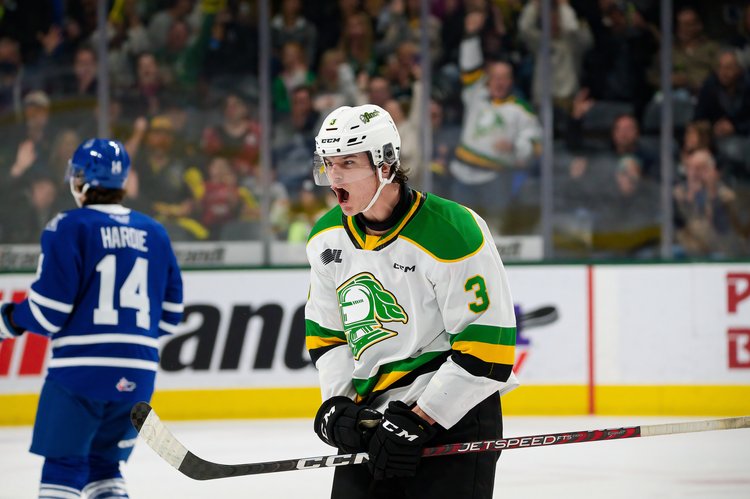 With the 2023 NHL Entry Draft now behind us, it is never too early to start looking ahead at the next crop of young upcoming players who will be available to select in the draft next summer. That statement resonates even more true if you are the Philadelphia Flyers, who are just now embarking on a total franchise rebuild.
Now, of course, it is still extremely early to try and nail down exactly where the newly promoted President of Hockey Operations Keith Jones and General Manager Danny Briere will be making their first-round selection from next summer but given where the team finished this past season, and the players Briere has already shipped out or chosen not to resign I feel like it's a pretty safe bet to say that Philly most likely will find themselves picking from within the top ten once again next offseason.
With that being said, Sam Dickinson is one prospect who will be available above all others in this upcoming draft class that should already be up on the Flyers Draft Boards. Sam is a 6'3, 194-pound left-hand shot defender who plays for the London Knights of the Ontario Hockey League (OHL). A team that the Flyers are very familiar with, seeing that they just drafted Dickinson's defensive partner, right-hand shot defender Oliver Bonk with the 22nd overall pick this year, as well as the Knights center Denver Barkey who the team took in the third round with the 95th overall pick.
What's with the Flyers' fascination when they hear "This is London Calling," you may be asking? Well, you could say Keith Jones and the Knight's Head Coach/ Part Owner Dale Hunter have some history. They played together for five seasons in Washington D.C. for the Capitals from 1992 to the end of the 96-97 season. So, it should go without saying when Hunter calls up his old teammate and says you have to come check this kid out. You best believe the Flyers executives and their scouts will be on the first plane out of town.
But this interest in selecting Dale's players isn't solely based on nepotism. It's founded on the fact that these players also possess a lot of skill. And why wouldn't they? After playing in over 1,400 NHL games, scoring over 1,000 points, and totaling over 3,500 penalty minutes throughout his 19 seasons in the league, I think it's safe to say that Hunter has developed not only quite the eye for spotting talent but for developing it as well seeing that he now has amassed over 900 regular season wins coaching in the junior ranks.
In saying that, Sam is just the latest prospect in a long line of Knights players who have been or are currently being cultivated by Dale Hunter. And it is this writers opinion that because of the tutelage he has received while playing in London that Dickinson projects to be not only one of this draft's top two-way defenders but a top-five pick in the 2024 NHL Entry Draft as well. Sam's assets may include his NHL size and strength, but what really sets him apart from the pack is that he is able to combine his herculean-like attributes with an immense amount of speed that he uses to jump up and join the rush offensively.
To prove this, in just his first season playing in the OHL, Dickinson scored nine goals and 14 assists for 23 points in 62 games played during the regular season. He built upon that newfound success in the playoffs by scoring four goals and four assists for eight points in 21 games.
But while Sam is already projected to be a top-five pick in next summer's draft, what I believe will let him maintain his current draft stock is his ever-evolving shot from the point. As the season went on last year, I saw Dickinson feel increasingly more comfortable unleashing his behemoth of a shot from the point when traffic was in front of the net. This proved effective primarily because Sam concentrated on trying to keep the puck on the ice so that it did not lose any velocity on its way to the back of the net.
In addition, I would like to see Sam introduce a little more physicality to his game. But in doing so, he has to be careful because this can prove to be a double edge sword if not done correctly. For Dickinson already excels at the art of using his size to force the opponents to the outside, which creates tougher angle shots for them to shoot from. He also is skilled at tactfully removing the opposition from in front of his goaltender's net to eliminate the possibility of a screen. But Dickinson does not use brute force to outright knock the opposition off the puck, for example when crossing the blue line. So, if he adds this to his repertoire and manages to do so cleanly, Dickinson just might follow Bonk's footsteps by holding an Orange and Black jersey up on draft day so that the pair can continue to build upon their success together at the pro level.
I'm a lifelong Flyers fan who has been playing the sport of Ice Hockey we all know and love competitively for over 30 years now. I grew up playing in-between the pipes where I was able to take in the whole game and analysis just what the team needed to do to help us win. Over the years I always enjoyed reading and gaining as much knowledge as possible about this great sport, but always thought it lacked something. A players prospective!