The Flyers Continue to Struggle on the PP, yet No Change is in Sight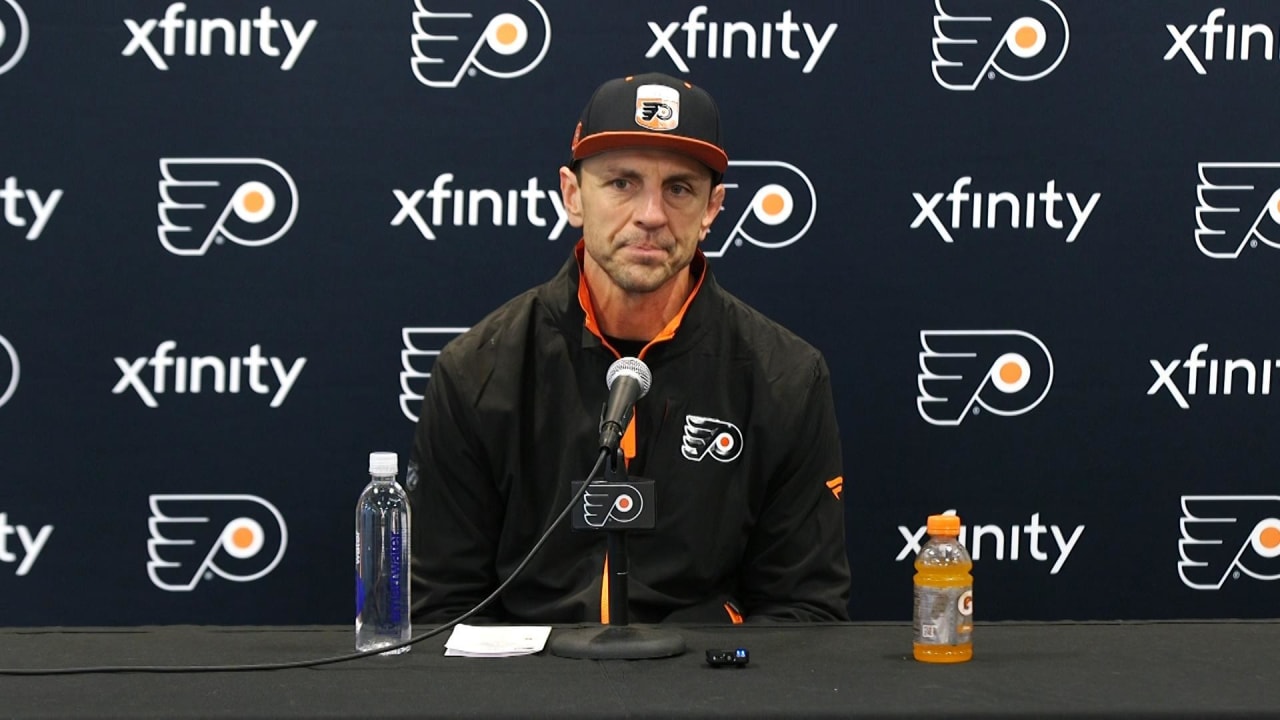 Photo Credit NHL.com
This past off-season, the Philadelphia Flyers organization made many changes to their personnel. From the front office, we saw a new President of Hockey Ops be named in Keith Jones, a new General Manager in Danny Briere, and even a new Director of Player Development be named in Riley Armstrong. More importantly, though, came the actions taken behind the scenes once these three were in power. For far too long, the Flyers have given the clubs' former head coaches and GMs the boot without any thought of replacing the lesser-known people behind the scenes who are actively working with their prospects on a daily basis.
That was until both Jones and Briere came to power. These two former players understood that it takes more than a king to build a castle. So, they set out to deconstruct this franchise down to the cornerstones that have been the foundation of this franchise for a long time. Yes, indeed, there were so many moves this off-season to personnel that it seemed like Grand Central Station around their practice facility in Voorhees, NJ. The team's firings, promotions, and new hirings involved many aspects of the club, whether it be the Medical Staff, Pro Scouting department, or Player Development, all saw their fair share of changes this off-season.
And for good reason! Case in point, the firing of the underperforming former Flyer Kjell Samuelsson was long overdue. Kjell was gifted a job immediately after hanging up his skates for the last time some 23 years ago. He spent the last ten years running the teams' player development program and the previous 13 years before that serving as a coach for the Phantoms. In my mind, Samuelsson was a major reason why the Flyers haven't had an elite-level prospect come out of the organization's farm system for some time. Think about it: the only successful prospects that have come out of the Flyers system have come directly from playing in the NCAA or CHL and made the jump to the Flyers immediately or shortly after their arrival. These players include Travis Konecny, Carter Hart, Joel Farabee, and Cam York. Meanwhile, high-level prospects like Morgan Frost, Isaac Ratcliffe, Kirill Ustimenko, German Rubtsov, Pascal Laberge, and Felix Sandstrom, who all had extended stays with the Phantoms, either developed at an extremely slow rate or not at all.
Some notable additions since the firing of others have been the likes of John LeClair and Patrick Sharp being named as special advisors to Hockey Operations and the former All-Star Dany Heatley being brought in as a pro scout.
But despite all these positive moves being made, it baffles me that the club has failed to address one of its biggest disappointments: its power play. Over the last few seasons, the Flyers power play unit has ranked amongst the league's worst.
In the 2021-2022 season, the power play unit was run by NHL tough guy Ian Laperriere. He was an NHL veteran who played 1,083 NHL games throughout 16 seasons, where he only managed to amass just five power-play goals. Now, while Lappy is an amazing guy, and his determination and devotion to his team while playing (I.E., him sacrificing his body to block a shot with his face not once but twice in one season for the Flyers) will never be questioned, I think the decision to place a guy who made a career by being willing to drop the gloves to come to the aid of a teammate, to run the power play should be.
And here's why! During the 2021-2022 season, when Ian was in charge of the 5 on 4. The Flyers finished the season ranked dead last on the man advantage. Scoring just 30 goals on the season while on the PP, the Flyers could only convert on their chances for a very laughable 12.6% of the time.
Seeing this problem, management demoted Lappy to being the head coach of the Lehigh Valley Phantoms. A role in which he proved to excel at, seeing that he took the Phantoms farther than the Flyers got last season, with the Phantoms losing in the qualifying round of the playoffs.
But while, this decision by the Flyers proved to be wise and provided them an opportunity to bring in a much more qualified person for the job. Their decision on who that person might be, was not! Back in July 2022, the Flyers decided to replace Lappy with a less talented career knuckle dragger in Rocky Thompson, a player who, during his short 25-NHL game career, never scored a single goal or an assist. Let alone see any kind of power play time. Hell, I don't even think Rocky amassed that much ice time, given that most instances he was just put out there long enough for the puck to drop and for him to ask the guy standing across from him if he wanted to go.
Now, I'm not saying either one of these guys is a horrible coach. I'm merely raising the question, why might management think it wise to put multiple people in charge of running the power play unit that spent their careers rearranging people's faces instead of scoring goals?
I'm serious; before joining the Flyers bench staff, Rocky's coaching resume was as follows. He spent two seasons heading up the San Jose Sharks power play unit, where they finished 29th overall in the 20-21 season and 22nd in the 21-22 season. Not to mention that Thompson was rumored to be let go from his duties in San Jose after nearly getting into a fight with the Sharks star forward Evander Kane in the locker room. I mean, I guess old habits die hard, right?
To further prove that Rocky Thompson might not be the right man for the job here in Philly. Let us look at last season when the Flyers finished dead last in power play percentage with him behind the bench, drawing the X's and O's on the whiteboard. Under Rock's tutelage, the Flyers only converted on their chances 15.56% of the time. In total, the team scored just 35 goals last year on the man advantage while the league's best Edmonton Oilers managed to net 89 goals and were converting 32.36% of their chances.
This year is no different. With Thompson still somehow managing to keep his job here in Philadelphia, the Flyers find themselves currently tied with the St. Louis Blues for the league's worst power play yet again. Having only scored four goals so far this season on the man advantage, the Flyers success rate while on the PP this year is a shockingly low 7.69%. To put that into perspective, the league's best team on the man advantage this year, the New Jersey Devils, are currently finding the back of the net 38.46% of the time on the man advantage—scoring an impressive 20 power-play goals so far this season. Mind you, this is with the Flyers now having Couturier and Atkinson back from injury, as well as having the talented youngsters' Bobby Brink and Tyson Foerster directly being inserted into the lineup.
This recurring nightmare could have been avoided if the Flyers chose to relieve Thompson of his duties at the end of last season and, in turn, continue to fall back on their perpetual nepotism and hire someone much more qualified for the job like former Flyers great Mark Recchi, for example.
Mark is a three-time Stanley Cup-winning Hall of Famer who played 10 of his 22 seasons in the NHL with the Flyers. And, over the course of his illustrious career, he was able to score 577 goals and 956 assists for a total of 1,533 points. What's even more noteworthy about his accomplishments in terms of this article, though, is the fact that 200 of those goals came while playing on the power play! A feat that ranks him only four goals behind "The Great One" Wayne Gretzky, who finished his career scoring 204 power-play goals.
But Mark did not only score goals while on the power play. He also was able to tally up 369 assists while on the man advantage as well. This feat brought him to an unfathomable career total of 569 power-play points. Folks, that's more than Sidney Crosby, Alex Ovechkin, Brett Hull, or Gordie Howe.
I'm not just pulling a name out of a hat here. Since Recchi has retired, he has spent time being a senior advisor to the Dallas Stars, a developmental coach, and an assistant coach for the Pittsburgh Penguins (where he added two more Stanley Cups rings as a coach), the New Jersey Devils, and most recently the Columbus Blue Jackets where he still holds a job with today running their power play after being brought on in late September of this year.
Obviously, Mark Recchi was but an example for this article, and he would not be an option if the Flyers were to act now to correct this issue. But this at least shows that there was a much more qualified candidate out there to be had. It's sad that because of the Flyers' unwillingness to act, they missed out on a fantastic opportunity to gain someone already in the franchise's circle of trust that could have helped out this team moving forward.
With that being said, at this point, I think something still needs to be done. Thompson has become totally ineffective. He has lost the respect of the locker room. And I can't blame the players for that. Again, I'm not saying that he is necessarily a bad coach, just that Rocky has never even stepped foot on the ice during a power play opportunity, let alone scored a goal during one. So how do you expect these young players who don't even remember watching him play to respect him? At least with someone like Recchi, they would have been able to appreciate what he is saying and be willing to go out and try it because the man's hands are loaded down with six rings. Five of them saying Stanley Cup Champion, and one of them saying Hockey Hall of Fame Member.
I'm a lifelong Flyers fan who has been playing the sport of Ice Hockey we all know and love competitively for over 30 years now. I grew up playing in-between the pipes where I was able to take in the whole game and analysis just what the team needed to do to help us win. Over the years I always enjoyed reading and gaining as much knowledge as possible about this great sport, but always thought it lacked something. A players prospective!