The Flyers Should trade their Impending UFA James van Riemsdyk to this Metropolitan Team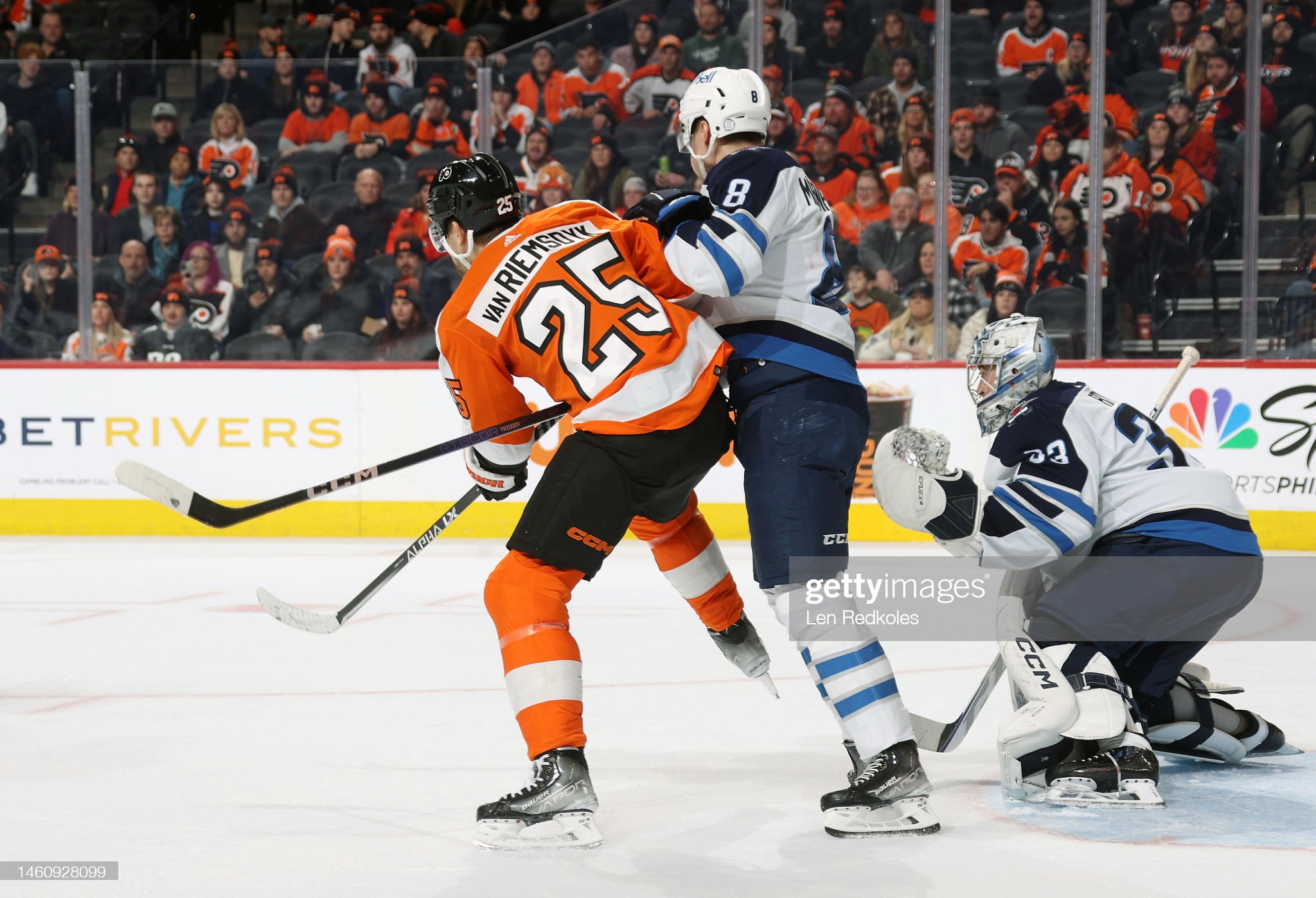 Let's face it with the All-Star Break now upon us; the Flyers once again find themselves nothing more than a five-hundred team. They are winning just enough games to be out of the running for the chance to draft a game-changer like Connor Bedard or Adam Fantilli and not enough to make the playoffs.
So, what should they do? Well, the first of many things should be to trade away assets like winger James van Riemsdyk (JVR), an impending unrestricted free agent at the season's end. Philadelphia would be wise to try and get something for him before he walks for nothing after just 31 more games. Now, while JVR may have never turned out to be the player the Flyers thought he would be when they selected him second overall back in 2007, he has proven to be productive over the years. For instance, he has scored 20 or more goals seven times in his career. He scored twenty-five or more goals four times in his career. Thirty or more twice and 35 or more once. On top of that, van Riemsdyk is a 33-year-old veteran with great size (6'3) and strength (208 pounds) that can offer great depth and experience to any playoff-contending team in need of his services.
In previous years, the Flyers have been rumored to have tried to move on from James, but his albatross of a contract hindered that. That's why, now more than ever, it is imperative that they find a way to facilitate a deal because with van Riemsdyk in the last year of his five-year $35 million contract. His $7,000,000 cap hit should not be that hard of a sell to contending teams considering the Flyers can afford to retain 50% of his salary.
But it doesn't make a trade imminent the Flyers General Manager Chuck Fletcher will still have to channel his best-used car salesman and peddle James to the right contending team. For JVR's stats, this season (8 goals and 13 assists for 21 points) are a far cry from even his totals from last year when he led the Flyers in goals with 24.
The question then becomes, what playoff contender needs James the most? Now there are teams like Calgary, Dallas, and Washington who could use him, but the best fit in my mind would be the Carolina Hurricanes, and here's why.
Despite losing players to free agency and normal roster turnover, over the years, the Hurricanes have found a way to remain a perennial playoff team, with this year being no different. Once again, Carolina currently finds themselves atop the Metropolitan Division, but lucky for the Flyers the Canes just found out some bad news. Fellow veteran left winger Max Pacioretty who was traded to Carolina by the Las Vegas Golden Knights, has just sustained the second tear of his right Achilles tendon. An injury that will likely put an end to his season, if not his career. Pacioretty, like van Riemsdyk, carries an expiring contract with a $7 million cap hit and was brought to Raleigh to try and add some much-needed veteran experience and guidance to a very youthful Hurricanes roster.
This gives the Flyers the perfect opportunity to unload the burden of JVR and his contract onto a very vulnerable Don Waddell, the Carolina Hurricanes General Manager. Who is probably still swallowing down a fist full of Tums or other antacids right now while contemplating what he will do after hearing the news of Pacioretty's latest injury.
What's that now? You don't trust Fletcher to be able to get this type of deal done? Neither do I, so let's break down what he should be asking for in return, shall we? The Hurricanes have been known to overpay for a rental at the deadline if they think that player can legitimately help their organization raise a Stanley Cup banner. Now, of course, the Flyers will be looking to acquire future assets, but in my mind, why ask for all draft picks? Even if you hit on one of them, that player could take up to three to five years to develop.
So, here are three enticing but obtainable assets that the Flyers might be able to pry away from the Hurricanes in a trade for van Riemsdyk.
The first is a 22-year-old German sharp shooting forward named Dominik Bokk. Bokk is a 6'2 181 pounder that was originally taken in the first round by the St. Louis Blues back in 2018. After being drafted, Bokk struggled to adjust to the North American-style game. Since then, Dominik has shown a resurgence in his development since taking his talents back to Germany to play in the DEL (Germany's top professional league). This season Bokk is averaging over a point per game, with him already scoring 24 goals and 25 assists for 49 points in just 42 games played, which, if he can keep it up, projects him to reach totals of 30 goals and 32 assists for 62 points. Scoring isn't the only part of his game that should be appealing to the Flyers, though. Bokk can get back and play defense as well, this being made evident by him being projected to finish this season with a +30 average.
If I were Fletcher, a second prospect I would be eager to ask about would be a Finnish forward named Ville Koivunen, a player whose mindset is always set to attack. Ville was drafted by the Hurricanes back in 2021 with their second-round pick. Since then, Koivunen has returned to his native country to play in the Liiga (Finland's top professional league) and has managed to put up ten goals and eight assists for 18 points this season.
https://www.youtube.com/watch?v=KaF96csgv5E
Last but most certainly not least, I would try an obtain 21-year-old Swedish forward Noel Gunler. He is a 6'2 176, pound forward who possesses the kind of lightning-quick release you can only see and appreciate while watching it in super slow motion on the arena's big screen after he's already done celebrating the goal. Gunler was selected by the Canes back in the second round of the 2020 draft and can be found currently playing for their American Hockey League affiliate, the Chicago Wolves. Where this season, he has been able to score eight goals and ten assists for 18 points. Where at the same time, he is projected to finish the season with 17 goals and 21 assists for 38 points. The only thing is Noel still has yet to be taught the art of defense. There's no question he can score on demand, but his -12 average this season shows that he allows his opponents to do so as well.
So, at the end of the day, the Flyers must regain future assets for JVR before his contract expires. Philadelphia does not wish to resign him, and letting him walk for nothing at the end of the season would be foolish. Therefore, with the Flyers looking as though they will not be making the playoffs again this year, they should take the opportunity to cash in on the Hurricanes' misfortunes by gaining proven prospects that are projecting to be only a year or two away. Trading van Riemsdyk for one or more of these prospects listed above would also allow for some of the Flyers' more NHL-ready prospects like Tyson Foerster, Elliot Desnoyers, and Bobby Brink to gain some much-needed experience playing at the highest level, which is a win-win any way you look at it.
I'm a lifelong Flyers fan who has been playing the sport of Ice Hockey we all know and love competitively for over 30 years now. I grew up playing in-between the pipes where I was able to take in the whole game and analysis just what the team needed to do to help us win. Over the years I always enjoyed reading and gaining as much knowledge as possible about this great sport, but always thought it lacked something. A players prospective!