The Flyers: Too Good to be Bad, Too Bad to be Good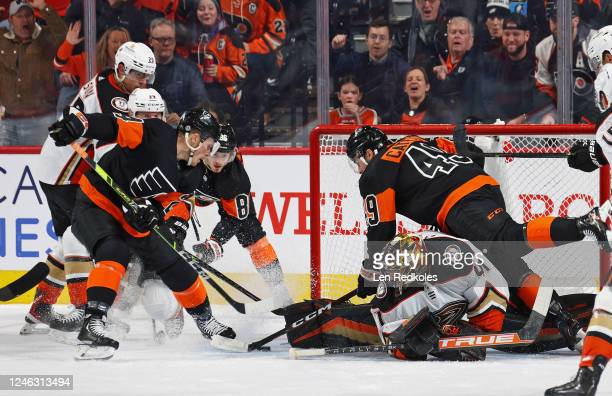 Over the last ten games, the Philadelphia Flyers have given their fans something to finally get excited about by delivering a record of 8-2-0 during that time. But sadly, their recent stretch of wins didn't manage to see them move out of the Metropolitan Divisions cellar seeing that even with the recent win streak, they still find themselves in 7th place with only 19 wins in 45 games played, which leaves them with a total of 45 points on the season.
So, to dive further into why the Flyers latest run didn't advance them in the standings, let's put the Flyers' last ten games under a microscope. Ten games ago, the Flyers played the San Jose Sharks and beat them 4-3 in OT. A team who currently finds themselves seated in the 7th position in the Pacific Division, only achieving 13 wins and 35 points on the season to date. Meaning if the season ended today, they would be drafting 5th overall. Then the Flyers traveled to LA, where they took on the Kings on December 31st, where they were able to pull out a win by the score of 4-2. This win was quite impressive, seeing that the Kings presently find themselves among the playoff hopefuls ranked third in the Pacific Division. Now on a roll out in Cali., Philly then journeyed to Anaheim to take on the Ducks on January 2nd. Where once again, they were able to cash in on the success of their young goaltender Samuel Ersson earning themselves a 4-1 victory against a team who, if the season ended today, would be drafting 3rd overall. This is because the Ducks are, and have been for most of the season, ranked dead last in the Pacific Division. Moving on to Jan. 5th, some seven games ago now, the Flyers found relief (for some reason) in Carter Hart's return and were able to gain yet another victory against the Arizona Coyotes, who have won just one game in their last ten which explains why they are currently positioned 7th in the Central Division with them only totaling 33 points on the season—making them now on pace to draft 4th overall. Then came an actual test when the Flyers faced off against the Toronto Maple Leafs on January 8th, where their star goalie (sarcasm) Carter Hart let in six goals with the Flyers only able to score two. Now while this loss should have given most fans a hard dose of reality on how their team compares to a true playoff contender, most just brushed it off. So, let's continue; five games ago, Philadelphia lined up against the Buffalo Sabers on January 9th, and with Ersson back in net, the Flyers beat an improving Sabers team by a total of 4-0. Speeding it up now, the Flyers then went on to face the Washington Capitals in back-to-back games on Jan. 11th and 14th, resulting in Philly being able to win one of those contests against one of the oldest teams in the league. This brings us to Monday's 6-0 thrashing dealt out by the Atlantic Division's 1st-place team, the Boston Bruins, an outing that once again proves the Flyers cannot compete against the upper echelon of the NHL. Finally, we've reached their latest game, where the Flyers defeated the struggling Ducks again by a score of 5-2.
So, when you look at these last ten games with a bit of scrutiny, you'll begin to see that these wins are not that impressive. Don't get me wrong; I applaud the team for winning the games they played against opponents they should have beaten! But I'm not going to go on record and say I'm satisfied with how the team has played. Sure, there are bright spots like the way Konecny, Hayes, and Owen Tippett are on pace to have career years, and who could not get excited about the early success that the young Sam Ersson has had; but what is concerning is the fan bases willingness to buy into the teams' propaganda (or selling of these players achievements and the teams' recent success) in order to hide the franchises ongoing battle with mediocrity.
Let's face it, when was the last time you truley felt the Flyers put together a roster that could compete for a Stanley Cup? I hope you didn't say 2010 when the Flyers lucked out and squeaked into the playoffs as the seventh seed. Only then to somehow make it to the Finals with Michael Leighton in-between the pipes to take on the Blackhawks, who had Patrick Kane, Jonathan Toews, Marian Hossa, and Patrick Sharp gunning for him, with guys like Brent Seabrook, Duncan Keith, Brian Campbell, and Niklas Hjalmarsson standing guard for Corey Crawford and Marty Turco.
No, I'm thinking more like the 1997 Flyers roster that the Legion of Doom Line of Eric Lindros, John LeClair, and Mikael Renberg led. With a supporting cast of Rod Brind'Amour, Eric Desjardins, Paul Coffey, and Ron Hextall. Sure, they went on to be swept by an incredible Detroit team that had SEVEN now Hall of Famers, then playing on their roster. But be honest; wasn't that the last time you truly believed the Flyers had a shot at winning it all? It was for me.
That's why since then, I think the Flyers have been Too Good to be Bad, and Too Bad to be Good. What I mean by that is the way the Flyers were able to stay so competitive over the years was by throwing their checkbook around. Today is different, though; no team has been able to buy a championship in the salary cap era. Instead, the successful ones have had to endure years of hardships to gain the nucleus of what would then become their dynasties.
Take, for instance, the Penguins. After Lemieux retired and Jagr moved on, their fans had to suffer through several brutal seasons to get the chance to draft Marc Andre Fleury with the 1st overall pick in 2003. Then again, to be able to select Evgeni Malkin with the second overall pick in 2004. Only to finish fifth in the Atlantic Division once more to take Sidney Crosby 1st overall in 2005 and Kris Letang in the third round that same year. Then and only then were they able to return to their winning ways, winning cups in '09, '16, and again in '17.
Or how about the aforementioned Chicago Blackhawks, who it took drafting Brent Seabrook in the first round of 2003, Jonathan Toews third overall in 2006, and who could forget them lucking out and getting what was supposed to be the Flyers 1st overall pick in 2007 only to draft arguably the best American born player ever to play the game, Patrick Kane. (Let's squash this argument before it happens-Remember Brett Hull may have always played for Team USA, but he was born in Ontario, Canada) Anyway, it took the Blackhawks drafting these three players before they could go on to raise banners in '10, '13, and '15.
Or a more recent example would be the Tampa Lightning, whom it took drafting Steven Stamkos 1st overall in '08, Victor Hedman 2nd overall in '09, and selecting Andrei Vasilevskiy as the first goalie off the board in '12 before they could win it all in '20, '21, and lose in the cup finals in '22.
Now I don't want to put this kind of pressure on the kid, but the Flyers may already have gotten a jump start building their own future dynasty when they selected Cutter Gauthier 5th overall this past off-season. He's already scored 19 points in just 15 games played for Boston College this year. Along with scoring 10 points in seven games played for Team USA at the recent World Junior Championships. So why not continue on that trend for a year or two and get players like:
Andrew Cristall- in the upcoming draft from the Kelowna Rockets of the WHL, who currently has 62 points in 36 games played this season.
Then maybe grab a defenseman like Finland's Aron Kiviharju in the 2024 draft.
In 2025 maybe the Flyers will try and take either American sniper Cooper Dennis
Or a goalie Gabriel D'Aigle who is already shining at only 16 years of age playing for the Victoriaville Tigres of the QMJHL. I mean, he only spends his summers training with Marc Andre Fleury.
I could go on, but I think if Philadelphia just accepted how bad they really are and made sure they are in a position to draft these players in the coming years. Then a couple of seasons down the road, when these prospects join the group of talented youth they already have in place. The Flyers would then be able to at least spark the interest of some enticing free agents enough to make Philadelphia a place where talented players once again consider to come and play. Thus, they then, might have the makings of a successful NHL franchise. It's worth a shot, right? I mean, everything they have tried since winning the 1975 Stanley Cup up to this point hasn't, so why not give it a shot?
I'm a lifelong Flyers fan who has been playing the sport of Ice Hockey we all know and love competitively for over 30 years now. I grew up playing in-between the pipes where I was able to take in the whole game and analysis just what the team needed to do to help us win. Over the years I always enjoyed reading and gaining as much knowledge as possible about this great sport, but always thought it lacked something. A players prospective!