The Flyers would be wise to Trade Ivan Provorov to this NHL team ASAP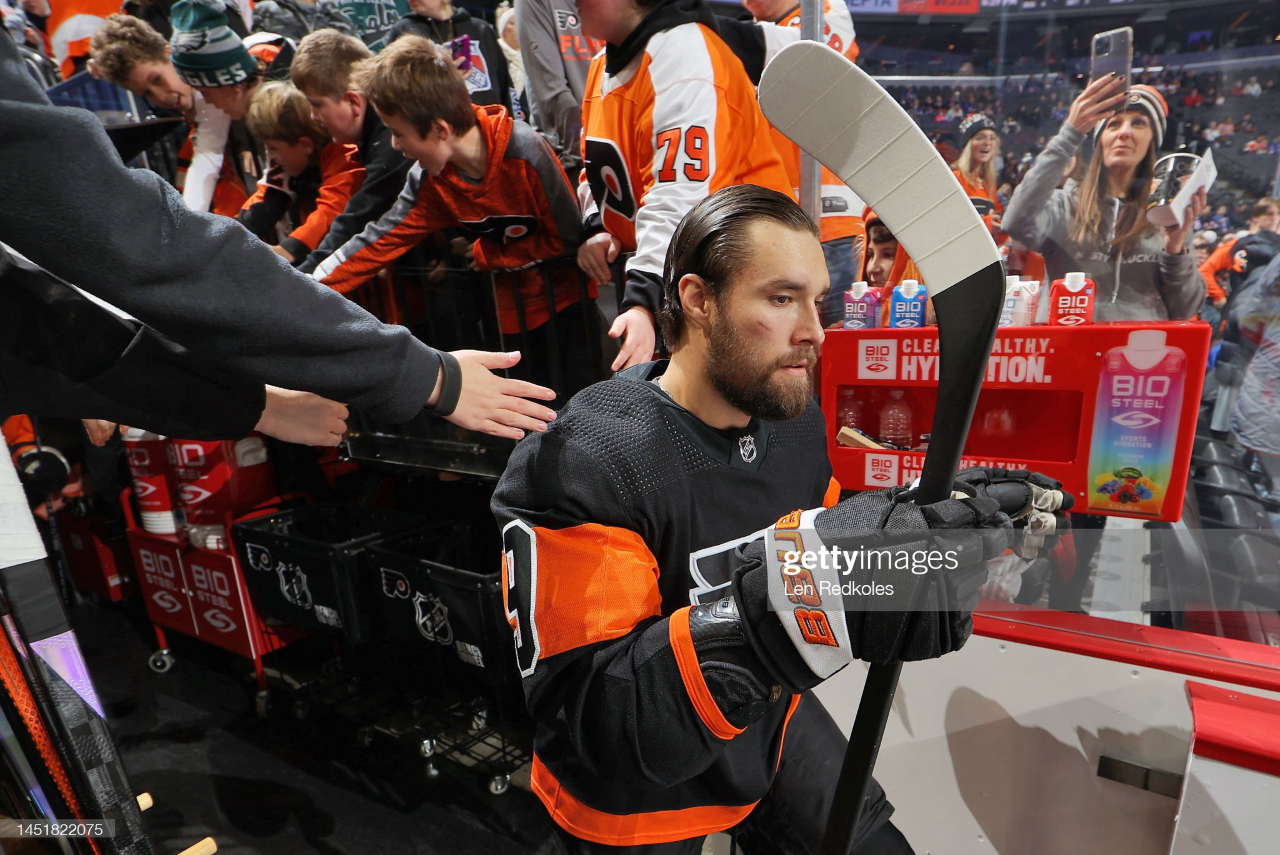 When the Flyers selected defenseman Ivan Provorov back in 2015 with the seventh overall pick in the NHL's Entry Draft, they thought they might have just found their franchise's next great blueliner. However, despite Provorov being able to log a ton of minutes for the orange and black over the last seven NHL seasons, I think most fans would agree he still is a far cry from the likes of Kimmo Timonen, Eric Desjardins, or Mark Howe.
With that being said, Philadelphia currently finds themselves in quite a conundrum. In the midst of their third straight losing season, the Flyers clearly can longer be considered the perennial playoff contenders they once were, and to add insult to injury, they are again up against the cap ceiling. So, with no clear answer in sight and far too many bad contracts currently on the books. The team must now look to unload what they can in order to acquire future assets that will help them moving forward.
Now it should go without saying that the team would love to rid themselves of the injury-prone defenseman Ryan Ellis's contract that has the Flyers on the hook for $6.25 million for not only the rest of this season but the next four. But the likelihood that Chuck Fletcher will be able to find a fellow NHL general manager as gullible as he was when he accepted a trade for Ellis from the Nashville Predators is slim to none. So that should be considered but a pipe dream.
Instead, a more feasible option would be to try and trade away the aforementioned Ivan Provorov, who Chuck Fletcher overpaid a few seasons ago when he inked Ivan to a six-year $40.5 million deal with a cap hit of $6,750,000 a year. While this deal, on its face, does not seem that bad considering what other defensemen are getting paid nowadays, it does cause a problem when you take into consideration that the Flyers also just handed out an eight-year $50 million contract to fellow left-hand shot defender Travis Sanheim. If you do the math, Sanheim will be getting paid a cap hit of $6.25 million through the end of the 2031 season. That means the Flyers now have $19.25 million tied up into two left-hand shot defenders and a broken-down Ryan Ellis, who will most likely milk his injury until his contract runs out in 2027. Giving the team the earliest chance at any cap relief from these three players coming when Provorov is off the books after yet another two seasons.
However, if the team were to trade Provorov, who is still in his prime at just 26 years of age with term still left on his contract, they could not only get back quite the return but free up space in the top pairing for their 2019 first-round pick defenseman Cam York; which would finally give him the ice time he not only deserves but needs to have in order to continue to develop his game.
But then comes the question of what team might potentially be a buyer if the Flyers were willing to move on from Provorov? Well, if I were in Chuck's position, I would call Rob Blake, the Los Angeles Kings general manager, and here's why. The Kings are currently in second place in the Pacific Division, and this season may be their last real chance at hoisting another cup with the aging trio of Anze Kopitar, Drew Doughty, and Jonathan Quick, who were previously able to hang Championship banners for their club back in 2012, and 2014. Why might they make this trade, you may be asking? Well, as good as LA has been this season, they still have needs. One of those needs is a left-hand shot defenseman. The team has only substantiated these claims by forcing their right-hand shot defenseman Sean Durzi to play his offside as well as kicking the tires on Arizona's Jakob Chychrun. So why not try and offer them, Ivan?
The Kings are ideal trade partners for the Flyers because, besides the fact that LA's window of winning a championship with their current roster may be closing, they have a plethora of promising prospects in their system that should be considered ripe for the picking.
Such as:
Right-hand defenders:
Brandt Clarke is a 6'2 185 pound, 19-year-old who was taken eighth overall back in '21
Helge Grans is a 6'3, 205-pound 20-year-old who was taken back in the '20 draft in the second round.
Or Jordan Spence, a 5'10 181 pound 21-year-old who the Kings drafted back in 2019 with their fourth-round pick.
Forwards:
Samuel Fagemo, a 6'0, 201-pound Swedish winger LA, picked in the second round of the '19 draft.
Arthur Kaliyev, a 6'2, 209-pound sharpshooter who the Kings took back in the second round of 2019
Alex Turcotte a 21-year-old forward who stands at 5'11 and 185 pounds. That LA took with their fifth overall pick back in 2019.
Or Rasmus Kupari, a 6'2, 201-pound 22-year-old Finnish player that the Kings were able to acquire back in the first round of the 2018 draft.
If the Flyers could acquire a couple of these young and talented prospects in a trade for Provorov, they should not think twice before sending Ivan packing. For if they did, they would be not only giving themselves some breathing room financially but would be setting themselves up in the future as well, as most of these promising prospects have already started to show some success at the professional level in both the American Hockey League as well as the National Hockey League.
I'm a lifelong Flyers fan who has been playing the sport of Ice Hockey we all know and love competitively for over 30 years now. I grew up playing in-between the pipes where I was able to take in the whole game and analysis just what the team needed to do to help us win. Over the years I always enjoyed reading and gaining as much knowledge as possible about this great sport, but always thought it lacked something. A players prospective!