Tortorella and his Bad News Bears have surprised many people thus far, but how can he Ensure their play will be Sustainable?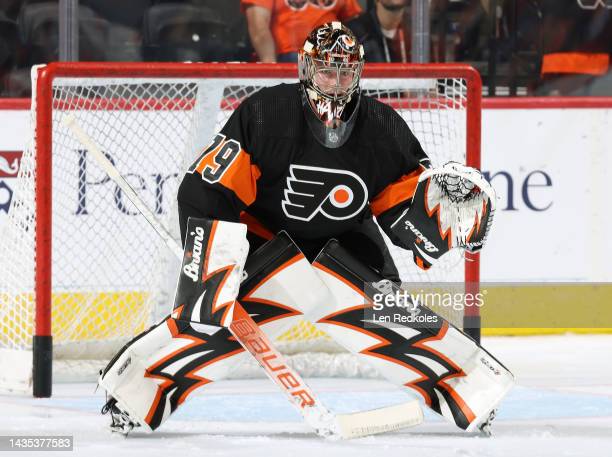 I think after their play in the last couple of seasons, and what was considered to be a less-than-impressive off-season haul by management; fans around the tri-state area had already concluded before the season even commenced the best thing that could happen to their Broad Street Bullies this year was to lose as many games as possible. This, of course, would better their chances at drafting prized prospect Connor Bedard this summer.
But then came the start of the season, where the Flyers surprised many people by winning four out of their first five games. Their early success could/should be attributed to their new bench boss's military-like tactics throughout their camp of tearing them down only to build them back up the way he wants them. With their new head coach able to do so, it appeared that all of this team's prior trials and tribulations might just be a thing of the past. In fact, with Tortorella being able to restore/instill in his band of misfit players that hard-nosed brand of hockey this city has come to know and expect from this team, they have collectively been able to bring back the fans to the Wells Fargo Center.
The only question now is, might their play/success be sustainable? With no true star in sight after Claude Giroux's departure last season, the Flyers currently don't have that one elite talent they can count on down the stretch to carry them through a rough patch. They don't have their star goaltending prospect Ivan Fedotov whom they signed this off-season to fill in for an extended period of time in case Carter Hart gets a little banged up during the season. And once again, because of the number of long-term injuries already accrued this season, the team has looked as though they won't even have the bodies needed to endure an 82-game season, let alone the talent.
So, what DO they have, you might be asking? Well, for the first time in a long time, this team has HEART! Torts has this team of (by league standards) no namers playing a full 60 minutes of hockey. They are finishing their checks, causing the other team to create more turnovers. They are also playing better defensively, which has attributed to Carter Hart regaining his confidence in the net. In doing so, this unyielding bunch of players that everyone had counted out has been able to compensate for their loss in production from players like Sean Couturier, Cam Atkinson, James van Riemsdyk, Ryan Ellis, Bobby Brink, and Patrick Brown being out to due to injury by having players like Travis Konecny, Scott Laughton, and Kevin Hayes step up their production in their teammate's absence.
But these are not the only players making a difference. The team has been getting production from some unlikely places as well. The fourth line, which is generally made up of fighters, and penalty killers, has been bringing it as of late for the Flyers. With players like center Lukas Sedlak's wheels allowing him to drive the net, tough guys Wade Allison, Nicolas Deslauriers, and Zack MacEwen have been able to net a couple of dirty unexpected goals.
Like the good old days, Philadelphia has made their opposition earn a win this year. Doing so has meant that said teams commonly leave the arena with a couple of new bruises and possibly fewer teeth! Now, while the Flyers may no longer find themselves at the top of the Metropolitan Division like they were just a week ago, they have shown this season that they will demand respect!
To sustain this level of success and respect from the league, though, I believe Tortorella needs to ride his hot goaltender. To this point, I think the Flyers have been coddling Hart. Yes, I know he is only 24 years old, but he was both drafted and is currently being paid as though this team expects him to be "THE GUY." So, why not let him try? Before this season, the Flyers always ensured that Hart had a cushion. Signing veteran goalies like Brian Elliott and Martin Jones, who have not only previously held starting gigs on other teams for several years but were successful in doing so as well, with Elliott formerly acquiring a William M. Jennings Trophy and Jones a Stanley Cup for their efforts. These past transgressions however, left Hart to date with a career-high of only 44 starts. Which equates to him starting in just 53% of the teams' games played. This season, Philadelphia simply cannot do this because their backup option this year is Felix Sandstrom, who to date has only started in seven NHL games and has been able to win NONE of them! Therefore, to stay competitive this season, the Flyers cannot expect to throw something like 38 games to chance by allowing Sandstrom to play as a 1A option in net. I mean, given that his NHL career averages are a less than impressive 3.21 goals against and a mediocre .907 save percentage, most would agree that he doesn't even belong in this league yet. Do I expect Hart to play 79 games this season as Grant Fuhr did back in the 95-96 season? NO. But I think his play this season thus far is worthy of him being allowed to play somewhere around 60-65 games like the Lightning's Andrei Vasilevskiy, the Predator's Juuse Saros, or Winnipeg's Connor Hellebuyck are asked to do most seasons. Especially given the fact this season that the Flyers have 15 back-to-back games.
Take it from this old goaltender; pulling Hart out of the net every other night when he has been playing at the level, he has could mess up his groove and concentration. Besides, it's not like he is a 35-year-old goalie who has had multiple knee injuries trying to stay around for one more chance at a cup. He is a young and able body who only has this season and next to prove his worth to this team before possibly being given the boot for the next goalie the franchise feels compelled to ruin. So why not let Hart at least try to be that franchise goalie management said he would be while Torts is here to make sure the defense in front of him will do their part?
I'm a lifelong Flyers fan who has been playing the sport of Ice Hockey we all know and love competitively for over 30 years now. I grew up playing in-between the pipes where I was able to take in the whole game and analysis just what the team needed to do to help us win. Over the years I always enjoyed reading and gaining as much knowledge as possible about this great sport, but always thought it lacked something. A players prospective!