Tortorella is doing his part; now it's time for Flyers Management to Step up and do theirs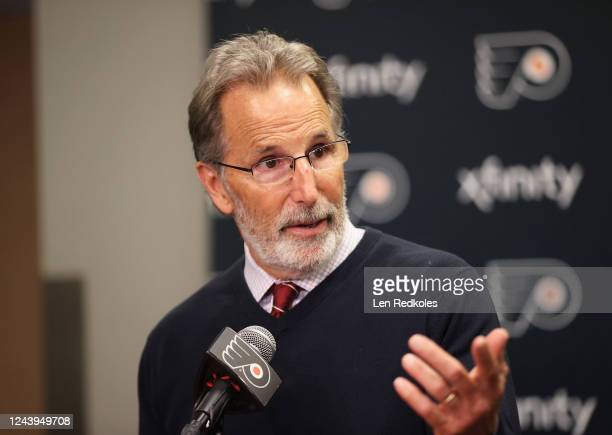 Like his tactics or not, the Flyers new head coach John Tortorella's Stanley Cup-winning experience and intolerance towards players' excuses or inability to buy into his system whole heartedly is refreshing and proving to be quite effective so far this season. Currently, his new band of misfits (known as the Flyers) finds themselves surprisingly out to a 3-1 start after coming back from being down 2-0 to the Tampa Bay Lightning on Tuesday night, followed by a hard-fought loss in their last game to the Panthers. Now in this writer's mind, the outcome may have been different in the latter if they just left their 24-year-old supposed franchise goaltender (Carter Hart) in net to play back-to-back contests against both of these playoff teams from the sunshine state, but I digress.
So, in my mind, with Tortorella currently holding up his end of the bargain by winning games with an injury-riddled group of previously underperforming-mediocre players at best, there is just one thing that needs to be done. And that is that the team's management needs to step up and do their job! Think about it, when was the last time the Flyers drafted a generational talent? You know, a player who puts up or close to 50 goals and 100 points every season?
Now, remember I said DRAFTED. Sure, the Flyers have had those types of players before, with guys like Eric Lindros, John Leclair, Mark Recchi, and Tim Kerr all coming to mind. But they did not draft any of those players. Lindros, Leclair, and Recchi came to the Flyers via a trade, and Kerr was an undrafted free agent. Not to mention the fact that they were all acquired before the salary cap era that was introduced back in the 2005-2006 season. Today's game is different; teams don't have an unlimited budget to go out and buy a cup-contending squad anymore. And the fact that this team's management has been so resistant to change how they have done things for so long is probably why this organization hasn't achieved its yearly goal of raising Lord Stanley's Cup since the 70s. For years the powers at be for the Flyers repeatedly went out every free agency/trade deadline and got a 30+ -year-old use-to-be superstars to come play for them. Such names include a 32 year Peter Forsberg, 33-year-old Vincent Lecavalier, 34-year-old Jason Smith, 35-year-olds like Chris Pronger and Paul Coffey, or how about 39 year old's like Adam Oates and Jaromir Jagr. All of these players are already or, in this writer's mind, future Hall of Famers, but by the time the Flyers convinced them to come play for them, they all were either too injury-prone or not as spry as they used to be, and thus unable to produce like they once did.
To the current regime's credit, though with the decision/inability to not bring in Johnny Gaudreau via free agency, management seems to have finally realized that to build a winning franchise in today's NHL, you must at least secure the foundation and a couple of cornerstone pieces through the draft. Then and only then can you bring in a couple of alluring pieces from free agency that will complement what you already have in the locker room. Some examples of this from around the league are the Penguins drafting Sidney Crosby, Evgeni Malkin, Marc-Andre Fleury, and Kris Letang before they could go on their run. It took Edmonton drafting Connor McDavid and Leon Draisaitl before they became relevant again. Tampa Bay took a while to rebuild before they became the powerhouse they are today. The Lightning achieved their recent success by making intelligent selections over the years, like Steven Stamkos, Andrei Vasilevskiy, Nikita Kucherov, Victor Hedman, and Brayden Point. Or how about the current Stanley Cup Champions the Colorado Avalanche. It took them drafting guys like Nathan MacKinnon, Cale Makar, and Gabriel Landeskog before they found themselves trending upwards.
Such a feat is easier said than done, of course. As made evident by the fact that the last time the Flyers had a player hit the 100-point plateau, it happened to be Claude Giroux back in 2018, when he tallied 102 points. Sadly though he only managed to achieve this level once through his 15 seasons playing in Philadelphia. Before that, if you look back through the Flyers' history books, the last player that the team DRAFTED that was able to do that was Bill Barber, who, like Giroux, was only able to reach that achievement one time during his career as well when he netted 112 points during the 1976 campaign. This is sad because Bill was drafted FIFTY years ago, in 1972. The only other player drafted by the Flyers in their history to score 100 points in a season while wearing the Orange and Black was Bobby Clarke, who managed to hit the mark three times in the '70s. Oh, and if this bit of information wasn't depressing enough, folks, the only Flyer ever drafted by the team that was able to score 50 or more goals in a single season was Bill Barber during that same 1972 season when he finished that year with 50 goals exactly. If you find yourself questioning this, remember that both Rick MacLeish and Reggie Leach, who each achieved this plateau while playing for the Flyers, were drafted by the Bruins.
So, what point am I trying to make, you might be asking? Well, with the Flyers' last Stanley Cup banner now being raised some 47 years ago. It is high time that this team's management put some emphasis on the things that really matter when trying to build a contender, such as scouting and player development, to name a few. For the Flyers, these jobs have been (throughout the team's history) gifted to their past players, with no thought process being placed on just how qualified or skilled they might be at this new position.
In saying that, I do believe management has done a better job of drafting as of late, especially with the selections of power forwards like Cutter Gauthier, Devin Kaplan, and Alex Bump, all being taken in this last draft. But be that as it may, I feel the Flyers are still too reliant on other leagues and their coaches to develop their prospects for them. I get not every player is going to be ready to start in the NHL upon being drafted or, for that matter, the year after. Still, I do believe if a team thinks a player is good enough to be signed to an entry-level contract, then they should, at that point, be brought into play for one of the teams' minor league affiliates. The thought process behind that then being not only should the players start to learn their big clubs' systems, but they then will also be allowed time to develop chemistry with the team's other signed prospects so that when they do get the call up to the big show, they will have at least some kind of familiarity with each other already. Disagree with me? I ask you, what do Joel Farabee, Noah Cates, Jackson Cates, Wade Allison, Bobby Brink, Ronnie Attard, Cam York, and Tanner Laczynski all have in common? They all spent time playing in the NCAA, then upon turning pro, they all spent little to no time playing for the Phantoms before making the Flyers roster. Now compare that to Morgan Frost, Isaac Ratcliffe, and Yegor Zamula, who signed their entry-level contracts and went to play for the Phantoms. These players have been professionals for 3-5 years now and are still struggling or only beginning to make an impact for the Flyers.
In summation, the foundation for this team has a severe crack in it, and until it is fixed, the Flyers will be nothing more than mediocre at best. Tortorella has performed miracles so far, but he can only do so much with what has been given to him. Without question, management has to do better in the future. Again, it's been 50 years since the team drafted a 50-goal scorer; that's embarrassing! I mean, come on, it's like the great Ronnie Milsap once said, "Even fools get lucky sometimes." Now the only question is when will some of that dumb luck come the Flyers way?
I'm a lifelong Flyers fan who has been playing the sport of Ice Hockey we all know and love competitively for over 30 years now. I grew up playing in-between the pipes where I was able to take in the whole game and analysis just what the team needed to do to help us win. Over the years I always enjoyed reading and gaining as much knowledge as possible about this great sport, but always thought it lacked something. A players prospective!