What do the Devils have that the Flyers Don't?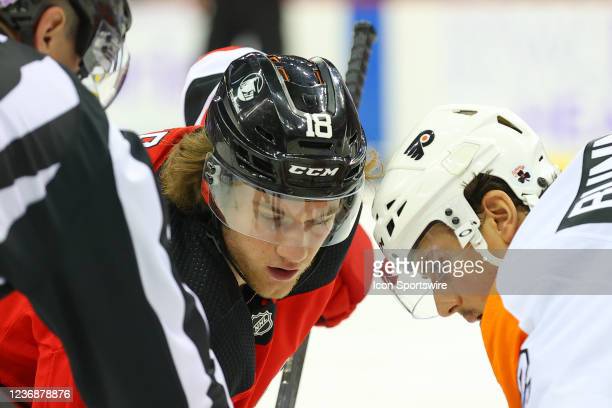 With Philadelphia Flyers fans not having too much to be thankful for this holiday season, as far as their favorite team goes, some enthusiasts have become jealous, if not downright spiteful, about a particular surrounding area's teams' success this season. That team is the New Jersey Devils. A fellow Metropolitan Division club who happens to play their home games a mere 78 miles away from the Flyers at the Prudential Center in Newark, New Jersey. Now, both of these teams finished last season among the worst in not only their division but the entire league resulting in them drafting from within the lottery. Here is where Philly fans will really begin to get spiteful. Despite, the Flyers finishing last season as the fourth worst team in the league, with them only being able to achieve 61 points (because of their bad luck and the NHL implementing the Draft Lottery back in 1995), the Devils who finished the season with 63 points and entered into the lottery seated as the fifth worst team in the league ended up winning the right to make the second selection overall forcing the Flyers back to drafting in the fifth position. This resulted in the Devils being able to select right-hand shot defenseman Simon Nemec, a player positionally that the Flyers so desperately needed (who has already turned pro and playing currently for New Jersey's American Hockey League (AHL) affiliate, the Utica Comets) and Philadelphia having to settle for power forward Cutter Gauthier who while he looks to be an excellent player in his own right is currently playing in the NCAA for Boston College.
Since draft day, these two struggling teams have become polar opposites of each other. While the Devils currently find themselves in first place in the Metro, accruing 32 points in 20 games played. Thanks mainly to them just coming off a 13-game winning streak that came to a questionable end recently in a 2-1 loss to Toronto, where NJ had three goals disallowed or overturned. In Philadelphia, the Flyers are in the middle of an eight-game losing streak that finds them once again amongst the bottom dwellers of their division.
This raises the question, what do the Devils have that the Flyers Don't?
Health
Well, the obvious reason would be health! The Devils may be playing right now without their significant free agent acquisition from this summer Ondrej Palat, but for the most part, the team as a whole is healthy. The same, however, cannot be said for the Flyers. Once again, this season, Philadelphia is among the league's leaders in man-games lost to injury or health protocols. With such players as Scott Laughton, and Travis Konecny, recently joining the lengthy list of mangled Flyers players that already consisted of Cam Atkinson, Bobby Brink, Wade Allison, James van Riemsdyk, Sean Couturier, and Ryan Ellis. There's no doubt in most fans' minds here in south Philly that with over $32 million in players not currently suiting up for the Flyers, the losses will only continue to pile up.
Competent Management:
But health is not the only thing the Devils have over the Flyers right now. New Jersey has a competent/knowledgeable front office that includes a general manager (GM) in Tom Fitzgerald. Who was previously under the tutelage of Stanley Cup-winning GM Ray Shero (son of Fred, who coached the Broad Street Bullies to two Stanley Cup championships in the 70's). To gain some guidance along the way, Fitzgerald just offered Hockey Hall of Famer Martin Brodeur a promotion from being an adviser to the team to being named their new Executive Vice President of Hockey Operations. An opportunity that Brodeur was very graciously quick to set ink to paper. The Flyers, of course, have something similar in that regard, with their former player Danny Briere recently being gifted the made-up title of Special Assistant to the General Manager by the Flyers. Still, the two really don't compare, do they? Brodeur has a REAL job with REAL responsibilities for the Devils, where his three-time Stanley Cup-winning experience has resulted in New Jersey making the right moves this off-season to turn his team around rather quickly. Where Briere, although being more than qualified for the job with him holding a master's degree in business administration from the very prestigious Wharton School of Finance, is being groomed by someone in Chuck Fletcher whose failures in both Minnesota and in Philadelphia to date can be contributed to his choice to operate under total heterodoxy as far as business decisions go.
Solid Drafting and Development:
You tend to reap the rewards rather quickly when you have the luxury of having competent management like New Jersey does right now. Just take their draft haul from this past summer. The Devils took the previously mentioned Simon Nemec with the number two overall pick. They then selected this writer's favorite defenseman from last year's draft class, right-hander Seamus Casey with their 2nd round pick, who has been a points-per-game player this season for the University of Michigan Wolverines scoring 14 points in 14 games played so far. Then the Devils followed that up by taking the top-ranked goalie in the draft, Tyler Brennan, in the fourth round. But this is not the only draft they have seen success in. Of their current forward 12-man roster that suited up for them in their last game, the Devils drafted 10 of those players! Now it's true New Jersey has been a less-than-stellar group since Brodeur retired. Still, their fanbase at least had the memories of them raising the cup in 1995, 2000, and 2003 to hang on to until ownership could find the right people to place in a management role with the wherewithal to draft key players like Nico Hischier, Dawson Mercer, Jack Hughes, and Jesper Bratt (all of which who are 24 years or younger right now) to bring them back to the point of contention. Not to mention the fact that the Devils currently have prospects like Luke Hughes, Alexander Holtz, and Nico Daws in the system as well. What has Chuck done for the Flyers as far as the draft goes, you may be asking? Well, even though he has been in charge of the teams' selection process for the last four draft classes, he has yet to have a player who he has taken, directly impact the Flyers lineup. That doesn't say much about his picks and/or the Flyers' development program, now does it?
Smart Choices in Free Agency/and the Trade Market
Now let's look at the other off-season happenings from these two clubs over the past couple of seasons. Set out to make significant changes to the Devils roster for 2021 New Jersey, who had been wisely saving up their cap space for some time, managed to steal defenseman Dougie Hamilton in free agency from the Hurricanes, who is one of the league's premiere defenders when they signed him to a seven-year $63 million contract. That same year, they went out and traded for defenseman Ryan Graves from the Colorado Avalanche. A player that used to be partnered up with Cale Makar and who led the league in plus-minus in the 2019-2020 season averaging a +40. Then this off-season, their gm, Tom Fitzgerald, was able to not only orchestrate but carry out the perfect plan. While other teams like the Flyers waited until the last minute to try and clear cap space for their shot to obtain one of the big fish of the off-season Johnny Gaudreau (who later signed with Columbus). The Devils took it upon themselves to bring in the two-time Stanley Cup winner Ondrej Palat. Then they went out and traded for goaltender Vintek Vanecek from the Capitals, veteran Erik Haula from the Bruins, and most recently, they just managed to pull off a trade for Penguins defenseman John Marino. None of these moves may have been of the flashy variety that would immediately boost jersey sales, but they are the underrated moves that other teams 'GMs are now wishing they had the hockey sense to make. Then there's the Flyers, who, after missing out on a big-name target, had to settle for signing defenseman Tony DeAngelo who the team had to shell out $5 million a season to in order to cover up Chuck's blunder of a trade for Ryan Ellis. A player who, after only suiting up in four games for the Flyers, Philadelphia now finds themselves stuck paying him $6.25 million a season until 2027 simply because Fletcher failed to do his homework before trading for such an injury-prone player.
So, while the Flyers have spent their time trying to rebuild by overpaying the same players that couldn't get them over the hump before, IE: Couturier, Sanheim, Provorov, Ristolainen, and Braun. As well as following the ideology that failed prospects like Morgan Frost and Isaac Ratcliffe still deserve a second and third chance to prove themselves. The Devils have been able to make a bunch of intelligent draft selections, free agent signings, and trades over the past few years that have allowed them to construct a solid core group of talented youthful players that should bring them success for years to come. All I can say, Flyers fans, is let's all tell Santa that the only thing we want for Christmas this year is a new general manager!
I'm a lifelong Flyers fan who has been playing the sport of Ice Hockey we all know and love competitively for over 30 years now. I grew up playing in-between the pipes where I was able to take in the whole game and analysis just what the team needed to do to help us win. Over the years I always enjoyed reading and gaining as much knowledge as possible about this great sport, but always thought it lacked something. A players prospective!