With the Holiday's & Chuck's Imminent Dismissal now upon us, here are some Objectives his Successor must look to Achieve.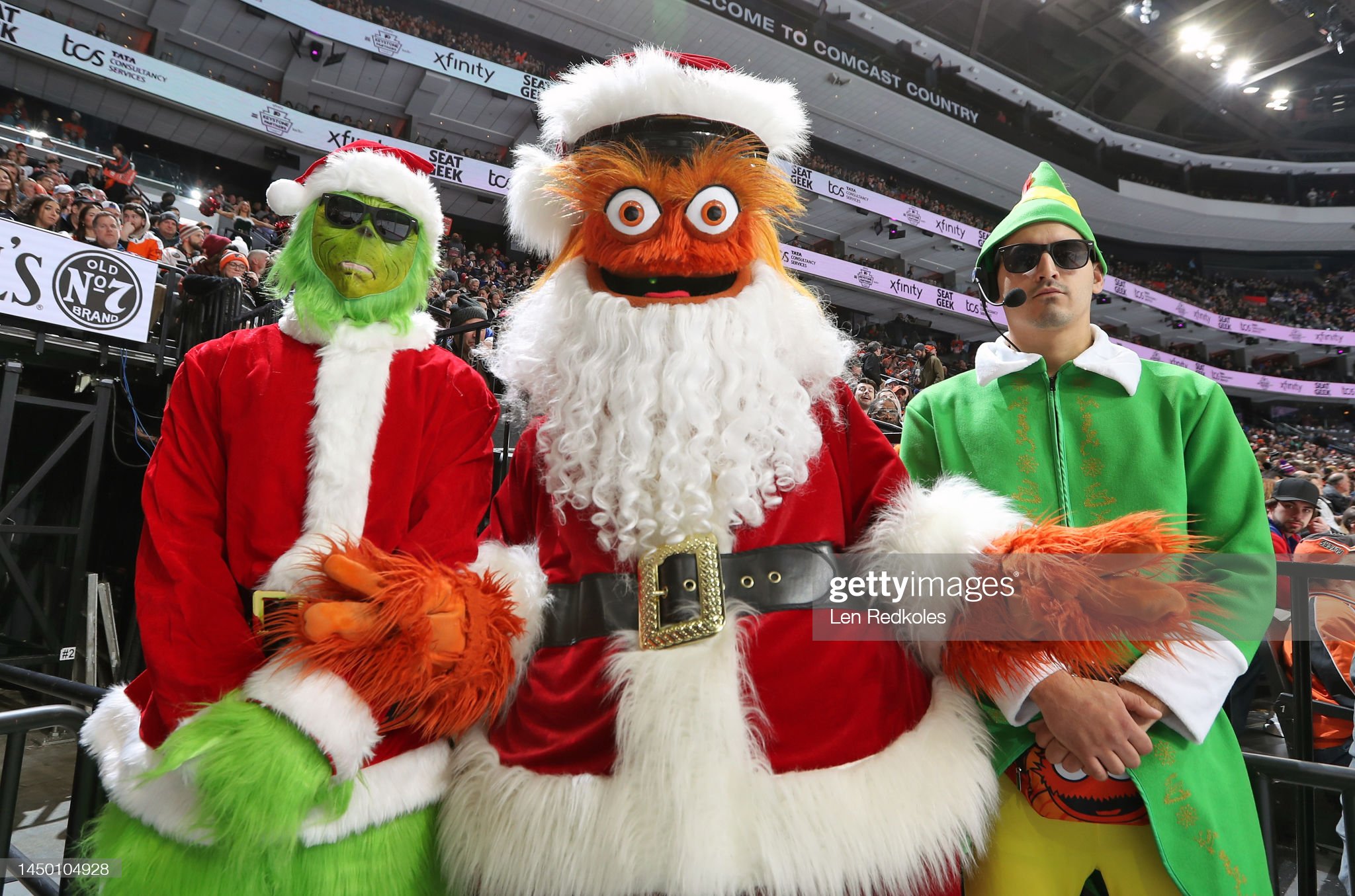 With the team in the midst of their third straight losing season, the Flyers' General Manager (GM) Chuck Fletcher's dismissal seems imminent. What is sad, though, is despite how bad of a job Fletcher has done during his tenure here in Philadelphia, Dave Scott, who holds the title of Chairman & CEO of Comcast Spectacor as well as the self-appointed title of "Governor" over the Flyers will likely, not outright fire his beloved Chuck, but rather "promote" him to the title of "Senior Advisor" a job the aging 67-year-old Paul Holmgren currently holds.
Now Chuck's firing/possible promotion should mean the team will go out and look to fill Chuck's impending vacancy with a proven young initiative thinker like Chris MacFarland, the Colorado Avalanche's assistant general manager, Eric Tulsky, the Carolina Hurricanes Ast. GM who is an analytics genius and holds a master's degree from Harvard and a Ph.D. from UC Berkeley. Or perhaps even the highly decorated Brooks Bandits head coach and general manager Ryan Papaioannou, who discovered and developed both Cale Makar and the NCAA's current point leader Ryan McAllister to name a few. However, that search is likely not even to begin because the Flyers have already been grooming their next man up for some time now, and that, of course, is former Flyer, Danny Briere.
The Grooming Process
It all started with a not so gently push from the team's "Alternate Governor"/ President and CEO of Spectacor Sports and Entertainment, Valerie Camillo. She suggested that Danny go back to school and get a degree. So Briere decided to attend and graduate from the prestigious Wharton School of Finance. To further this push, upon Danny finishing school, he was gifted the job of running another Comcast-owned team, the ECHL's Maine Mariners, for a couple of years. Then when the powers at be thought he was good and ready to assist with the big club, ownership created his current job with the Flyers: Special Assistant to the General Manager so he could be under the tutelage of the floundering Chuck Fletcher.
So, seeing that the plans are already in place for not if, but when Chuck Fletcher is relieved from his current duties, let's focus on what Danny should be assessing the minute he moves into Chuck's old office.
Tradeable Assets:
With the season nearing the halfway point and the team currently seated in the 7th spot in the Metropolitan Division, Danny (or whomever the new gm may be) should be thinking about his tradeable assets, especially since this draft is projected to be one of the best in quite some time. Who should they look to be getting rid of, you may be asking? Of course, the popular name floating about the rumor mill right now is Kevin Hayes, whose chances of being traded are being quantified as we speak because of his current disagreement with his head coach John Tortorella. While most feel Hayes would bring a decent return, I think the possibility of finding another gm who is willing and or able to take on his $7,142,857 in salary (which he gets paid until the end of the 2025-2026 season) during the middle of the season is a bit of a pipedream, primarily, because Kevin holds a modified no-movement clause.
Instead, a player who is more likely to get moved by the end of the year would be James van Riemsdyk a 33-year-old impending free agent who was the Flyers' top goal scorer last year and currently has 12 points in 13 games played this season. While James is no longer the competitor he once was when playing for the Maple Leafs, he is still an effective net-front presence who could help any contenders power play unit. Plus, Philadelphia could easily retain half his salary for the rest of this season in exchange for a potential 1st or 2nd round draft pick.
Another tradeable asset is their 23-year-old impending restricted free Morgan Frost, who, despite playing in 109 NHL games over four seasons, has only begun to show a smidgen of what the Flyers thought he would be. In my opinion, his career 0.119 goals per game average, along with his 0.321 points per game average, does not warrant the team turning down an offer full of future assets. And yes, I know he has scored a goal in each of the last two games, but remember, the Flyers are playing against teams' backups most nights now. For example, against the Rangers, Frost did not score on Vezina Trophy winner Igor Shesterkin. He scored on 37-year-old Jaroslav Halak. Against Columbus, he was not facing starter Elvis Merzlik; he scored on prospect Danil Tarasov.
Moving up in Draft:
Another thing Chuck's successor should look to do once they are named the tenth general manager in team history is to move up in the draft. The Flyers do not possess a second-round pick in this upcoming draft or the following year. However, they hold two third-rounders and two fourth-round picks this summer. When paired together in a draft day trade proposal, Philadelphia could acquire another first or second-round pick. Something this struggling starless franchise so desperately needs. Think about it. This current roster is not set to win now. Still, they could be considered a contender sooner rather than later if they manage to pick up a couple more high-end prospects with any combination of players like Will Smith, Calum Ritchie, Brayden Yager, Andrew Cristall, Riley Heidt, or Cameron Allen from this year's draft to go along with their 5th overall pick from last season Cutter Gauthier.
Assess the Goaltending Situation:
If there is one particular position that has plagued the Flyers franchise over the years, it would be goaltending. Since Ron Hextall played his last game for Philadelphia in 1999, the team has had an unfathomable 29 different goalies start a game for them. Still, despite Hextall drafting the highly coveted Carter Hart back in 2016. The team still has questions and concerns about who they have standing guard in the blue paint. While Hart is still well-liked in Philadelphia, his career numbers leave a lot to be desired. Defend him all you want, but Carter is now in his fifth year in the NHL. At what point is he going to have a breakout season? Sure, he has shown glimpses at times, but he has yet to put together a solid FULL SEASON of work. To date, he has played in 171 regular season games. He has just three career shutouts to his credit and only 72 wins. Folks that means he has only won 42% of his starts! Shocked? You shouldn't be, considering his career averages are a 2.94 goals against and a .906 save percentage. Hell, in what was considered to be his best season, he only won 24 games. Those kinds of numbers will get you fired if you're a backup, let alone if you are now considered the face of the franchise.
What about the guys in the system? Felix Sandstrom is a year older than Hart and has only managed to win one game in the NHL! That's with him playing in 14 games thus far, and if you do the math, that equates to him winning a laughable 7% of the games he has played in.
Ivan Fedotov would have been an impressive addition this season, but his future is still unknown after being forced into military service in Siberia after signing with the Flyers.
The Troy Grosenick signing was a joke. He currently holds a 3.93 goals-against average while only managing to play in three games for the Phantoms this season, and we won't even mention Samuel Ersson or Alexei Kolosov, who are struggling in their respected leagues just to maintain a .500 record.
Therefore, this team's next general manager must take a long, hard look at this position moving forward and ask himself. If Hart continues to struggle and no goaltending prospect steps up to take his place. At what point should we cut our losses with him? And if the new gm isn't willing to do so, he must ask himself, is it worth being forced to resign Carter after next season just because we have no one better in the system?
If the rumors are true and Chuck is on his way out, seemingly leaving this team in shambles. These previously stated issues are the first of many objectives whatever poor sap that ownership can con into taking the job of general manager of the Flyers should look to achieve. For if they don't, they will no doubt have a short tenure on South Broad Street.
I'm a lifelong Flyers fan who has been playing the sport of Ice Hockey we all know and love competitively for over 30 years now. I grew up playing in-between the pipes where I was able to take in the whole game and analysis just what the team needed to do to help us win. Over the years I always enjoyed reading and gaining as much knowledge as possible about this great sport, but always thought it lacked something. A players prospective!