Keith Jones has Unveiled his Vision for the Flyers to Become a Defensive Juggernaut; now, how might he go about getting that done?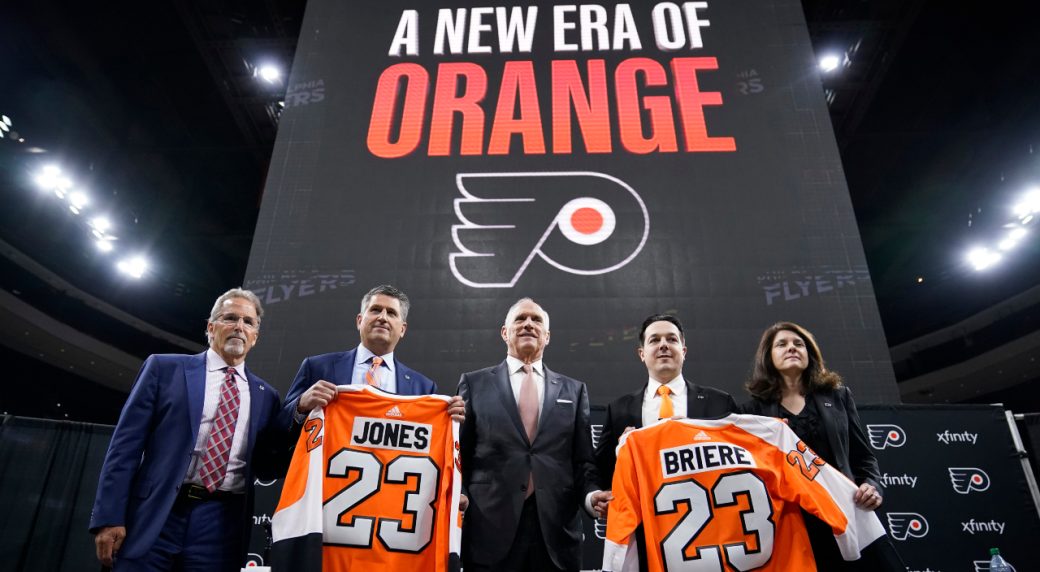 Since being given the job and title of the Philadelphia Flyers' latest President of Hockey Operations, former Flyer Keith Jones has been busy finishing out his contract with TNT covering an immense amount of playoff hockey games. Along with that, Jones has been running the gambit of late as he has been seen on every media circuit out there that covers this great sport; we all know and love trying to ensure the Flyers fanbase that he has a plan on how to bring this once great franchise back to contention.
Jones's vision on how he will go about getting that done is revamping the team's blue line. With the idea of trying to build a strong defensive core like his friend and longtime Nashville Predators General Manager David Poile was able to maintain throughout his career down in Music City. Whether it be the early 2000s when the Predators' core consisted of Shea Weber, Ryan Suter, Kimmo Timonen, and Dan Hamhuis. Or right up to this season where his blue line consisted of players such as Roman Josi (two-time Stanley Cup Champion) Ryan McDonagh, Mattias Ekholm, Tyson Barrie, and Dante Fabbro. Poile's Preds. were always viewed as the league's benchmark regarding the defensive side of things. And therefore, other teams like the Carolina Hurricanes have tried to mimic their success by following the blueprint Poile laid out for them.
So, I guess now the question becomes, how might Jones go about getting that done here in Philadelphia?
Well, as I see it, he must start by using the Subtraction method. The Flyers' current defensive core consisting of Ivan Provorov, Travis Sanheim, Rasmus Ristolainen, Tony DeAngelo, Nick Seeler, and Cam York, was atrocious again this past season. They finished among the leagues' worst in penalty killing, with the Flyers only managing to stop their opponents' advances 74.7% of the time this year. Wonder why? Well, this unit was a combined -53 on the season (with Seeler being the only D-man finishing the season as a plus player, and even that was only a measly +1 average). Not to mention that they are a collective -264 for their career. To put that into perspective, the previously mentioned Predators' defenseman Ryan McDonagh is a career +227.
After reading that, hopefully, you realize that the Flyers are in a world of hurt right now. So much so that if management doesn't make any off-season moves, they are due to have to shell out over $30 million to this futile defense next season, that is, if you add in the fact that they are still on the hook for $6.25 million (for the next four years) for the injured Ryan Ellis. Remember, though, this is all before the team comes to an agreement with their restricted free agent Cam York who I imagine will be due quite the hefty raise as he is coming off his rookie deal that only paid him $880,833. That's a lot of cap space to waste on a group that does their job so poorly.
To right this, Keith Jones and Danny Briere must re-evaluate how they determine what makes a good defenseman. My theory, or at least what I always tell the kids I coach. "It doesn't matter if you score 50 goals in a season; if you are out on the ice when your opponent scores 51, you're ineffective."
Who should/could the Flyers get rid of?
Ryan Ellis
The obvious choice would be to try and trade the dead contract of Ryan Ellis (who Philadelphia has all but said will never play again) to a team like the Arizona Coyotes. But honestly, look how that has worked out for them in the past. The Coyotes have been kicked out of one town for not paying their bills, had to be bailed out by the league multiple times, and are currently playing in a college stadium that only holds roughly 5,000 fans. They just had another town turn down a multi-billion-dollar proposal to build them a new stadium and had their top three pick from last year, Logan Cooley, refuse to sign with them out of pure embarrassment. So, I think that pipe dream is all but shot.
Anthony DeAngelo
They could try and trade hometown boy Anthony DeAngelo seeing that he only has one year left on a contract that pays him a ridiculous five million dollars. But the Flyers would most likely half to be willing to eat half of his salary in which to do so, and the team does not have cap space to spare because they are due to pay the second-highest cap penalty of any NHL club, $1.1 million next year because of players reaching their contractual bonuses this past season.
Rasmus Ristolainen
I've seen recent tweets by fans suggesting Philadelphia should try and trade Ristolainen this off-season. But he, too, is overpaid at a rate of $5.1 million and is signed to that deal for the next four seasons. Good luck finding another team dumb enough to trade a first for a former 1st round-pick defenseman who is a career -176.
Ivan Provorov
No, instead, I think the most logical choice of any to try and move this off-season is Ivan Provorov. Now I did a whole article on this before that you can read below:
But the brief synopsis of that article is I think the Flyers should try and trade him to the LA Kings, a team loaded down with right-hand shot defenders who desperately need a left-hander. Although he has been a very dependable minute eater for Philadelphia over the last seven seasons, Ivan has not yet proven to live up to the hype that came with him being taken seventh overall back in the 2015 Entry Draft. Moreover, I think he has been used and abused by the Flyers, who, at times, have played him entirely too much. For years now, Philadelphia has depended on him to play top-line minutes as well as obligating him to play on both the power play and penalty-killing units. The way I see it, Provorov is not a number-one defender, as the Flyers have been forced to utilize him because they have nothing else. He is (and would be if traded to the Kings and got the chance to play with Drew Doughty) a solid number-two guy.
What should the Flyers ask in return for Provy?
A second-round pick would be nice, but the Flyers would be hard-pressed to get that out of the Kings seeing that they already traded their 1st to Columbus this year in a move that sent longtime Kings netminder Jonathan Quick packing. Therefore, they should instead ask for one of their many proven right-hand shot defender prospects.
Brandt Clarke
A heads-up trade for the Kings' 2021 8th-overall pick defenseman Brandt Clarke would be ideal. This 20-year-old blueliner who stands at 6'2 and around 185 pounds is exactly the partner they need to pair with their future 1st line pairing left hand shot defender Cam York. Is it feasible, though? Possibly. This season, while playing in 31 games for the Ontario Hockey Leagues' (OHL) Barrie Colts, Brandt scored 23 goals and 38 assists for a total of 61 points in the regular season while maintaining a +40 average. In the OHL Playoffs, Clarke netted seven goals and 16 assists for 23 points in only 12 games played. He was able to average a +10 in the postseason as well. But Brandt not only showed out in Juniors, he also spent time this season with both the Kings and their American Hockey League affiliate the Ontario Regin. And if all that wasn't enough, he somehow found time to play in the recent World Junior Championships, where he totaled eight points in seven games for Team Canada.
Now, back to the debatable fact of whether the Kings would do an even swap or not. Provorov is still only 26 years old and is signed to a reasonable deal for the next two seasons. And if the Kings (who made the playoffs this year only to get bounced by Edmonton in the first round) wish to ever win again with either of their aging stars, Anze Kopitar (who is 35) or Drew Doughty (who is 33) they had best make a power move quick. If the Kings declined a heads-up move, the Flyers could spice up the deal by sending one of their multiple 3rd or 4th round picks this year to get the deal done.
Draft
The next thing the Flyers' Keith Jones and his newly appointed general manager Daniel Briere will need to try and do on June 28th and 29th down in Nashville to help overhaul their blue line is to draft some defensively responsible defenders. For far too long now, NHL executives have viewed guys like the Sharks' defenseman Erik Karlsson who scored 25 goals and 76 assists this year for a total of 101 points on the season, as the league's best defensemen. I mean, hell, why not, right? He's a two-time James Norris Memorial Trophy winner (the award given to a defensive player who the league views has demonstrated throughout the season to be the greatest all-around in the position.) But hold on, if you look up the definition of an ice hockey defenseman, it states that it is a player position-whose primary responsibility is to prevent the opposing team from scoring. Well, that's funny because Karlsson was on the ice this season when (an NHL League Leading) 126 EVEN STRENGTH goals were scored against him! That means even with all those points that he achieved and was on the ice for when his team scored, he still ended the season as a -26 player. And if you dive even deeper into his career stats, you'll find he is a career -103. Now, there are plenty of people out there that will defend him, saying that plus-minus is more of a team stat but call me crazy; I think if Karlsson would focus less on scoring goals and more on his primary job of preventing them, his team may have won more games this season and thus not be drafting fourth overall this summer.
No, when I think of a Norris Trophy winner, I think of a guy like Nicklas Lidstrom, who played on the same team for an incredible 20 seasons where he won the Stanley Cup four times, was a seven-time Norris Trophy recipient, and was a player who kept up a career plus-minus average of +450. Yes, this is a blueliner who every kid playing the game should idolize, a true master of his craft who the Flyers should be aspiring to find a young player who plays a similar style. Not some guy who shows little to no desire to get back and defend, leaving his goalie hung out to dry.
Etienne Morin
That's why I say if Keith and Danny were smart, they would try and package a deal of their extra 3rd or 4th round picks to move up into the second round to take a guy like Etienne Morin from the Moncton Wildcats of the Quebec Major Junior Hockey League. Morin is an 18-year-old defender who stands at 6'0 and 183 pounds. Morin can contribute offensively and defend with the best of them. Etienne has shown this season that he possesses a strong outlet pass and can finish from the point when needed. He scored 21 goals and 51 assists for 72 points this year in only 67 games played and, in doing so, maintained a +29 average. When you watch Morin, it is like you stepped back in time, about 20 years. Defensively he loves to stand up the opposition at the blue line and administers some of the brutal open ice checks since maybe the great Scott Stevens himself. On top of all that, Etienne is more than willing to block a shot, get involved in board battles, and clear out his opponents from in front of his net. Morin is a complete player on the backend who is destined to have a very long NHL career ahead of him if he keeps this up.
Free Agency
With the Flyers in a full-on rebuild mode, they shouldn't be focusing on signing any big-name free agents any time soon. But suppose they manage to trade away a guy like Ivan Provorov or Travis Sanheim for both salary cap relief as well as draft capital. In that case, they may be in the market for a stop-gap guy who can fill in until prospects like Egor Zamula, Ronnie Attard, Emil Andre, and Ethan Samson prove to Head Coach John Tortorella that they are ready to take on a full-time role in the NHL.
Ryan Graves
And one of those players that could fill that gap in time who will be available come July 1st, when the NHL's free agent market is set to commence, is the New Jersey Devils' unrestricted free agent defensemen Ryan Graves. Graves, who stands at 6'5 and 220 pounds, is only 28 years old and therefore is still in the prime of his career. Ryan finished the season with eight goals and 18 assists for 26 points. As you can see by his stats, Graves is not a flashy player. In fact, you may not even notice him much during the telecast if you have never played the game yourself. But that's not because Ryan is not doing anything; quite the contrary, that means he does his job so well that he is rarely out of position and, therefore, never has to take any drastic actions to make up for his blunders. I don't know about you, but this old goalie, turned coach and writer will take a defenseman who plays mistake-free hockey over some flashy egocentric point-driven guy any day.
If you haven't heard of Graves before, his claim to fame was that he used to be Cale Makar's defensive partner in Colorado. While Makar was up on the rush, Graves would be that rock on the defense that would stay back and allow Cale to work his magic. The pair had so much success that Graves finished the 2019-2020 season as the league leader in plus-minus with a +40 average. But as with any cup-contending team, the Avalanche had to move Graves to afford to keep others. Lucky for the Devils, they had someone smart enough in management to know his true worth, so they ended up trading for him. And in just his second season playing for them this year, Ryan was able to play a big part in the Devils going from drafting in the lottery last summer to qualifying for the playoffs this year after finishing this season with an astonishing 112 points.
This year Ryan again concluded the season amongst the best in plus-minus, with him maintaining a +34 average for the year. This proves that plus players promote success and help develop a winning culture.
Graves is coming off a contract in which he was paid just over three million a season and could probably be had for something similar, considering the NHL currently only views a players worth by their point production. So, if the Flyers are able to move a contract or two this offseason, it would be in their best interest to try and finally solidify their defense by signing this now veteran defenseman to a similar deal that would bridge them to the point when their own blue line prospects are ready to take over.
For far to long the Flyers have prided themselves on overusing one particular skilled defenseman on their roster. Via: Mark Howe, Gary Galley, Eric Desjardins, Kimmo Timonen, and now Ivan Provorov. Philadelphia commonly forces them to play 25-27 mins a night ultimately leaving them too tired to be effective. Playing their stars on the top pairing, on the power play and the penalty kill the Flyers simply demands to much for their best defenders. To go with that year after year they expect them to carry a defensive core filled with slugs and/or players well past their prime like Kjell Samuelsson, Chris Therien, Mike Rathje, Joni Pitkanen, Braydon Coburn, Andrew MacDonald, and Keith Yandle. If Keith Jones and Danny Briere want this team to be contenders again, they will need to first stop this habit and develop a core of defensively responsible players by the means laid out above that will solidify this defense and thus help rebuild a winning culture here in Philadelphia. Only then will this team return back to their winning ways.
Let's just hope this "new" regime made up of former Flyers have the wherewithal to follow this blueprint by first tearing it all down to the foundation only to build it back up right.
I'm a lifelong Flyers fan who has been playing the sport of Ice Hockey we all know and love competitively for over 30 years now. I grew up playing in-between the pipes where I was able to take in the whole game and analysis just what the team needed to do to help us win. Over the years I always enjoyed reading and gaining as much knowledge as possible about this great sport, but always thought it lacked something. A players prospective!