The Good, The Bad, and The Ugly, a Flyers Season-End Review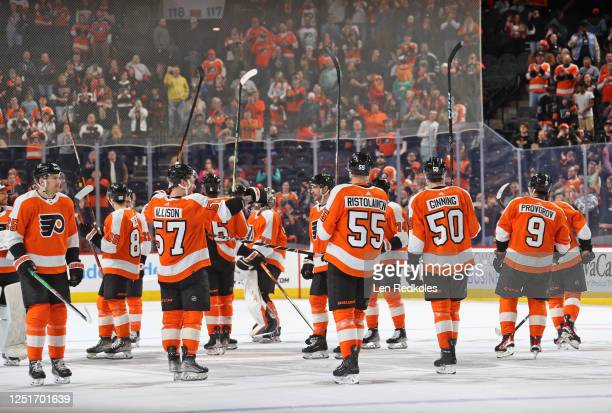 With only one game left in this arduous Philadelphia Flyers season, I thought it wise to do a season's end review that will look at all aspects of the players and the team as a whole in something we'll call the good, the bad, and the ugly.
So, to start, why don't we begin with something positive?
The Good
Given that this team is in the midst of a full-on rebuild, it may be hard for most fans to see many positives in a team destined to be picking from the lottery once again. But believe me; there are a few.
Owen Tippett
Tippett, who is still only 24 years of age, was previously buried in the Panthers system after being drafted back in 2017 from the Mississauga Steelheads of the Ontario Hockey League and, therefore, never really got a fair shot in sunny Florida. This is why the return for Giroux was at the time viewed to be a bit underwhelming, but this trade may prove to be one of the few former Flyers GM Chuck Fletcher may have gotten right. In just his first full season in Philadelphia after being acquired from the Florida Panthers last year at the trade deadline (a move that sent the long time Flyers captain Claude Giroux packing), Owen has managed to set new career highs this year in goals with 29, assists with 24, and in total points scored with 47. Why the sudden success, you might asking? Well, Tippett is just the kind of sniper the Flyers have seemed to lack since Jeff Carter last donned a Flyers jersey. Owen is a pure shooter who has never met a shot he hasn't wanted to take, so he not only led the Flyers this year in shots with 229 but finished the season with a team-high eight power-play goals. With such success coming this season from a young player who has not yet hit his prime, there's no doubt in this writer's mind that the Flyers view him as a key piece moving forward in their quest to return to a perennial playoff contender.
Travis Konecny
Another bright spot for the Flyers this season has been the resurgence of Travis Konecny. Konecny, or TK as most fans in Philadelphia call him, led the team in goals this year with 29—those totals best his previous career high of 24 by five goals. What's more impressive or depressing, depending on how you look at it, is that Travis achieved that feat while only playing in 59 games this season. Under Tortorella's tutelage this year, Travis (who is still only 26 years old and signed for two more years at only $5.5 million) has shown that he should not only be considered a building block for this team's future but maybe the cornerstone of its franchise for the time being. That is, until one of their promising prospects can take that title away from him.
Scott Laughton
Scott Laughton is the last player on the current Flyers roster, whose efforts this season exceeded expectations. This now 10-year NHL veteran is viewed by head coach John Tortorella as one of the club's few true leaders. Year in and year out, Scott simply gets the job done. He may not be flashy, but he can be depended on because he has shown the wiliness to do whatever is asked of him. This means he is often forced to play some tough minutes against the other team's best players on the penalty kill and even strength situations. Laughton has earned those minutes over the years, honestly, by finishing all of his hits, being the first in on the forecheck, and by being defensively responsible enough to always be involved in the backcheck. This season Scott set new career highs in goals with 18 when his previous career high was only 12, assists with 25 when his last was 19, and in points with 43 this year when his previous best was only 32. Despite having planned over a decade in the NHL already, Laughton is still just 28 years old, and he is signed for three more years at a very affordable $3 million. Therefore, Scott has shown a commitment to playing in Philadelphia, and he can be counted on in the trying years to come to show the up-and-coming players within the Flyers system how to play the game the right way.
Tyson Foerster
Tyson Foerster, the Flyers' 2020 first-round pick, is one of those aforementioned up-and-coming players. He is only 21 years of age and was afforded the opportunity to play a short stint with the Flyers a few weeks ago after excelling at the AHL level this season. A year in which he was able to achieve 20 goals, and 26 assists for 46 points while playing for the Phantoms. Not wanting to look a gift horse in the mouth, Tyson decided to show out during his late-season curtain call with the Flyers, where he gave fans something to look forward to next season, scoring three goals and four assists for seven points in just eight games played. Like Tippett, Foerster's success with the Flyers is primarily due to his elite-level shot and his willingness to let it fly. After he gets some much-needed playoff experience with the Phantoms this year, look for Tyson to join the Flyers next season. His offensive prowess will be a welcome addition to a team destined to finish this season 29th in the league in goals scored.
The Bad
Now that we hit the high points of this year let us come back to reality and look at just how bad this team really is.
James van Riemsdyk
Thank goodness JVR's contract is up after just one more game. After the type of season this impending unrestricted free agent, who is now 33 years old, just had, I think it is safe to say he will not be returning. Although it is the Flyers, so let's just say at least not for the $7 million he received for the past five years of service. This season van Riemsdyk recorded a career-low 12 goals. A feat he was even able to surpass back in the 2015-2016 season when he scored 14 goals after only playing in 40 games due to injury. JVR should no longer be in the Flyers' plans seeing that his best years are behind him, especially since far better and younger prospects like Tyson Foerster and Cutter Gauthier are waiting in the wings for their chance to prove themselves.
Carter Hart
Beloved by this franchise for no other reason than because they haven't been given much else to believe in, Carter has been placed on a pedestal since his arrival. The only thing is, his play to this point hasn't warranted the acclaim. Now, before you guys start in with the excuses to defend him, let me share some numbers with you. This season Hart has 22 wins which ranks him 21st in the NHL. He ranks 28th in goals against average, giving up 2.94 goals a game on average. To go with that, Carter only managed to rank 22nd in save percentage by stopping .907% of his shots faced, and he's given up the ninth most goals of any goaltender in the NHL this year with a total of 155 that have gotten behind him. We all know that the team has been bad this year, the defense is lacking, and they simply are not scoring, but when will we start putting some of the blame on Hart for failing to stop the puck? Hart was the first goalie taken back in 2016, and since then, he has played in parts of the last five seasons for the Flyers. To date, he has played in over 200 games where he has only managed to win 41% of his starts. He's let in an average of 2.96 goals a game and stopped only .906% of the shots he faced. Now, I think even his biggest fans can admit those numbers are not elite. Hell, they are below average! So much so that I have seen goalies of Flyers past with far better numbers get traded, sent down to the AHL, or outright waived. So why has Hart yet to receive a similar fate? I get that he is only 24 years of age and that most goaltenders do not develop fully into they are 26 or 27, but we're not talking about most goalies here. Carter is not some fifth or sixth-round pick; he was a highly decorated goalie who previously excelled at every level he played at but has yet to reach his true potential. I'll agree with you the Flyers have not made it easy on him, but in a year's time, when Hart's contract is up, and he's looking for not only a raise but a new deal with some tenure behind it, should they still be affording him these same excuses simply because they have no one better? Or should Philadelphia's Interim GM Danny Briere try and trade him this off-season while Hart still might have some other teams 'GMs fooled in an attempt to try and expedite the Flyers' rebuild?
The Ugly
Now the Ugly. The Flyers are the sixth-worst team in the league this year. They were too bad to fight for a Wild Card spot and too good for any real shot at drafting Connor Bedard, who is thought to be the irrefutable first-overall pick this summer. The Flyers put themselves in this position by finishing the season 29th in scoring and 10th in goals allowed. Combined, their goaltenders allowed, on average, 3.36 goals per game and stopped only .894% of the shots they faced. And to add insult to injury, the Flyers will again finish the season with the league's worst power play, with them only managing to capitalize on the man advantage 15.2% of the time this season.
They have no cap space. Weighted down by albatross-like contracts that were either handed out or acquired by Chuck Fletcher, the chances of this team being able to sign someone of any value in free agency this summer should be viewed as nothing but a farce. And we haven't even talked about the players on IR yet. Ryan Ellis is considered to have sustained a career-ending injury but refuses to retire. So the Flyers will be forced to pay him $6.25 a year for the next four years to sit in the rafter and watch games. Sean Couturier was made the highest-paid player on the team by Flecther, just to miss most of the last three seasons with injury. And let us not forget the Flyers being on the hook for two more years of Cam Atkinson at $5.875 million after he had to undergo a surgery to repair a potential career-crippling neck injury this season. When you add all that up, it means the Flyers were made to hand out roughly a quarter of their allotted salary cap ($19.8 million) to three players that did not even dress for a single game this year.
And what's worse is that despite management knowing that they would not have a lot of cap space to better themselves next season, they chose not to follow my advice of trying to improve their depth charts by signing some undrafted free agents this year from the NCAA.
I guess that's why the Flyers will keep chasing their dreams and not filling them like the playoff-caliber teams that decided to take advantage of this NCAA talent. Teams like the Colorado Avalanche, who signed Western Michigan's Jason Polin, who tied Hobey Baker Award Winner Adam Fantilli for the most goals scored this year in the NCAA with 30—the Nashville Predators, who signed Minnesota States' lockdown defenseman Jake Livingstone. The Hurricanes who signed Quinnipiac's National Championship-winning goaltender Yaniv Perets. Or the Florida Panthers, who signed Western Michigan's exceptional freshman Ryan McAllister. Any one of these players could have helped the struggling Flyers, and it would not have cost them a single draft pick or roster player to add them just a simple entry-level contract. These are the kind of gross oversights that keep this franchise from bettering itself.
So, overall, the Philadelphia Flyers may have taken a step in the right direction this season by firing Chuck Fletcher and having Dave Scott graciously be given the option to retire. However, they are still a long way away from contention. This rebuild will likely take three to five years before we, the fans, start to see the real benefits of tearing it all down just to build it back up. But if done right, it should be worth it.
I'm a lifelong Flyers fan who has been playing the sport of Ice Hockey we all know and love competitively for over 30 years now. I grew up playing in-between the pipes where I was able to take in the whole game and analysis just what the team needed to do to help us win. Over the years I always enjoyed reading and gaining as much knowledge as possible about this great sport, but always thought it lacked something. A players prospective!